Inside Dixie D'Amelio's Relationship With Griffin Johnson
Whether posting TikTok videos, filming "The D'Amelio Show" for Hulu, or focusing on her music career with songs like "F***BOY," 19-year-old Dixie D'Amelio keeps busy. However, she still has time for romance, currently linked to The Sway House TikTok star, 20-year-old Noah Beck. Confirming their relationship, with Beck even telling AwesomenessTV that Dixie is "amazing" and that he's "excited for the future with her," he admitted that she friend-zoned him for a long time (via The Sun). While the two swore they were just friends for the better part of 2020, the pair were officially linked by September (via Seventeen). But there's a whole lot of drama related to that timeline, and it starts with none other than Dixie's ex Griffin Johnson, 22. 
As per J-14, Dixie and Griffin started dating around February 2020, when they posted their first TikTok video together. With millions of followers in between the both of them, fans began to speculate about their relationship when Griffin posted pictures with Dixie on Instagram. Captioned with a heart, rumors continued to swirl until Griffin officially asked Dixie to be his girlfriend in July 2020. Johnson uploaded a video of the act, and it is still really cute. With an adorable TikTok video cuddling up by a green-screened fireplace, and tons of Insta selfies, Dixie and Griffin seemed like soulmates (via Elite Daily). Although Dixie was a Hype House member and Johnson is part of "rival" collective Sway House, that wasn't the only thing that held the couple back.
All about Dixie and Griffin's relationship drama
From their talking stage in February 2020 to just around the first days of July, Griffin and Dixie seemed like they had it all. However, by July 7, things took a serious turn for the worst. Dixie's younger sister and TikTok star 17-year-old Charli accused her ex Chase Hudson of cheating on her. Hudson got his revenge by taking to Twitter and saying that Griffin also cheated on Dixie (with two girls no less) in a since-deleted tweet (via Seventeen). Claiming that "Griffin cheated on Dixie with Tayler [Holder's] ex Kaylyn [Slevin] and Bryce [Hall's] ex Elle [Danjean]," Hudson created a blaze of rumors. Dixie simply replied "ur wild," standing by Griffin.
By the end of July, Dixie unfollowed Griffin on Instagram and Twitter. Their relationship officially dissolved when Madison Galley posted a TikTok video claiming that Johnson DM'd her, sent Snapchats, and told her he was single (via E! News). Once that since-deleted video gained traction, with Dixie even commenting on it with just emojis, it was officially quits for the TikTok couple. As per Seventeen, Johnson denied the cheating accusations in September 2020, posting a video to debunk the rumors. Then, by late September, Dixie kissed fellow Sway House member Noah Beck in her music video for the "Be Happy" remix. Johnson responded by releasing his song "Convenient," where he accuses Dixie of cheating on him with Noah, and denies all accusations of him cheating at all.
The breakup's aftermath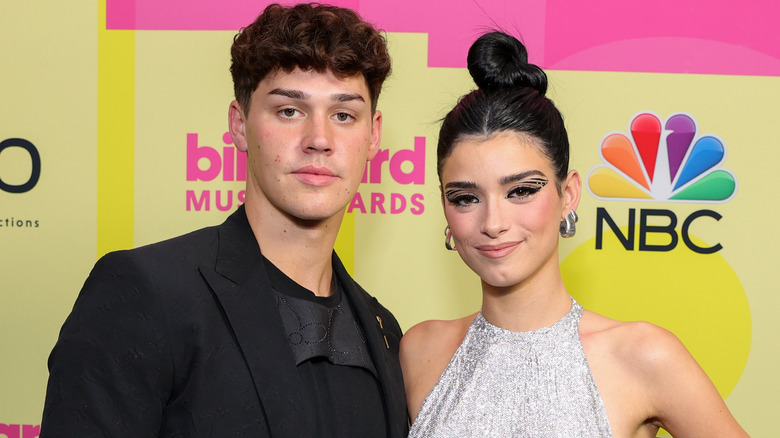 Rich Fury/Getty Images
On September 24, Dixie snapped back at ex Johnson's diss track, and came with tons of receipts. According to Seventeen, Dixie posted a since-deleted TikTok where she shared countless screenshots confirming Johnson's cheating. Screenshots of Snapchats and Instagram DM's showed Griffin talking to girls, claiming he was single, and even asking for photos. With the TikTok community shaking, Johnson took to Twitter and wrote, "I admit to f****** up. I'm not perfect. God knows I'm not even close but time for others to admit the same."
Everything seemed just peachy for a couple months afterwards, until November 2020 when Griffin went on the podcast BFFs, where he dished out on Dixie and Noah's relationship. Implying Dixie and Noah started dating before they officially broke up, Griffin said: "It was weird dude... [Noah and Dixie had] this best friends group" and would take trips together. Johnson said he tried not to be jealous, but it was "weird stuff" [via Seventeen]. That being said, Griffin also stated he's "happy for them," even saying, "I respect Dixie. If she ever needed anything, I would be the first one there, same for Noah."
While things between Dixie and Griffin were trouble in paradise for the better part of their relationship, we're happy to see Dixie has found love, and Griffin is doing just fine taking a break from dating (via People).