How To Recreate Elle Woods' Makeup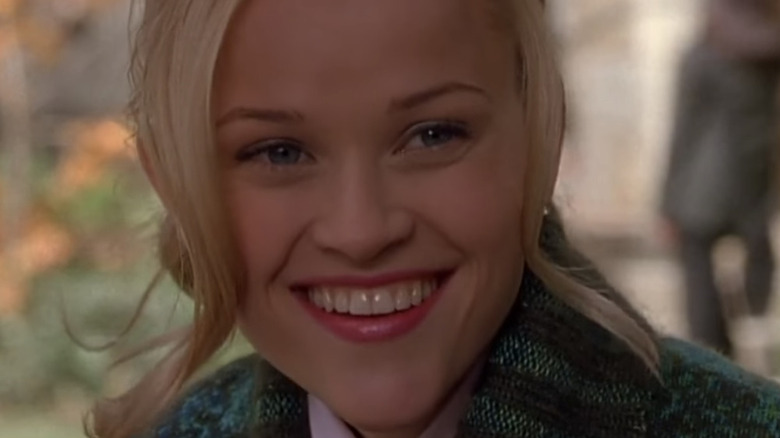 Elle Woods/YouTube
If you grew up in the early '00s, it's very likely that Elle Woods, the iconic character played by Reese Witherspoon, served you some serious life truths, like it's always appropriate to wear pink and a pair of Prada Mary Janes can get you a long way. It may be two decades since the rom-com heroine made her debut, but here's how to recreate Elle Woods' makeup. Her pared back, fresh face with a bold lip is back in fashion and really taps into the social media trend for super dewy skin. 
"Legally Blonde" played into Witherspoon's golden tresses, but Stila Pro Makeup Artist Sarah Lucero told Seventeen that it's not that hard to emulate Elle Woods' look. She says that you want to begin your routine with a tinted moisturizer and make sure you use one with an SPF. Then add concealer.
"To get Elle's eyes, you want to work with purple, mauve, violet, and cool, neutral tones. Stila's In the Moment Eyeshadow Palette has ten shadows, and a plum/brown Smudge Stick called Tetra that enhances eyes," she says, "Next, apply mascara in black and fill in your brows with pencil or powder."
To finish off the look, you can add a pink blush or cheek stain and a generous layer of lip gloss.
Tips from Legally Blonde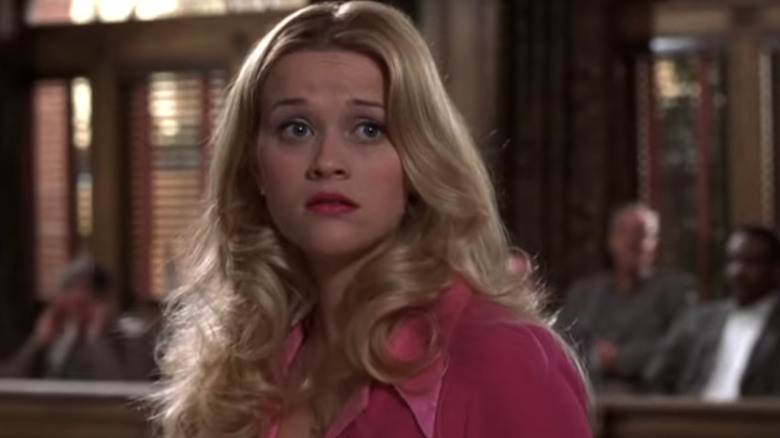 Thansuda Nonthaphand/YouTube
While Sarah Lucero told Seventeen that Elle Woods' makeup look is pretty easy to achieve, the movie gives away a few makeup tips. PopSugar explains that during the opening sequence of "Legally Blonde", viewers get a sneak peek into her beauty stash as she gets ready to go out for that fateful dinner with Warner.
According to the publication, the one product that stands out on her beauty console is the perfume, Clinique Happy. Clinique outlines that the fragrance is packed with "a hint of citrus. A wealth of flowers. A mix of emotions." Very fitting for the night that Elle had to come.
Speaking to Bustle about the characters she's loved to play, Witherspoon said, "Well, I love Madeline in 'Big Little Lies'. She always has a bold lip and presents her best self to the world. But I also love Elle Woods. 'Legally Blonde' was just a dream. I love hair, makeup, beauty, costumes, shoes, purses — so that was really fun to create that character with [the costume designer] Sophie de Rakoff."
It's easy to create Reese Witherspoon's look, too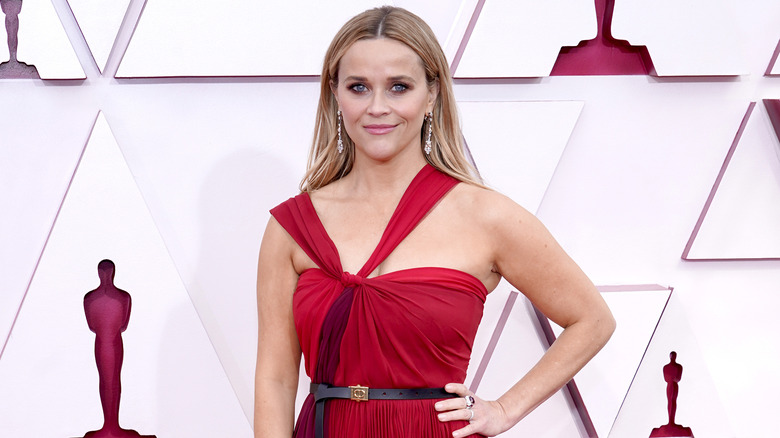 Pool/Getty Images
Glamour explains that Reese Witherspoon has always been pretty open about her favorite beauty tips and tricks. She told the publication that one thing she's always tried to take care of is her hair. "I love when I get my highlights. My colorist, Lorri Goddard, is the best. I've gone to her for 15 years, and she's taken me from brown to blond to red and back to blond," she said, "I just feel better getting my hair done."
While she's been famous for decades, Witherspoon's style hasn't changed too much over the years. She told Bustle that she would always tell younger fans to start wearing sun protection early and don't be afraid to take care of their skin. "You know, I love when people encourage you to show your skin. I think sometimes we're told to cover up, but sometimes it's nice to just see the texture of your skin or the different freckles that you have," she said, "I used to have freckles, and I would cover them a lot, and I think it's great to just see women expressing themselves and showing different kinds of beauty standards on social media platforms. It's a much more inclusive idea about what is beautiful nowadays."