This Starbucks Secret Menu Drink Tastes Like A Creamsicle In A Cup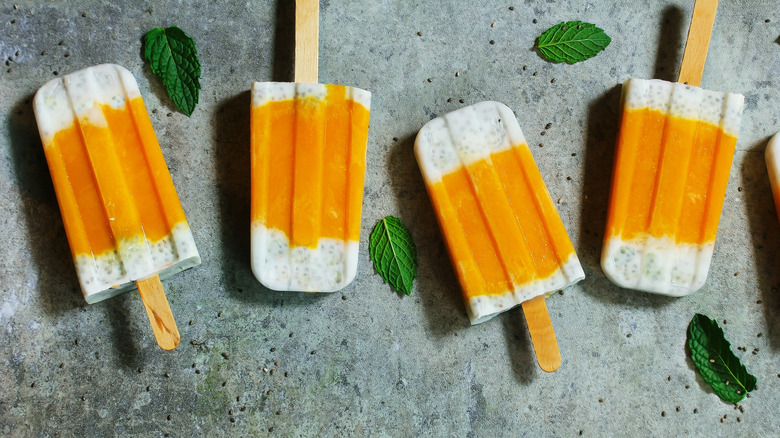 Shutterstock
Starbucks' secret menu is perhaps the most well-known fast food or coffee shop secret menu due to their endless capabilities for drink customization. People always try new things and then share their "recipes" online for others to try. Some delicious drinks to come from the secret menu include a key lime pie drink and a drink that tastes like a tropical vacation in a cup. Sometimes secret menu drinks are even ways to make otherwise exclusive drinks at any Starbucks store you'd like. For example, one secret menu drink lets you get a taste of Disney World's exclusive Minnie Mouse frappuccino.
Now, you may well be able to get yourself a delicious and refreshing creamsicle frap at your local Starbucks. If you don't know, a creamsicle is an ice cream and sherbet flavor that incorporates both orange and vanilla to make something that is sweet, summery, and cleansing to your palette (via Pastry Chef Online). Creamsicle, like dreamsicle, started out as a brand name, but has evolved into simply describing the classic orange and vanilla flavor combination. Creamsicles can be eaten as ice cream bars or swirled together in cups. Or, if you're Dairy Queen, you dip vanilla ice cream cones in an orange glaze to make your own version of the classic treat (via Taste of Home).
This is how to order a creamsicle frappuccino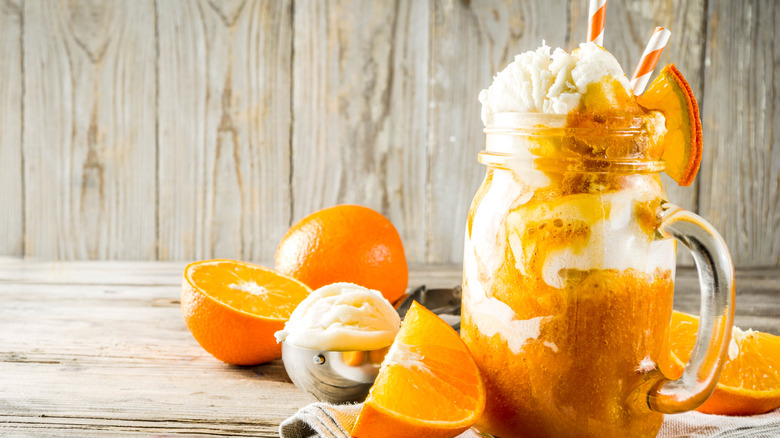 Shutterstock
To order a creamsicle frappuccino at Starbucks, you're going to stick with the traditional orange and vanilla flavors that the ice cream treat is known for. To do this, you'll want to order a tall vanilla bean frappuccino along with purchasing a bottle of orange juice from the packaged food and drinks section (via Taste of Home). Taste of Home noted that you'll have to purchase your orange juice at Starbucks because they don't allow outside foods and drinks in their stores.
Then, you'll ask for the barista to fill a venti cup to its third line with orange juice. Once that's done, the blended tall vanilla bean frappuccino can be added on top of the orange juice along with vanilla sweet cream cold foam and whipped cream (via Taste of Home). The dairy element of a creamsicle is crucial as it's what makes a creamsicle so smooth and creamy, so the dairy from the frap, whipped cream, and cold foam will balance out the orange juice perfectly, giving you a sweet summer drink that will take you back to your childhood.
This drink is a super fun one, and if you haven't tried ordering yet, why not try something new soon?