The Ultimate Guide To Achieving A Trendy Baddie Aesthetic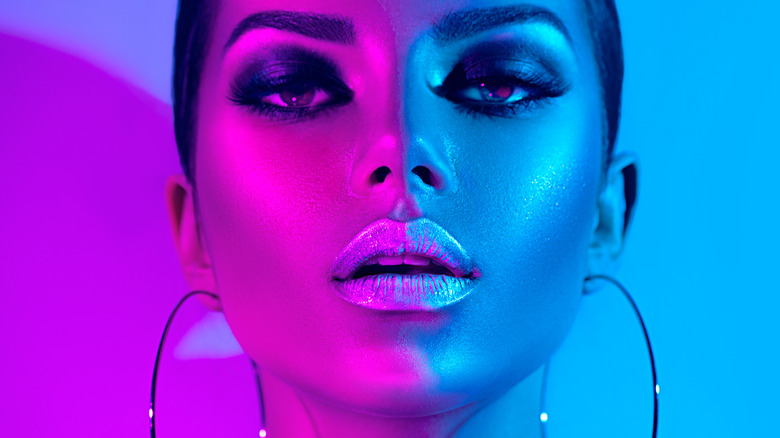 Shutterstock
First originating on Instagram, the term "baddie" has multiple definitions. Baddie Girl blog describes "baddie" as a woman who is sexy and confident. Lu Amaral Studio claims it encapsulates the "bad b**ch" aesthetic. And Urban Dictionary defines "baddie" as a girl "who is always slaying the game and always on fleek." Regardless of how you describe it, baddie is an attitude, a lifestyle, and an essence. 
When hoping to capture the intangible quality of a "baddie," one must first look at examples. Key pop culture references are Playboy, Barbie, and Bratz Dolls. But there's also many celebrities who have the look down pat. Celebs Baddies Instagram follows a number of celebrities they claim adhere to the baddie girl aesthetic including Sydney Sweeney, Emma Watson, Ariana Grande, and Selena Gomez, to name a few. So what do all of these celebrities have in common? A confidence that empowers them. 
Lu Amaral Studio walked readers through a few common factions of the trendy baddie aesthetic — barbiecore, gangsta, or femme fatale. Barbiecore is considered softer and the most feminine choice, gangsta incorporates edgier street looks, and femme fatale is the expensive, glamorous take. The best part about being a baddie is that there's no rules, so regardless of your aesthetic choice, you can still mix and match!
The baddie wardrobe should be bold and trendy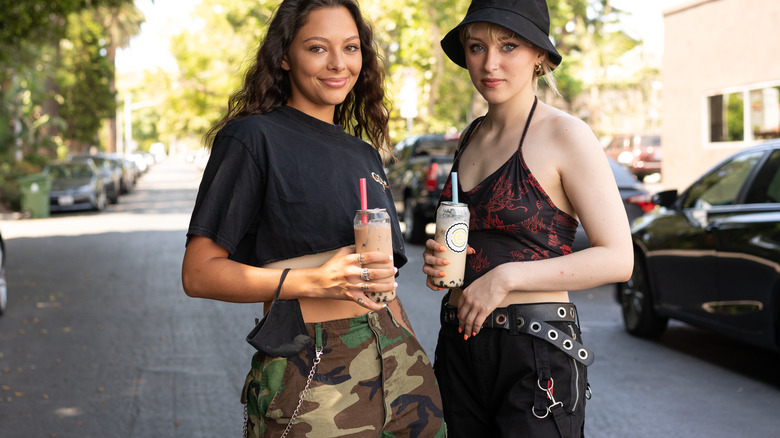 Jared Siskin/Getty Images
Once you've picked your baddie sect, it's time to move on to wardrobe. L'Oréal Paris called a typical baddie outfit "on-trend" and "constantly changing." They recommended starting with a crop top, tight high-waist jeans, sneakers, and a hoodie. Once you've mastered the baddie uniform, you can move on to matching sets like a two-piece skirt and shirt or coordinating sweats. The Trend Spotter suggested pairing pastel shades with more masculine clothing articles to create an effortless dichotomy. 
Favorite accessories of a baddie include hoop earrings, layered necklaces, and the shiniest bracelets in your jewelry box (via Lu Amaral Studio). The cardinal rule of baddie fashion is that too much is never enough, so feel free to keep adding as many bold and eye-catching accessories as your heart desires. Besides jewelry, Trend Spotter recommended bucket hats, barrettes, or tiny sunglasses. 
It doesn't matter how expensive your final outfit is, as long as you have the attitude of a baddie, you'll create the illusion of a million bucks. Clothed Up suggested baddies on a budget check out Nasty Gal and Missguided sales items. Whatever you decide to wear, make sure you feel 100% confident so you can work your new look proudly.

Makeup and contouring are baddie staples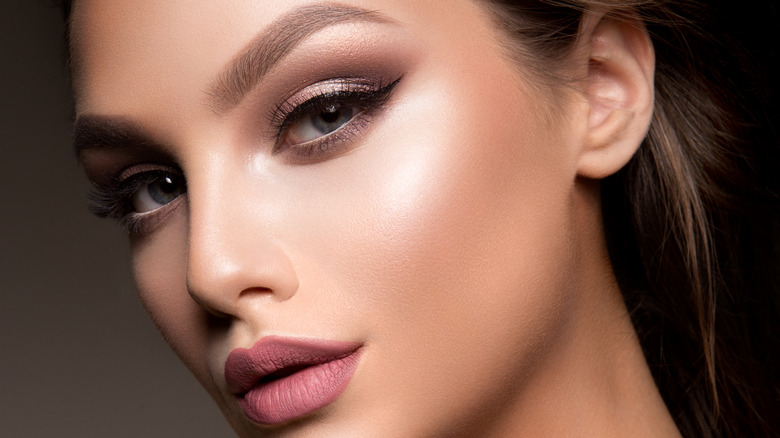 Shutterstock
A baddie's look isn't complete without makeup. This isn't to say a baddie can't rock the natural look, but makeup is a key gateway for baddies to creatively expressive themselves. Turn to shows like "Euphoria," "Glow," and "The Chilling Adventures of Sabrina" for baddie makeup inspo. Begin with a primer and lightweight full coverage foundation (via L'Oréal Paris) before you move on to a baddie favorite technique: contouring. Use a bronzer to create a hollowed cheek effect and a highlighting powder on the cheekbones, tip of the nose, and cupid's bow.
Once you're glowing, it's time to perfect the brows. Baddies stick to the current trend of sharp, defined arches. Use an angled brush to create precise lines and brush it through with a spoolie. You'll want to finish the eyes off with a winged liner and a few sweeps of mascara. Draw onlookers' eyes to the lips with a subtle matte in mauve or taupe shades. 
Finally, the baddie hairstyle is the cherry on top of your chic new vibe. L'Oréal Paris suggested a number of options, including the sleek bun, dutch braid pigtails, half-up pigtails, space buns, or accent braids. Each of these looks takes less than 10 minutes to create and is sure to separate you from the basic cheugies of the world. Now snap a pic and join the rest of the Instagram baddies in all their stylish glory. No filter necessary.