This Starbucks Secret Menu Drink Tastes Like Strawberry Cobbler In A Cup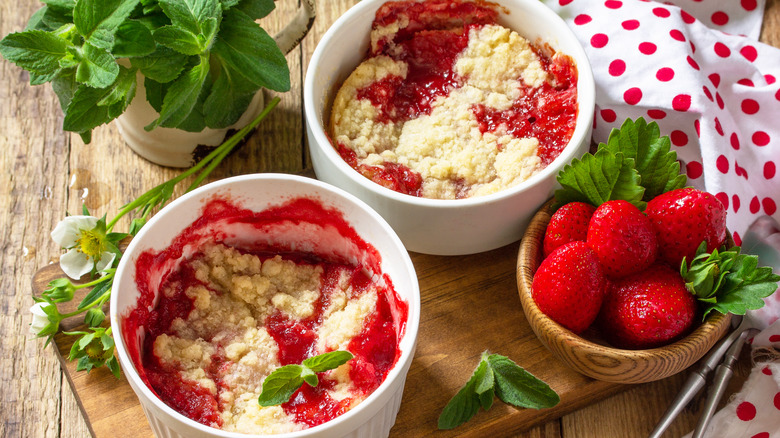 Shutterstock
Starbucks' secret menu is ever expanding as fans of the coffee shop chain create an endless number of tasty treats. Starbucks' vast number of customization options make this possible, and then these coffee lovers share their drink recipes online so others can try them as well. 
Some newer secret menu revelations include one drink that tastes like summer in a cup and one that tastes like a creamsicle. Of course, even secret menu drinks can be customized to your own taste. No matter what – there is a drink for you.
One of the latest secret menu drinks to make its way to the internet is a Frappuccino that tastes like a liquid version of a strawberry cobbler. If you're unfamiliar with cobblers, they're a kind of dessert that lets fruit do the shining. They typically feature a juicy fruit center with some sort of crust or crumble on top of the fruit, with some even having a thin bottom layer of crumble, cake, or crust under the fruit as well (via I Am Baker). The one rule, though, is that the fruit should be the main character in the dish, so the other layers are much smaller in comparison. 
So imagine all that greatness, but in a cup. Yum!
This is how to order a strawberry cobbler frappuccino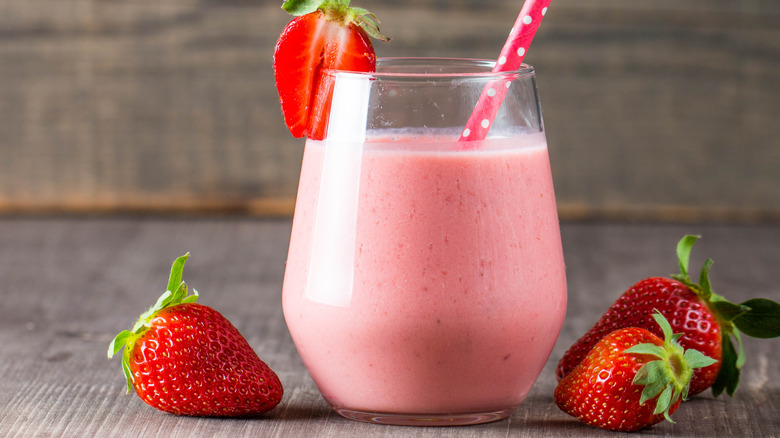 Shutterstock
It's easy to see why Starbucks goers would want a drink that tastes like a strawberry cobbler. This dessert is perfect for summertime as it features strawberries, which are in season during the summer (via Epicurious). People also want something cold and refreshing during the summer, so the perfect combination of these two qualities is the strawberry cobbler Frappuccino.
To make this drink, you'll start by ordering a venti iced green tea (via Taste of Home). Then, you'll ask for it to be shaken with coconut milk and strawberry puree. Finally, you'll ask for two pumps of Starbucks' brown sugar syrup and both brown sugar cold foam and Starbucks' toasted honey topping on top. The brown sugar and honey flavors will elicit the flavors of a traditional cobbler's crumble topping, while the strawberry puree will take over the green tea flavor to make a really light yet sweet and delightful base.
If you're in the mood for something new at Starbucks, you should give this refreshing twist on a Frappuccino a taste!