The Detail About Prince Harry On Lilibet's Birth Certificate That's Raising Eyebrows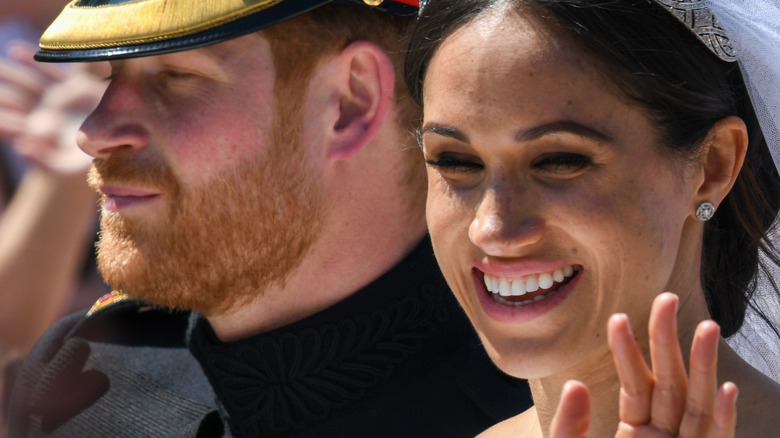 When Prince Harry and Meghan Markle decided to leave Britain and the royal family behind in March of last year, there was the matter of what to do about titles that needed to be clarified. This appeared to be settled when Buckingham Palace issued a statement saying that the Duke and Duchess of Sussex would not formally represent the queen, they would repay the money that went into the Frogmore Cottage makeover, and that they would not use their HRH (His/Her Royal Highness) titles, because as palace officials put it, "They are no longer working members of the Royal Family" (via BBC News).
So it might have come as some surprise when TMZ said it had obtained a copy of Lilibet Diana's birth certificate to find that Harry, whose full name is "Prince Henry Charles Albert David, duke of Sussex, earl of Dumbarton, Baron Kilkeel" (via Britannica), has his first name down as "The Duke of Sussex" and "His Royal Highness" as a last name. Lili's mother is listed as "Rachel Meghan Markle" and Lili's birth was registered in Santa Barbara County. In reporting the story, TMZ pointed out that even while Harry was calling out his family for different reasons and sparking controversy while he was at it, he was still proud of his royal titles and retained them after leaving England.
Lilibet's birth certificate left social media users baffled and confused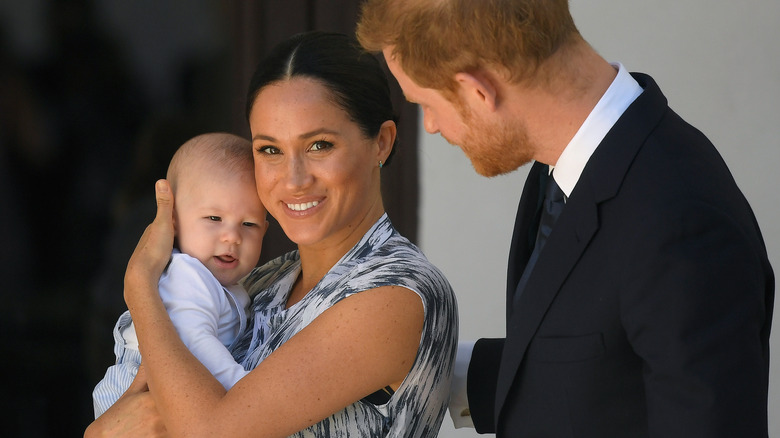 The birth certificate left social media users baffled and confused. "What the heck? That is the most confusing birth certificate. So Meghan is Rachel Markle and never took M-Windsor? Why is Harry not using his real name? Completely bizarre!" one Twitter user said.
"Nowhere on the birth certificate is the name Henry Charles Albert David Mountbatten-Windsor. Who is the father? No birth certificate in the world doesn't use a person's name. Why don't you investigate?" demanded another.
Lili's birth certificate is as different from her older brother Archie's as it gets. Archie's original birth registration document has his father listed as "His Royal Highness Henry Charles Albert David Duke of Sussex" and occupation as "Prince of the United Kingdom, while "Rachel Meghan The Duchess of Sussex" was listed as his mother (via Twitter). Archie's birth certificate generated buzz, too, because the document was later amended to remove Meghan Markle's birth names in favor of "Her Royal Highness The Duchess of Sussex" and "Prince" was added to Harry's (via The Sun).
The mystery of Harry's title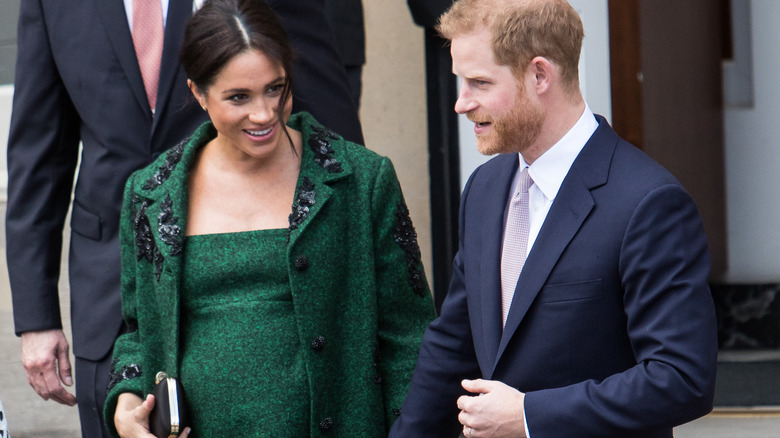 Shutterstock
Further adding to the questions circulating, Hello! reported that a royal fashion exhibition at Kensington Palace included a placard for one of the displays for the late Princess Diana that referred to Prince Harry as "HRH The Duke of Sussex." It was later edited (to remove the HRH), and the Royal Collection Trust issued a statement that explained it was, "Due to an administrative error, for which The Royal Collection Trust was responsible, the labels were incorrect and will be updated." 
Despite the confusion and borderline conspiracy theories that have blossomed from the release of Lili's birth certificate, an Archwell source reportedly stated that the certificate required Meghan Markle's maiden name, which can be seen on the document, as well as Prince Harry's legal name which still includes his titles (per Tatler). As tempting as it may be to read more into the names listed on the birth certificate, there very well may be a simple explanation. Just because Harry has left his royal duties behind, he may still carry the weight and title that came with his lineage.
The couple has yet to make a statement about the truth behind the discrepancies between their two children's birth certificates, and in the meantime the rumor mill will likely keep churning.