The Color Correcting Product That TikTok Influencers Swear By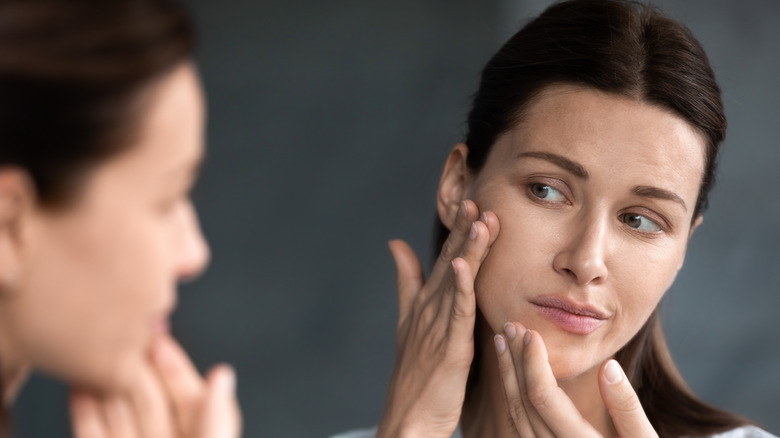 Shutterstock
TikTok trends seem to dictate nearly everything these days, from fashion trends to home decor to makeup ideas. We can't lie; we've gotten several great tips from the social media app, from how to create curly hair with just a bathrobe tie, to how to crop a sweater. Now, it seems TikTok has tackled another tough-to-figure-out issue: color correcting for blemishes or imperfections. 
Sure, concealer is sometimes enough to do the trick, but when you're dealing with dark spots, super-red blemishes, or deep-purple under eye circles, using a color-correcting product can help neutralize the colors you're trying to hide, rather than just applying coat after coat of your skintone-matching concealer, which can create a caky look. Essentially, the principle of color correction comes from something you probably learned a long time ago in an art class: color theory (via Foreo). Colors that lie opposite each other on the color wheel cancel each other out, which is why it makes sense to use a yellow corrector to cover purple/blue hued imperfections. 
The color correcting product TikTok swears by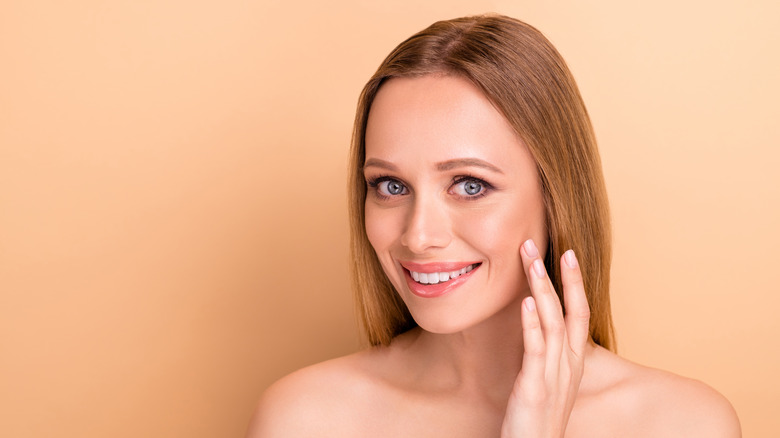 Shutterstock
Summer Cartwright, a journalist who makes a living writing about TikTok trends, told In Style about the color correcting product TikTok swears by, because now she swears by it, too. Cartwright says of her own skin challenges: "My skin tone is naturally flushed. It basically looks like I'm constantly embarrassed or on the brink of sweating." She once relied on foundations or concealers to even out her complexion, but she says caking on these products usually caused her to break out. It wasn't until she decided to give a certain TikTok sensation a try that she found a solution. 
The product in question is a color-correcting cream from Dr. Jart+ called Cicapair, and Cartwright raves that it "transforms my face from a tomato-esque hue to its normal olive tone, and it doesn't take a lot of product to work." In order to get the full effect, she uses very little product, explaining to her readers that, "I use about a fingerprint size of the lightweight cream and apply it all over my face with no issue. In minutes, my skin evens out and red bumps or dark spots are concealed."
The downside, however, is that while it works wonders for Cartwright's olive complexion, she warns that folks with darker skin tones sometimes find that it doesn't look as natural on them and can appear chalky.