Nikki Haley's Latest Comments About Donald Trump Have Twitter Seeing Red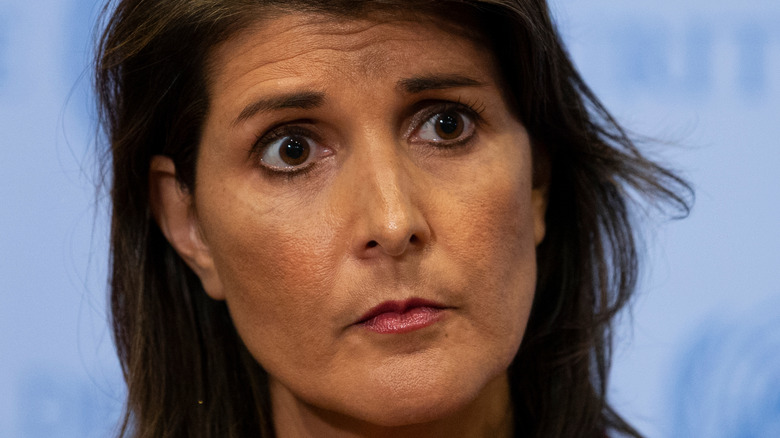 Shutterstock
Former U.S. Ambassador to the United Nations Nikki Haley appears to have crossed Twitter yet again, this time thanks to comments she made during a 30-minute speech at a Lincoln Dinner for the Republican Party of Iowa (via Politico), and which she later appears to have shared over social media.
There was no flip-flopping from Nikki Haley, who had originally sought to distance herself from former President Donald Trump after the Jan. 6 riot, but has since gone all in with her support for him. In her speech, Haley said she "saw firsthand as ambassador to the United Nations that Donald Trump put America first" even as she praised him for the way that he dealt with the country's rivals, like North Korea and its leader, Kim Jong Un (via Yahoo!). 
A chance to praise Trump also turned into a dig at Vice President Kamala Harris, as Haley said, "Thank goodness for Donald Trump or we never would have gotten Kamala Harris to the border. Almost 100 days. If this is how she handles a crisis, God help us if she ever becomes president" (via Twitter). 
Haley even had eyebrows raised her way when she claimed, "Take it from me, the first female and minority governor of South Carolina. I said it last year at the Republican national convention, and I will keep on saying it: America is not a racist country. It's just the opposite. America has done more to ensure equal justice and opportunity than any other country in history."
Twitter took the chance to take down Nikki Haley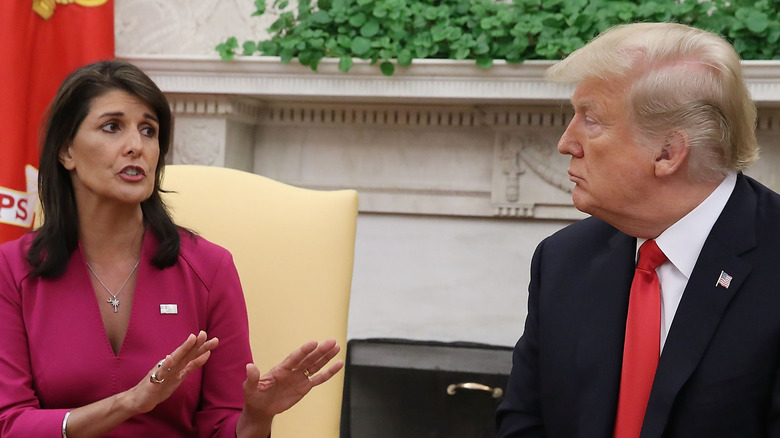 Mark Wilson/Getty Images
Twitter might not have been in the room when the speech happened, but they were fired up just the same, thanks to the excerpts Nikki Haley chose to share on social media.
One Twitter user hit out at Haley, writing, "Your modus operandi is to feed your audience's grievances, get em really angry, & scare the s*** out of em. That's all you got. Most of us don't buy it for a minute."
Another responded to Haley, tweeting, "i'd love to go back in a time machine to when Nikki Haley stepped down from the UN and plead with her to believe in herself, to bet on herself. And not a reality-star who would throw her under a bus if she crossed him," while a third Twitter user added, "Nikki Haley is apparently in a race with Josh Hawley to see who can get to negative points in a presidential poll first."
A fourth Twitter user indicated that she's under no illusion about what the former U.S. Ambassador to the United Nations stands for, tweeting: "It doesn't matter what Nikki Haley says, she's available at the beck and call of the highest bidder, a wannabe."