How To Simplify Your Makeup Routine For Summer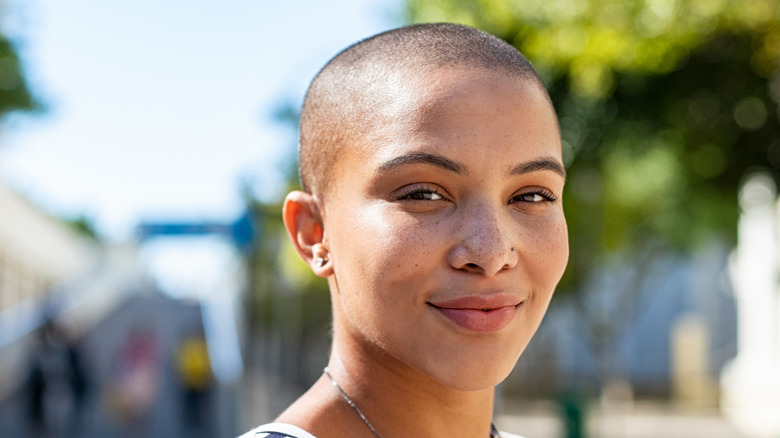 Shutterstock
As the weather turns warmer and you dig out your summer wardrobe, it feels like the perfect time to sport super-bronzed, dewy makeup. However, the practicalities of wearing makeup in the heat can ruin all of your plans. But we have some expert tips on simplifying your makeup routine for summer. You don't need to give up wearing makeup altogether if you don't want to, but finding lightweight products with good staying power could be the difference between a radiant look and your eyebrows sliding down your face.
Allure explains that as your skin tone can change throughout the summer, you want to look for products that are lightweight, sheer, and cream-based. Rather than opting for heavy-duty powders, reach for tinted moisturizers. Water-resistant products and ones that multitask (such as sticks that act as blush and lip balm) can be handy in the fight against cakey makeup.
Celebrity makeup artist Fiona Stiles told Good Housekeeping, "Makeup likes to move around when it's hot, so the best way to avoid that is to wear less of it." However, if there are occasions when you want to reach for the products, you can simplify your makeup routine and still look great.
Light and creamy makeup products are perfect for summer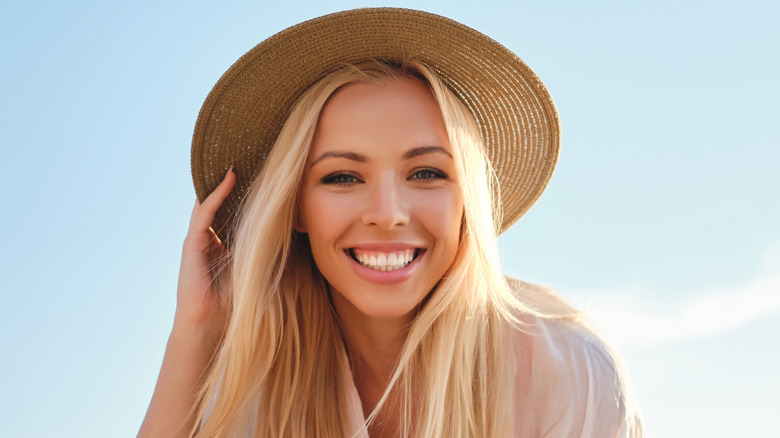 Shutterstock
Rather than bringing your normal makeup bag into the summer months, Jacksonville Mom explains that you can create a super-quick makeup routine that still packs a punch. Makeup artist Patricia Kozack advises, "First start with a clean face and whatever lotion best suits your skincare needs." Next, follow up with a concealer and CC Cream to create a lightweight, flawless base.
It can be nice to add blush and eyeshadow to give your face a pop of color, followed up with an eye pencil and mascara. The key is to look for products that are cream-based and light. Finish the look off with a super-hydrating lip balm or gloss.
Jetsetter also writes that light highlighters — like Benefit High Beam or Giorgio Armani Fluid Sheer — can give you a really soft, ambient glow. Makeup artist Ashley Rebecca Schultz told the publication, "using cream or liquid highlighter helps the skin to appear dewier, which is great for summer skin."
Similarly, Good Housekeeping notes that you should look to cream bronzers rather than powder. Makeup artist Troy Surratt told the publication that cream products can be harder to work with but have better staying power, noting that you should place bronzer on the high points of your face where the sun would hit you. You should also look for bronzers with multiple shades in them, as they'll give you the most natural look when blended together.
You should review your skincare in summer too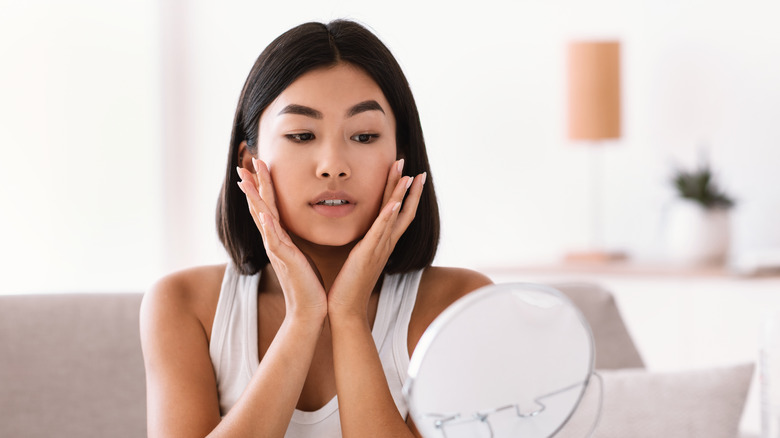 Shutterstock
In a similar way that you might switch up the makeup products you use in summer, Allure explains that dermatologists advise you to review your skincare routine too. Board-certified dermatologist Omer Ibrahim told the publication, "A solid routine should be applicable to all seasons and all climates. With that said, there are a couple of changes one might consider when transitioning from winter to summer."
Rather than selecting heavy moisturizers and cleansers, try to find products with much lighter coverage and which are dual purpose. If your moisturizer can act as your primer too, then it's one less layer on your face.
One of the most important products you can use over the summer is sunscreen. Ensuring that you're protected from the sun every day, rain or shine, can make a world of difference to your skin. Refinery29 recommends that you select an SPF of at least 30, although one size doesn't fit all.
"Individuals with fair skin and hair, light-colored eyes, freckles, and moles are at highest risk of skin damage and should always use a minimum factor of 30 or 50," consultant dermatologist Dr. Justine Kluk told the publication. It's also noted that people who have darker or more pigmented skin tones are less prone to burn and can therefore wear SPF 15-30.