Carly Waddell Opens Up About Her Frightening Health Emergency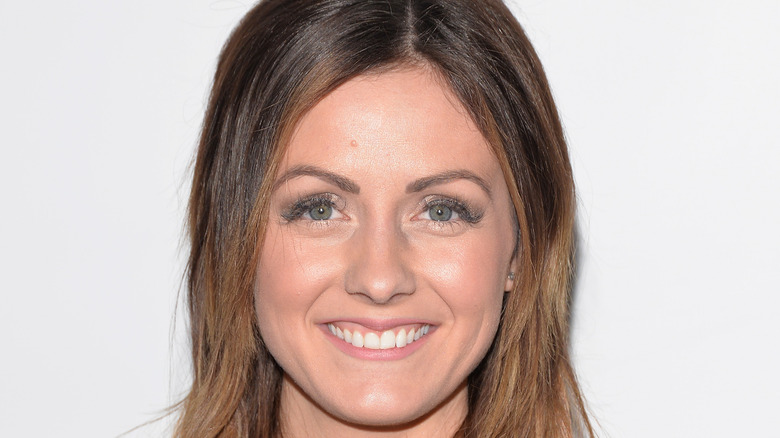 Michael Tullberg/Getty Images
A little over a week ago, "Bachelor in Paradise" star Evan Bass shared an update on the health of his ex-wife, Carly Waddell. At the time, he noted on Instagram that he wasn't going to share many details of her emergency trip to the hospital, noting it was "her health and story to tell if she wants to share."
It seems the time has come for the mom of two to break her silence about her condition, with Waddell taking to Instagram to post a video for her fans. Although she noted in the caption that "No one really has any answers," the reality star attempted to share what she did know with concerned followers (via People).
The "BIP" star recounted how she started having "bad intestinal cramps" while waiting for a plane last Monday, adding, "They are what I would compare to contractions." At first, Waddell chalked up the pain to a side effect of food allergies, but things got worse once she boarded, with the star sharing she felt "super, super nauseous," "super, super hot," and "stopped being able to see," "or hear."
That's when Waddell says she stood up from her seat and passed out.
Carly Waddell says she was rushed to the hospital
As luck would have it, a passenger nearby had worked in the ER, and helped Waddell until the fire department arrived, which the star noted in her Instagram video was "embarrassing." She added, "Everything was hurting."
Soon, the star stated she was put in an ambulance, and the attendants found her blood pressure to be "way too low." At that point, she was rushed to the hospital, with Waddell saying she felt like her body was "going down" and she had to talk herself into staying alive (via E! Online). Soon Bass arrived, with the star noting he "was so nice."
Waddell went on to chronicle her brutal hospital visit, during which she got violently ill and medical staff had a tough time setting up her IV, so she was stuck "at least 20 times." Ultimately, Waddell says doctors still "don't know what is going on," although it could have been a virus or bacteria that "got [her] really good."
Unfortunately, she is still recovering, with Waddell saying, "I don't know what's going on." The silver lining? The star notes she is finding out who her real friends are, and is so grateful to fans and followers for their support.