Novak Djokovic's Stunning Net Worth Revealed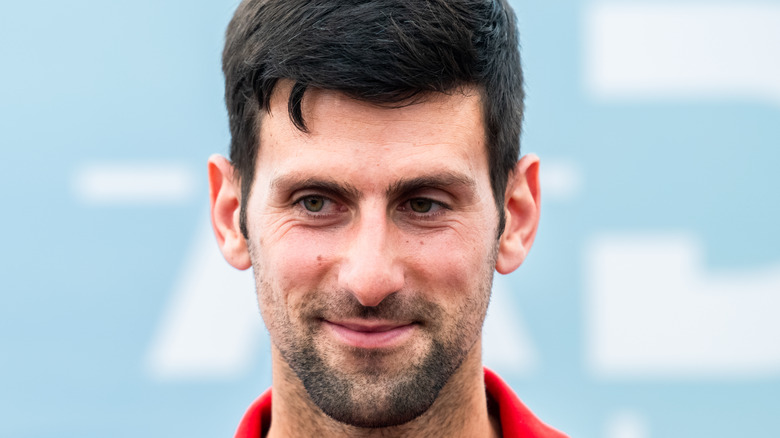 Shutterstock
For Novak Djokovic, 2021 has been quite a stellar year. At the top of June, the professional tennis player's win at the French Open against Stefanos Tsitsipas earned him the distinction of being only the third man throughout the history of the sport to win every major title twice, according to his website. 
In the past decade, the Serbia native has maintained a top spot in the world of men's professional tennis. To date, Djokovic has earned 19 Grand Slam titles. Though he has become famous for his rivalries with fellow professional tennis players Rafael Nadal and Roger Federer, he has become a legend in his own right.
Given his domination in the sport, it makes sense that Djokovic would enjoy a rather large net worth. Much of his wealth comes from tournament prize winnings and impressive endorsement deals with several luxury brands. 
Aside from bragging rights, Djokovic's success on the court has significantly increased his bank balance. Since 2003, Djokovic has won more than $145 million in tournament prize money. In fact, back in 2011, Djokovic won the most prize money in a single season in the history of the sport, per Celebrity Net Worth. At the end of the 2011 season, Djokovic earned an impressive $12 million dollars. So, how much is he worth now?
Novak has scored several lucrative side hustles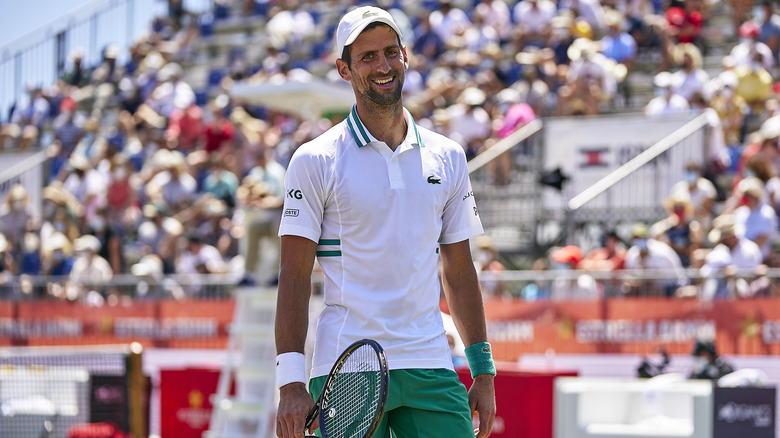 Quality Sport Images/Getty Images
According to Celebrity Net Worth, Novak Djokovic is worth a whopping $220 million dollars. In 2012, just a year after winning his first Grand Slam title, he signs several endorsement deals with Uniqlo, Mercedes-Benz, and Lacoste. From 2012 to 2017, Djokovic earned approximately $9.5 million per year just from his Uniqlo partnership, per the outlet. 
Djokovic also earned some cash from several lucrative side hustles, which include a 2013 book called "Serving to Win: The 14-Day Gluten-Free Plan for Physical and Mental Excellence," a nutritional food line called "Djokolife," a chain of restaurants, and investments in several large companies. He is also an executive producer on the movie "Game Changers," per Tennis World. 
So, how exactly does one of the wealthiest tennis players in the world spend his money? Well, according to Tennis World, Djokovic enjoys spending a large portion of his wealth on real estate properties all over the world. These properties include a pair of condos in New York City, a luxurious three-bedroom condo in Miami, and a two-bedroom apartment in Monte Carlo. Back in 2009, Djokovic purchased a yacht for a reported $2.5 million, though he has since sold it. 
The star is also reported to enjoy traveling around in his Tesla X and collection of Audis and Mercedes-Benz cars. But he's not all about his toys; Djokovic also donates his hard-earned money to charitable causes, like improving early childhood education, as a part of the Novak Djokovic Foundation, which he created and runs alongside his wife, Jelena Djokovic.