The Truth About Novak Djokovic's Athletic Brothers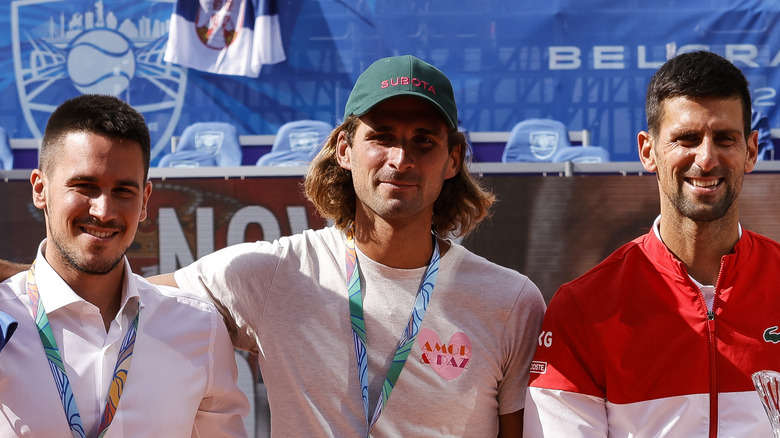 Srdjan Stevanovic/Getty Images
It's no secret that Novak Djokovic is one of the best tennis players to ever pick up a racket, with ESPN currently ranking him at No. 1 in the world. The Serbian player has won 19 Grand Slam titles, but it was a tough road to success. Novak started playing at four-years-old, advancing until winning his first Grand Slam at the Australian Open in 2008 (via Britannica). 
Even through highs and lows, there's no doubt Novak is tennis royalty, winning the Australian Open and French Open singles championship in 2021. But did you know the sporting legend has two tennis player brothers, too? Novak's younger brothers Marko Djokovic and Djordje Djokovic are professional tennis players as well – and they have some serious Djokovic talent.
As per Essentially Sports, all three brothers were born in Belgrade, Serbia. Oldest brother Novak was born in 1987, middle brother Marko came along in 1991, and the youngest Djordje arrived in 1995. Throughout childhood, the brothers were the epitome of a tennis family, each finding their passion on the court. While Novak progressed to Europe's top under-14 player and best under-16 player – soon becoming a household name (via Britannica) – his brothers were also laser-focused on their own careers. 
As right-handed tennis players and double-handed backhands, both Marko and Djordje continue to play at the professional level today. While it's clear the Djokovic family has some impressive tennis-friendly genetics (or something in the water!), there might be more to their story than fans know.
Marko and Djordje didn't have the same push as Novak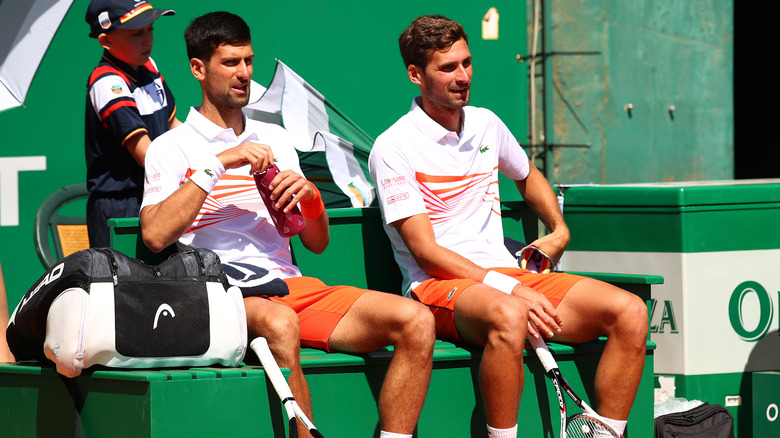 Clive Brunskill/Getty Images
Mother Dijana Djokovic told Swiss newspaper Blick that the family focused more on fulfilling Novak Djokovic's tennis dreams than Marko and Djordje's, saying she was sorry for not devoting enough time and attention to her younger sons. Dijana revealed, "Everything revolved around Novak. We neglected his two younger brothers." 
Dijana even recalled cancelling Marko and Djordje's summer camp one year to fly to Miami to be with Novak at a game. She explained, "From then on we gave everything for him. I'm sorry for the other sons, they were talented too. But we couldn't support them too. My husband ran out of reserves. We didn't have the strength to do it again like with Novak."
Whether or not tennis players Marko and Djordje were given enough of a family push or not, the two are still playing professionally – and maintain an amazing relationship with Novak. As per Essentially Sports, Marko went professional in 2007 and has since played several ATP games, winning a 2009 Serbian Open doubles match. Marko and brother Novak have won several doubles matches together. Marko has even been brought on as Novak's assistant coach. For Novak, he told the Tennis World USA, "It's really nice to have a family member with me on the tour, especially my brother that I love very much and that I care about and he cares about me."
All about Djordje's career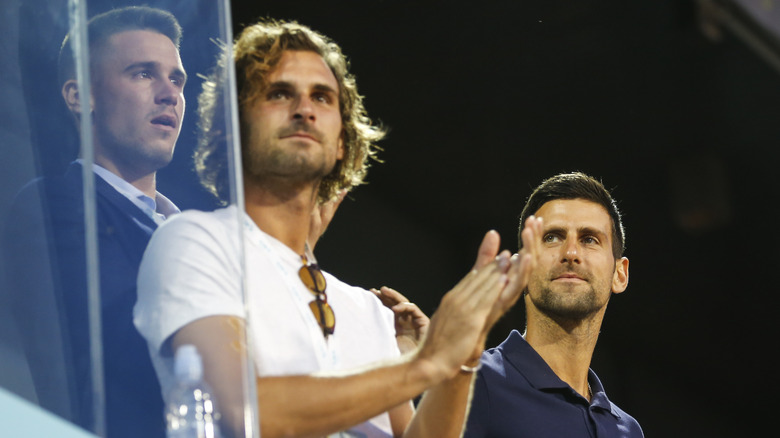 Youngest brother Djordje Djokovic has played doubles at the 2015 China Open, and reached the quarterfinals of the Chinese ATP 500. As the tournament director of the ATP Serbia Open in 2021, Djordje talked to the Wish&Go Podcast about meeting his childhood idol Rafael Nadal through brother Novak (via Tennis Majors). He said, "Novak introduced me to [Nadal] in Monte-Carlo in 2006 ... Bear in mind that he was one of my idols ... There was a pinball machine around: both of us were not very good with English at that time, but he asked me to play. And we did, my heart was full."
On his relationship with his brothers, Novak Djordje told Tennis that he "tried always to be part" of their careers, but admitted to adding "extra pressure on them and expectations" from his own meteoric success. The older brother explained, "It's very difficult for them to have to encounter these kind of mental challenges everywhere they go" in the tennis world. Even then, the Serbian maintains it's not all about tennis for them. 
"I figure that if I constantly talk about tennis," he noted, "trying to improve their game, give them advices, that would maybe jeopardize our private relationship and brother relationship." Later adding that "whenever they want to talk, we talk." It's clear the three brothers have much more than just tennis going for them – they have a beautiful brotherhood.