How The Pioneer Woman's Husband Got Frisky At His Daughter's Wedding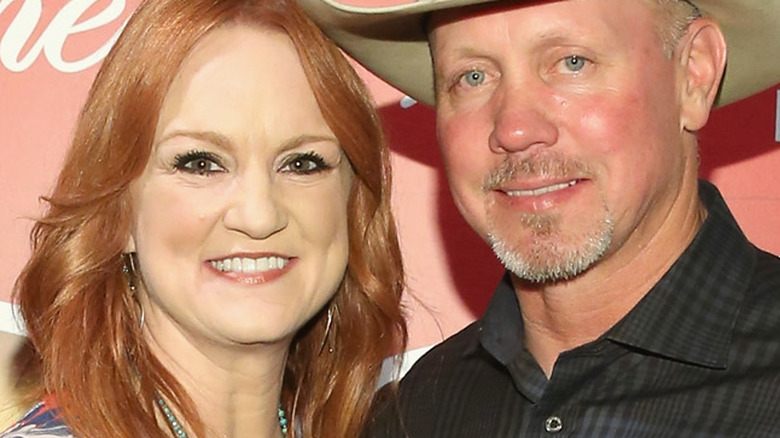 Monica Schipper/Getty Images
"The Pioneer Woman: Ranch Wedding" premiered on Saturday, June 26, showcasing the wedding of Ree Drummond's oldest daughter, Alex, and now husband Mauricio Scott (via People). The hour-long special on the Food Network documented the family preparing for the big day and the gorgeous ceremony which was held at the Drummond family ranch in Oklahoma back in May. 
Drummond said she couldn't wait to share the "meaningful, memorable night" with fans of the show who have "become like [their] extended family over the years." It wouldn't be great television without some drama as the weather on the "open prairie" didn't always cooperate, with strong winds causing the tents to move, but at the end of the day, the wedding was a picture-perfect one (per Delish via Yahoo!). Of course, the day was filled with some super sweet moments, "and a few happy tears," according to Drummond's Instagram, but there was also a frisky moment caught on camera between the Pioneer Woman and her husband — Ladd Drummond.
Drummond got some hands-on training from her husband to lose weight for the wedding
In a short preview that Ree Drummond posted on her Instagram, you can see her husband "helping" her up the stairs by holding onto her butt. The cheeky moment is not the only time Drummond has said Ladd has gotten a bit hands-on recently. According to The Pioneer Woman, Drummond has been on a bit of a weight loss journey recently after she wanted to lose some pounds for her daughter's wedding. The author and blogger also shared that she wanted to "feel better and have more energy," so back in January she started doing more things like weighing her food, eating less calories, exercising, and building muscles.
For the latter, Drummond enlisted the help of her husband. She said she asked Ladd how she could build more muscle, and he showed her how to do exercises like "lunges, squats, straight-leg deadlifts, and calf raises." As she started to progress, Drummond would ask her husband to feel the difference. She even joked that he was "tired of [her] asking him to squeeze [her] thighs and comment on their current firmness" (via YouTube). She would even put his hands on her glute to "feel [her] flex it." So, it seems Ladd wasn't just getting frisky with his wife at the wedding, but checking out her muscle-building progress like a good trainer would.