The Surprise Guests Who Crashed Alex Drummond's Wedding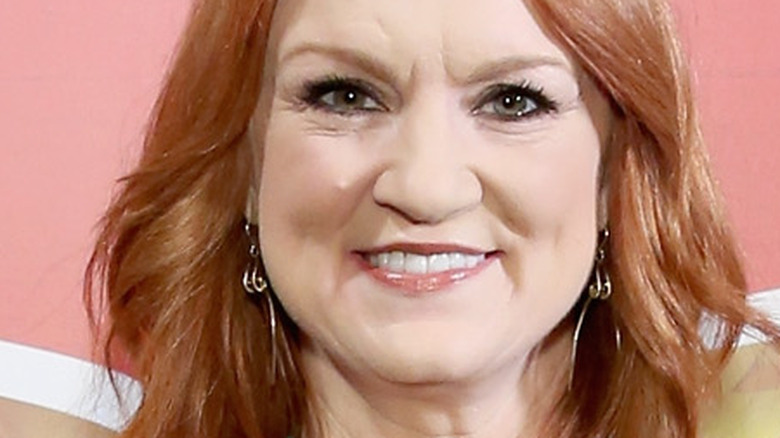 Monica Schipper/Getty Images
During her fairy tale big day, a surprise guest crashed Alex Drummond's wedding and it couldn't have been cuter. Pioneer Woman Ree Drummond shared that her two dogs Rusty and Fred showed up unannounced and unexpected and joined the party. As far as wedding crashers go, those two have to be the sweetest. 
Alex Drummond married her longtime boyfriend Mauricio Scott on May 1 and the entire day aired in a special on discovery+ and The Food Network on June 26 (per Southern Living). Along with Alex's beautiful dress and all of the delicious looking food, viewers were treated to a surprise cameo by two little basset hounds.
On the special day, proud mom Ree shared on Instagram how her dogs found themselves involved in the wedding. "My basset hounds crashed the wedding," she captioned a photo of the newlyweds laughing at one of the dogs, Fred. "They heard the commotion and walked 1.8 miles down the road to the reception. Okay, bye."
Wedding crashing pups and more
Like her mom, Alex Drummond also shared the fun news of her wedding crashers on Instagram. In an Instagram story, she described Rusty and Fred as her and Mauricio's "VIP guests," according to The Pioneer Woman website. The scene  above was captured by wedding planner Julie Marie Myers, who captioned the Instagram photo (via The Pioneer Woman) as, "It's Rusty and Freddles' world ... we're just living in it!"
The entire day turned into fond memories in the weeks following the ceremony. In an Instagram post from May 17, Alex shared how she was feeling about her wedding day in retrospect. "Not a day has gone by where we haven't reflected on our wedding day and how amazingly wonderful it was in every single way," she wrote. "EVERYTHING down to the smallest details made the day oh so special. We are so thankful not only for our amazing team of vendors, but for our parents and all of the efforts that went into making this thing happen! If you would have told me a year ago that we would get married in a tent in the middle of the ranch, I would've laughed....but little did we know."
Following the special day, Alex and her new husband headed to their honeymoon in Maldives (via The Pioneer Woman) But fans of the famous couple can watch the special and be a part of the day. Congratulations to the happy couple and the hounds that joined in on the fun!