Donald Trump's Harsh Words About The Biden Administration Have The Internet Divided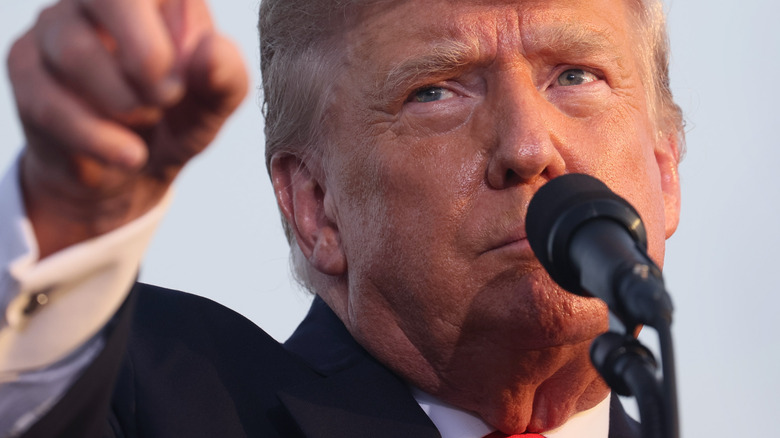 Scott Olson/Getty Images
It was his first large-scale public speech since January 6 — the day his supporters decided to storm the U.S. Capitol. This time, former President Donald Trump was speaking in Ohio, and on behalf of Max Miller, a Republican seeking to challenge the seat held by incumbent representative Anthony E. Gonzales, who is also a member of the GOP but who voted to impeach Trump over the Capitol riot (via The New York Times). During his speech, Trump had harsh words for his successor, incumbent President Joe Biden and his immigration policies, saying, "After just five months, the Biden administration is already a complete and total catastrophe. I told you" (via The Hill). 
Trump went after Vice President Kamala Harris, repeating the same sentiment expressed by Nikki Haley just days earlier. "Kamala Harris, your vice president, only went to the border yesterday for the one simple reason that I announced that I was going. If I didn't do that, I don't know if she was ever going to go," he said. Trump even dismissed the Chairman of the Joint Chiefs of Staff General Mark Milley and his social media-grabbing defense of critical race theory, saying: "You see these generals on television? They're woke."
Trump's speech was reminiscent of earlier speeches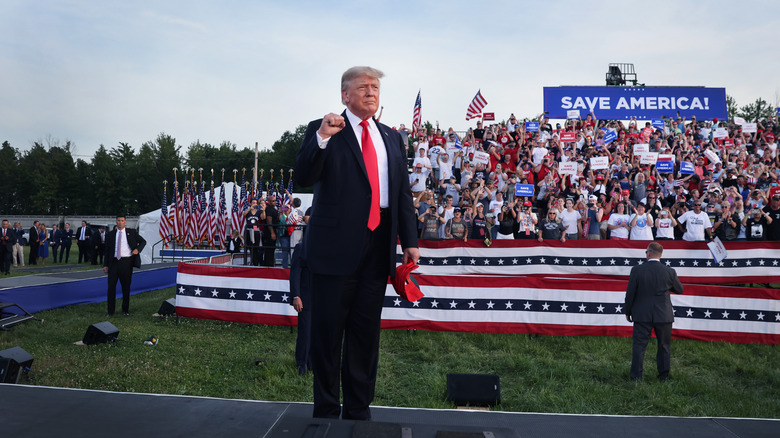 Scott Olson/Getty Images
But on the whole, there was very little in this rally that deviated from Donald Trump's past rally performances. USA Today reports that during his 91-minute speech, the former president used the stage to lash out at the media, criticize both former Secretary of State Hillary Clinton and House Speaker Nancy Pelosi, as well as make unfounded comments about fraud costing him the November 2020 elections. 
Days before his scheduled appearance, White House press secretary Jen Psaki admitted that the Trump rally had triggered security concerns, and she told reporters early that, "Obviously we take the rhetoric of the former guy, as we like to say, quite seriously, as everyone should" (via Twitter).
The rally left a number of social media users fuming. One keyboard warrior said: "Unless he is stopped by multiple indictments, Trump will try to destroy our democracy in an attempt at saving himself from a lengthy imprisonment. This is what this is all about." Another Twitter user warned: "Look, I'm not a doctor but I think it's safe to assume that the origin of the next Delta variant outbreak will be the #TrumpRally in Ohio." Yet there was excitement among conservative Trump supporters like Todd Starnes who posted a photo of the venue with the caption: "Is there any other Republican who can generate this sort of excitement?"
Trump carried Ohio during the November 2020 polls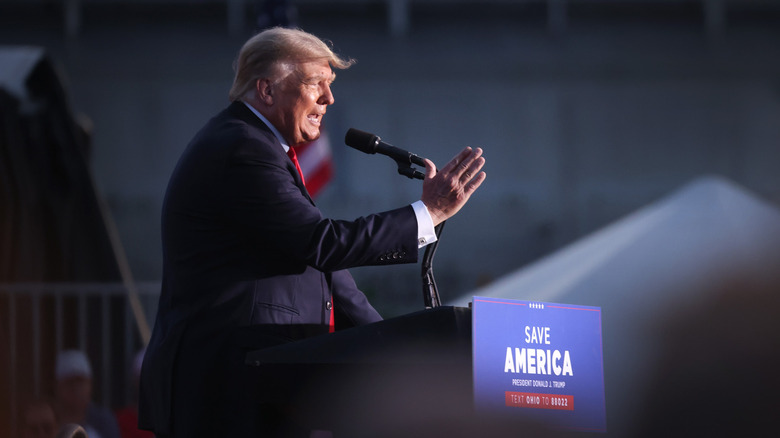 Scott Olson/Getty Images
It was by design that Donald Trump chose to appear in Ohio for his first post-presidential rally. USA Today points out that Trump carried Ohio by eight percentage points as a whole, and by 3 percentage points in Lorain County, where the rally was held. Case Western Reserve University associate political science professor Justin Buchler notes that: "He [Trump] is not campaigning outside of his comfort zone. He's not going to areas where he's going to be surrounded by a hostile crowd. He is going to go to places where he can be surrounded by people who are his devoted followers." 
University of Akron political science professor David Cohen called the Ohio rally "the kickoff of the Donald Trump grievance tour." Analysts say these appearances are designed not only to reinforce the idea that Trump is the head of the GOP, they're also a way to soothe Trump's bruised ego and to settle political scores. 
His next appearance is set to take place on July 3 in Florida.