Can Your Hair Get Sun Damage?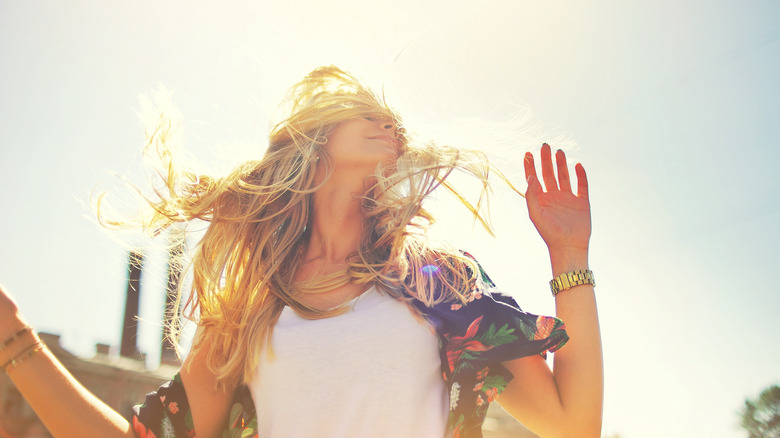 Shutterstock
We may receive a commission on purchases made from links.
When the sun is shining and the weather is warm, our first instinct is often to get outside and enjoy it all. For many of us, the warmer weather immediately puts us in a great mood, and we want to do absolutely anything and everything that's outdoors. While we're soaking in all of that sunshine, we often remember to put SPF on our face and body to protect our skin from burning, but we don't always think about other parts of our body — like, for example, our hair. 
Many people don't think to protect their hair and scalp when they're outside in the sun, but, it turns out that doing so is vital to healthy and strong hair. We know that prolonged exposure to the sun can harm our skin, and experts say that prolonged exposure to the sun can also cause harmful damage to your hair, per Byrdie. 
However, there are plenty of ways to keep your hair protected and safe in the sun. Keep reading to find out how your hair can get sun damage and what you can do to prevent it.
Hats can protect your hair from sun damage
Shutterstock
Much like a sunburn on the skin, hair damage can occur from the sun's UVA and UVB rays, per the Cleveland Clinic. The sun damage often occurs on the cuticles or the covers of the hair strands. Dermatologists say that the sun works the same way that bleach does on hair, causing it to become dry, brittle, frizzy, and even discolored, per Byrdie. Too much time in the sun can also damage the keratin protein in your hair. 
Luckily, there are ways to keep your hair protected while also enjoying your time outside, by the pool, or even at the beach. One thing to consider is investing in a sun hat. There are tons of cute styles and sizes that can take you from being an average pool-side lounger to a chic and fashionable one — while being safe, too. (Don't believe us? Just look at these cute picks from Amazon!) Another tip is to use a headscarf or a head wrap if you know you'll be spending time in the sun.
As the sun is known to be a dying agent for your hair, investing in deep conditioner and hair masks can also help in avoiding that breakage and long-term damage, especially if you've already started to see some problems after hanging around in the sun, according to The Healthy. Wherever you're going and whatever you're doing in the sun, taking the proper precautions will ensure you can enjoy your time damage-free!