The Surprising Product That Kehlani's Makeup Artist Swears By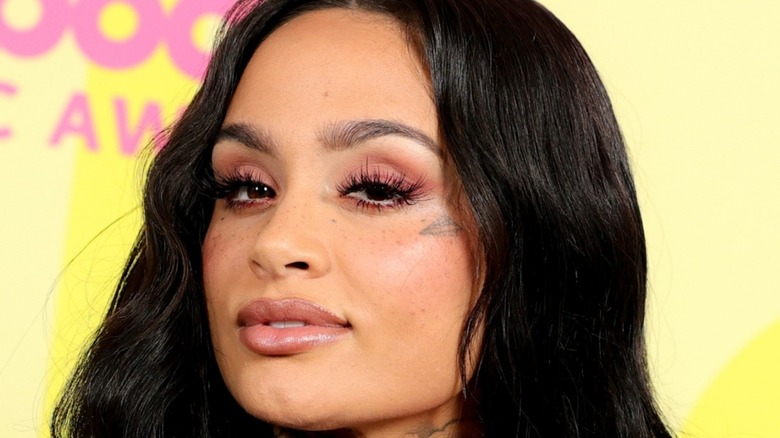 Rich Fury/Getty Images
If you're in the mood for feel good music or songs that transport you somewhere else, R&B singer-songwriter Kehlani deserves to grace the top of your playlist. She's the queen of self-expression and experimentation, and switches up her musical style and beauty looks to support her personal growth. In 2017, she told Refinery29 that her upbringing and personal style growing up impacts how she looks at beauty today. "I've always been a tomboy — a little rough around the edges," she admitted. "I have a lot of tattoos. I couldn't afford to try different looks, so now that I'm able to, I've watched videos and am learning and experimenting. It's an art form, really, so it takes practice."
In a tutorial shot for Vogue's Beauty Secrets YouTube series, Kehlani revealed that when it comes to skin care, she is all about hydration. The "Can I" singer layers hydrating products throughout her skin care routine. One of her go-to products is Korean beauty staple Cosrx Advanced Snail 96 Mucin Power Essence. Model Emily Ratajkowski also swears by this skin lifesaver, per Elle. 
Kehlani also opened up about skin issues she struggled with after becoming pregnant. "I started breaking out here, here, here, and here when I was pregnant," she shared after pointing to different areas of her face and neck. "So I had to use something that would balance my hormones." Dying to copy her makeup routine? Kehlani's makeup artist revealed how she plays up one of the artist's most defining features.
Kehlani's makeup artist uses this trick to bring out her natural freckles
In an interview with Byrdie, celebrity makeup artist Pircilla Pae shared her process behind creating Kehlani's stunning makeup look for her live stream concert "It Was Live Until It Wasn't." But out of all the beauty products used, the star of the night was vegan cosmetic brand Lime Crime's Freckle Pen. Pae used the makeup pen to trace the "Bad News" singer's natural freckles and really make them stand out. Kehlani posted a series of promotional shots for the performance on Instagram and the end results completely blew fans away.
Per Nylon, her overall gorgeous beauty look came to life because of the singer-songwriter's partnership with Lime Crime. In a 2021 interview with Essence, Kehlani praised Pae's genius and credited her for her show-stopping makeup at the concert. "I'm not like a makeup artist, so I sometimes have a hard time with coming up with things myself," she readily admitted. "I just prefer people who are good at what they do to be good at what they do."
Kehlani's beauty evolution over the years has been one to watch. Her honest approach to makeup inspires her fans to be confident in their own makeup choices and imitate her creative but totally accessible beauty routine (via YouTube).