The Real Reason This Rock Band Is Banned From SNL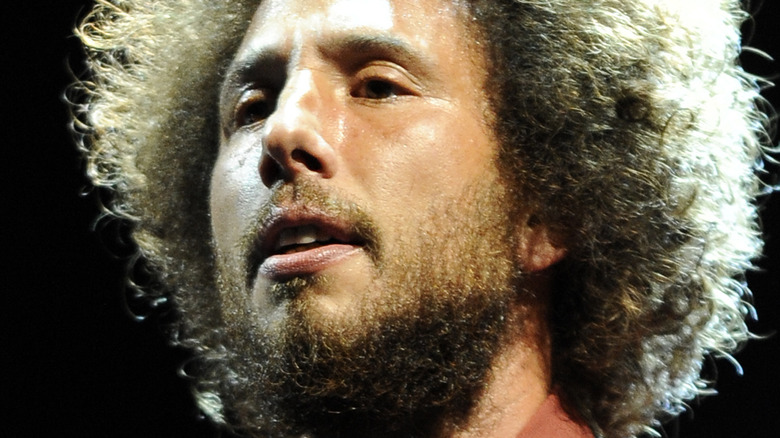 Tim Mosenfelder/Getty Images
Bands and musicians causing controversy on TV is nothing new. Back in 1967, legendary rock band The Doors was banned from any future appearances on "The Ed Sullivan Show" after singing a lyric that referenced drug use despite agreeing beforehand that they would change the words for the show (via Vice). Nine years later, iconic British punks the Sex Pistols caused a media firestorm in their home country after a profanity-laden appearance on "TODAY" (via Louder). 
Despite these controversies, perhaps the show we associate the most with musicians being banned is "Saturday Night Live." Artists as varied as The Replacements, Cypress Hill, Sinead O'Connor, Elvis Costello, and Frank Zappa have been banned from the show in the past (via Vice), but they aren't the only musicians to fall foul of their requirements. Rage Against the Machine, one of the most iconic and influential bands of the 1990s, was also banned from "SNL" — here's why.
Rage Against the Machine was told to leave the studio immediately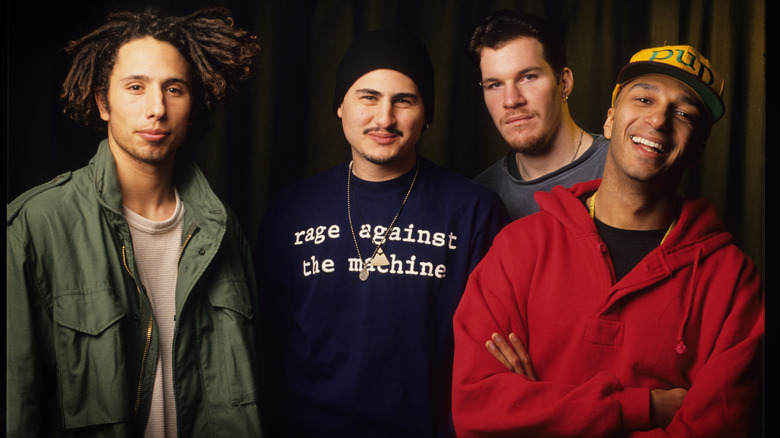 Gie Knaeps/Getty Images
Rage Against the Machine is known just as much for its leftist political views as it is for its popular fusion of metal, rap, and funk. In fact, the band's music often contains anti-capitalist and anti-imperialist views, as its members have long been critics of both America's foreign and domestic policies (via The Independent). Despite this, the group was invited to perform on "Saturday Night Live" in 1996, but it was to be the last time.
Per Far Out, the guest host of the show the night the band appeared was prominent billionaire Steve Forbes, who at the time was running to become the Republican presidential candidate (and who remains the editor-in-chief of Forbes). Put him on the same episode as a vehemently anti-establishment band, and it could well prove to be a recipe for disaster.
Indeed, when the band performed their track "Bulls on Parade," Rage Against the Machine hung the U.S. flag upside down from their amplifiers as a political statement. Despite it not being among their more "out-there" political gestures, it did not go over well at all, and the producers asked the band to leave the studio immediately after the song finished. Not content with leaving it there, however, bassist Tim Commerford entered Forbes' dressing room with torn bits of flag. Even twenty five years later, we cannot imagine they are on Forbes' Christmas card list.