Why This Hip Hop Group Was Banned From SNL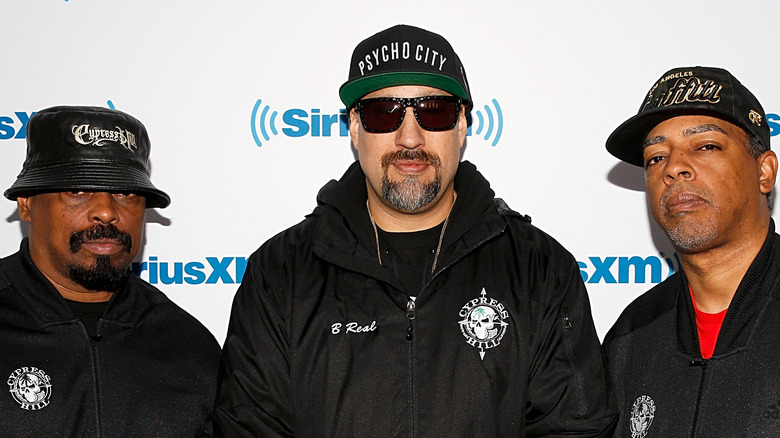 Dominik Bindl/Getty Images
"Saturday Night Live" has become a staple of American comedy like no other show. The late-night show premiered in 1975 and just wrapped its 46th season with no signs of getting canceled any time soon. "SNL is one of the most culturally significant shows in television history, and being No. 1 in its 46th season is a testament to how that relevance has continued to grow over the past five decades," Susan Rovner, chairman of entertainment content at NBCUniversal Television and Streaming, told The Hollywood Reporter.
"SNL" has featured a wide range of celebrities as hosts and guest performers, from musicians like Dolly Parton to tech moguls like Elon Musk. While the show loves having big names in their lineup, not all celebrities are welcomed. One of those banned entertainers is California hip-hop group Cypress Hill, who performed on "SNL" in 1993 and never again. But, why are the musicians in "SNL"'s blacklist?
This is what DJ Muggs did to get banned from SNL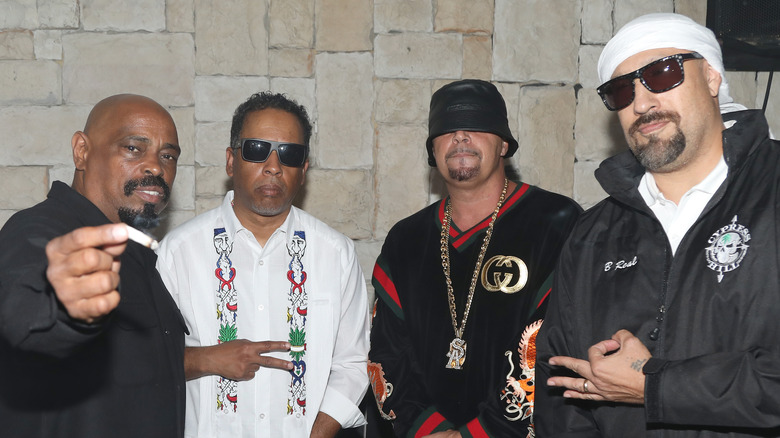 Jerritt Clark/Getty Images
Cypress Hill had their breakthrough in the '90s with a sound that the American music industry hadn't heard before. The group is composed of B-Real, DJ Muggs, Sen Dog, and Eric Bobo, who enjoy creating heavy rhythms and psychedelic sounds with lyrics in English and Spanish (via Cypress Hill). Their unique sound earned them the title of first Latino American hip-hop recording group to go platinum. 
The band mates have always been huge advocates for the legalization of recreational marijuana, but not everyone has been thrilled by that. In 1993, Cypress Hill made their stellar appearance on "SNL" without knowing it would be the last. Disregarding the fact that marijuana was illegal at the time, DJ Muggs lit up a joint on live TV. "Muggs felt like he needed to make a statement with his performance. It wasn't just the 'Saturday Night Live' people saying he couldn't smoke up on air. It was everyone: our record label, our management, our friends," Sen Dog told The Village Voice in 2014.
While the views on recreational marihuana have changed a lot in the past decades, Sen Dog said that "SNL" hasn't contacted them to end their ban from the show. "The world wasn't ready for anything near that at that time," explained Sen Dog (via Far Out Magazine).