The Unexpected Twitter Exchange Between Joe Biden And Justin Trudeau That Has People Talking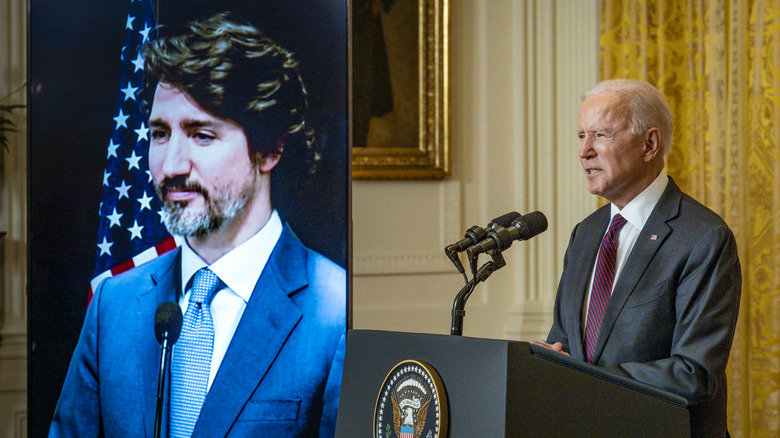 Pool/Getty Images
It might not (yet?) be the stuff that bromances are made of, but the budding friendship between Canadian Prime Minister Justin Trudeau and President Joe Biden was on display for Twitter as both heads of government took to social media to give each other a good-natured ribbing ahead of hockey's best-of-seven Stanley Cup playoffs. Canada threw down the gauntlet, with Trudeau tweeting: "Two of the best teams in the NHL are facing off right now... how about a friendly wager, @POTUS? #GoHabsGo" to which Biden responded: "You're on pal. #GoBolts" 
The exchange was viewed and liked by more than 48 thousand followers on Twitter (as of this writing), many of whom noted the change in both tone and rhetoric between the North American leaders. "Its nice to see a friendly wager over sports being made by the leader of the United States and Canada. This has been missed the past 4 years. Fun, compassion, and leadership is back in the White House," one Twitter user raved. "Now that's how two grown men of the most beautiful countries share their differences.....hockey," another one said.
Canada and the United States went through rough times in the last four years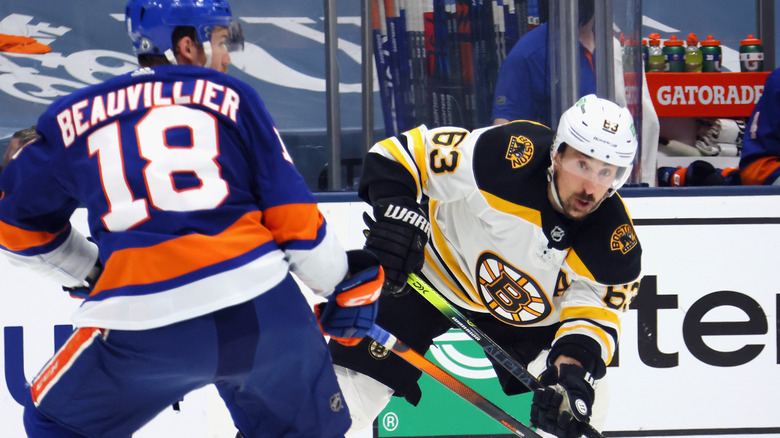 Bruce Bennett/Getty Images
Canadians and hockey fans were thrilled by the banter of Joe Biden and Justin Trudeau over social media, too. One Canadian said: "We were always here, many of us offering words of support and friendship during the darkest days of TFG-era via the ESC network. We've been missing this too!" A sports fan tweeted, "For a moment I had a flashback to 2020 and thought, that guy has no knowledge of sports, especially hockey! Then I remembered no, Uncle Joe is POTUS now and he knows. He knows."
There is no denying that Trudeau and Biden have at least a good working relationship. After the bromance Trudeau enjoyed with Biden's former boss Barack Obama, Canada and the United States' relationship status changed from friends to "It's Complicated" under former President Donald Trump, who renegotiated the North American Free Trade Agreement (NAFTA), triggering high levies and harsh words in the process (via Politico).
But all that is in the past — at least for now — and we can all sit back and enjoy the renewed friendship between old neighbors, especially since the Tampa Bay Lightning smashed the Montreal Canadiens in the first game of the series (via The Athletic).