Here's What BD Wong Has Been Doing Since Leaving Law And Order: SVU
Shutterstock
BD Wong is one of our favorite television doctors. Known for long-running supporting characters, Wong always delivers with depth and nuance that help create a familiarity across seasons and sequels. Many became familiar with Wong as the patient Father Mukada on "Oz" before he went on to portray a psychiatrist and counselor on "Law & Order: SVU;" in fact, Wong was among almost a dozen other "Oz" castmates who made the switch to "SVU," including star Christopher Meloni (via Listal). As for Wong, the role as Dr. George Huang on "SVU" was a longstanding role from 2001 to 2015 (via IMDb), but did you know he has played another character for even longer (if not for more appearances)?
Since 1993, Wong has played the Jurassic Park scientist Dr. Henry Wu. Wu is the only character to fully make the transition to the franchise's relaunch with "Jurassic World" in 2015 (via Screen Rant). His character, across this time period, showed both the light and dark sides of science unhindered by ethics. He has appeared in several titles within the franchise and across various mediums, including "Lego Jurassic World" TV and video games, blockbuster "Jurassic World: Fallen Kingdom," the video games "Jurassic World Evolution" and "Jurassic World Aftermath," and the upcoming "Jurassic World: Dominion" in 2022.
The multitalented BD Wong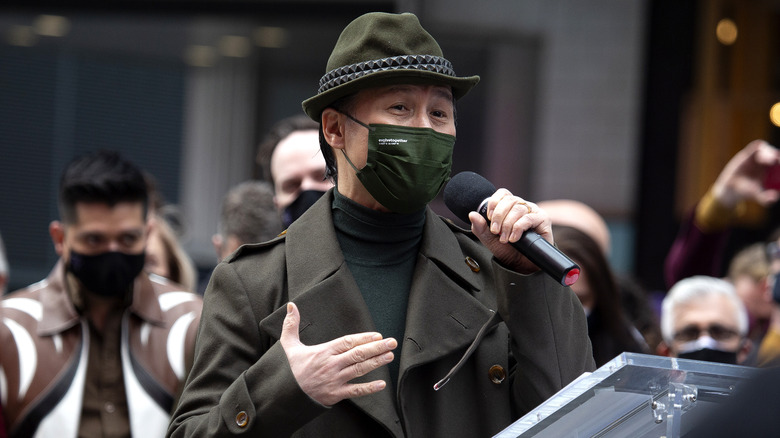 Santiago Felipe/Getty Images
While those credits alone would be enough for many performers to sit back on their success, that's only a fraction of BD Wong's projects since leaving "SVU." Screenwise, you'll find Wong on everything from comedy appearances with Awkwafina to roles in friendly small-screen creepers like "American Horror Story," "Gotham," and "Gremlins: Secrets of the Mogwai" (via IMBb).
Yet beyond acting, you'll find BD Wong the person speaking out about his unique experience and work toward larger equity and inclusion. In April 2021, Wong appeared as a guest lecturer for Dickinson College, discussing his "multiple identities as a gay, Asian-American man and father" (via The Dickinsonian). Said Wong during his lecture, "When people say privilege what we really mean by that is when you are of a certain group of people, you go through life without having to wonder or question or feel less than because of how you are represented in the media." The actor and activist spoke on current events including Black Lives Matter, COVID-19, and anti-Asian American hate.
Concluding his lecture, the actor asked the listening students to get involved in their own communities: "I am most critical of people who don't ask these questions, who are apathetic, who complain, who don't understand that we are part of something."