The Truth About Gossip Girl Star Savannah Smith
The "Gossip Girl" reboot is almost here — but how have things changed since we last left the Upper East Side? According to Variety, the new highly-anticipated series, which is set to premiere on July 9 on HBO Max, will be a fresh, more modern follow-up to the original beloved CW series — and will follow a new generation of New York private school teenagers nine years after the finale of the original "Gossip Girl."
Though fans may be disappointed that they won't see stars like Blake Lively and Leighton Meester reprise their original roles, the good news is that there will be a whole new slate of characters they'll soon be obsessed with — and they're being portrayed by a fresh new cast of talented actors! Among them, actress Savannah Smith is set to portray a character named Monet de Haan — who, according to the official "Gossip Girl" instagram, is a character that embodies "power" in the new series.
If you're wondering about this new rising "Gossip Girl" star, here's what we know about Smith.
Savannah Smith is a Hollywood newcomer with a passion for music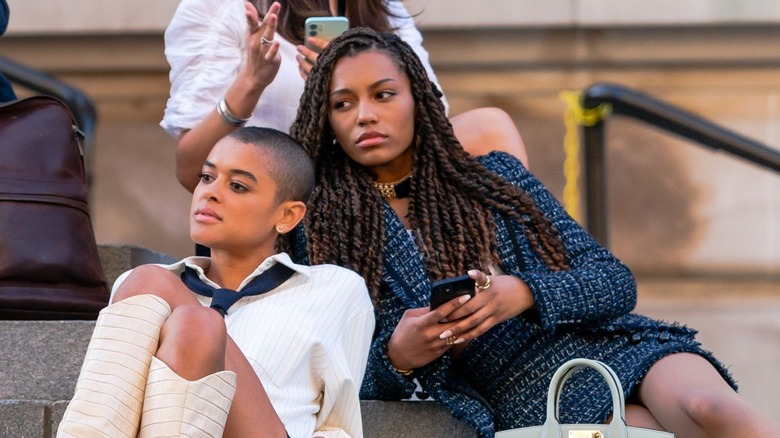 Gotham/Getty Images
With "Gossip Girl" being her on-screen debut, Smith is a new face within the Hollywood scene, per Deadline — and she's also currently still studying acting at NYU's Tisch School of the Arts. As it turns out, though, the young newcomer wasn't set on pursuing an acting career until recently — in fact, Smith always had a lifelong passion for music, as she revealed in an interview with Wonderland Magazine.
"I didn't really get into acting until high school and really I didn't even start taking it seriously until the end," she said, revealing that she first started pursuing music in college. "I thought 'Well, I've always been a singer. I've been singing since I was three. I make music, and it's something people know me for.' I wasn't confident in my acting yet, so I figured I would play it safe."
Smith later switched her studies from music to acting — but music is still where the actress "finds her release," as she revealed to the outlet. "I've always loved acting, but I mean, singing is just part of my identity and music is a part of me," she confessed. "I have a very strong connection to music and I don't have any plans of abandoning it."
In fact, Smith says she has hopes of one day performing on Broadway and even becoming a playwright. In the meantime, though, there's no doubt that we'll see her star rise with "Gossip Girl!"