How To Give Yourself A '70s-Inspired Manicure At Home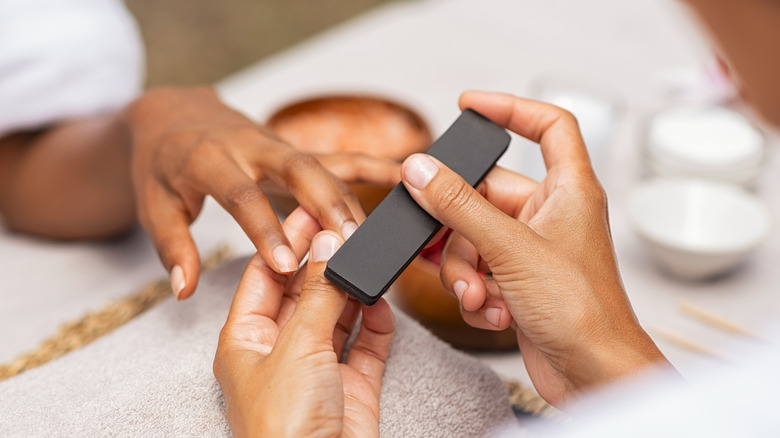 Shutterstock
We may receive a commission on purchases made from links.
Beauty trends come and go as seasons change, but there are some that are here to stay. Lately, many people are switching up their usual solid-color manicures for fun, funky, and bright manicure styles. Long gone are those old-school French manicures and instead, people are just going for different looks. Everyone knows that when your nails look good, you just feel good, because you look at them literally all day long. 
One of the latest manicure trends that are all over social media involve multiple colors in a psychedelic swirl style. The nail design and colors take us right back to the 1970s where, there were bell-bottom jeans everywhere and everyone was "more love, less war" (via Byrdie). While the nail style is absolutely stunning, it's definitely pricey to get done at the salon. 
Instead, there are tons of ways to get those Pinterest-worthy manicure styles at home, on your own. Who doesn't love a good beauty DIY day?
How to do a swirl manicure at home
Getting this look at home is easy, as long as you have the right tools at home. What you'll need is a neutral color for a base, something like Essie's "Ballet Slippers" will totally do the trick. Then, you'll want to grab some bright colors that you absolutely love. Some people like to do a bunch of different colors, while others want to keep it in the same family, like blues and purples, or reds and pinks. You'll also need a thin, design brush for your swirls. You can grab some thin, detail nail polish brushes on Amazon.
First, apply your neutral base. Sometimes, you'll do two coats to make sure that it's visible. Then, when it's dry, you want to use one of the thin, detail brushes to create an S-like design on your nail. You want to start with one color, and then begin to add your other colors next to it (right or left, manicurist's choice!) 
The more colors you add, the more your nails will get that psychedelic, '70s look. The last step is, of course, to finish with a clear top coat. Because using a lot of colors on top of each other can make the paint a litter thick, using a quick drying topcoat, like this Sally Hansen one on Amazon, is a great idea so you are less likely to smudge that perfect mani.