This Viral Tiktok Shows You How To Diy A Dupe For Fenty Beauty's Body Lava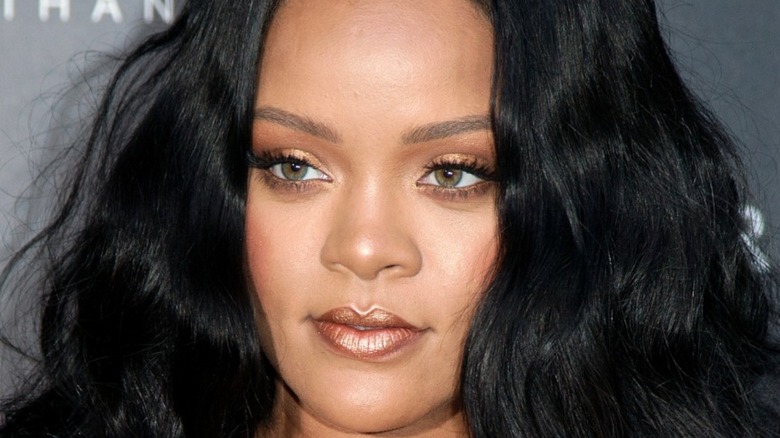 Shutterstock
For beauty lovers, TikTok is their one-stop shop for next-level makeup and skincare hacks. It's next to impossible to mindlessly scroll on the video-sharing app without being pulled into tutorials that make imitating viral TikTok beauty trends ridiculously easy. But crafting your own beauty and skincare routine doesn't always come cheap and takes a lot of trial and error before you find the right product for your skin type. Luckily for all of you beauty aficionados, TikTok's got you covered. 
There are a lot of posts dedicated to DIY makeup dupes, and some even use natural alternatives to the chemicals found in name-brand beauty products — which is a big win. If there's a certain beauty product that you've been eying for a while now and trying to will the price to go down, chances are there's a killer dupe on TikTok that is just as effective. Take music icon Rihanna's inclusive cosmetics line Fenty Beauty, for example. Per Bustle, their widely popular Body Lava Body Luminizer is a '90s throwback with its promise of soft and glistening skin. But even though this body glitter flies off the shelves, it still comes at a hefty price. But now, a viral TikTok is showing off exactly how you can DIY this holy grail beauty product, using items from your makeup bag.
This DIY Fenty Beauty Body Lava Dupe is made using four simple ingredients
Who says you have to break the bank to get shimmery skin? TikTok user Sarah Farrugiaa posted this DIY beauty tutorial on how to create your own version of Fenty Beauty's Body Lava Luminizer. The best part is that you don't have to be a DIY goddess to follow the guide, considering it's made using only four ingredients: gold highlight, grapeseed oil, white or silver eyeshadow and water. First, fill up the bottom of a spray bottle with grapeseed oil. Then, add in gold highlighter before pouring in more grapeseed oil. This natural ingredient makes this dupe even better. The benefits of incorporating grapeseed oil into your skincare routine are endless. Per Healthline, grapeseed oil combats acne, softens your skin, and can even reduce hyperpigmentation.
According to the video, after you eyeball the amount of grapeseed oil you want, add your shimmery eyeshadow. Dilute your mixture with water and fill up your bottle to the top. The only thing left to do is spritz your arm with your DIY body lava and get your sun goddess on.