Details We Know About Donald Rumsfeld's Death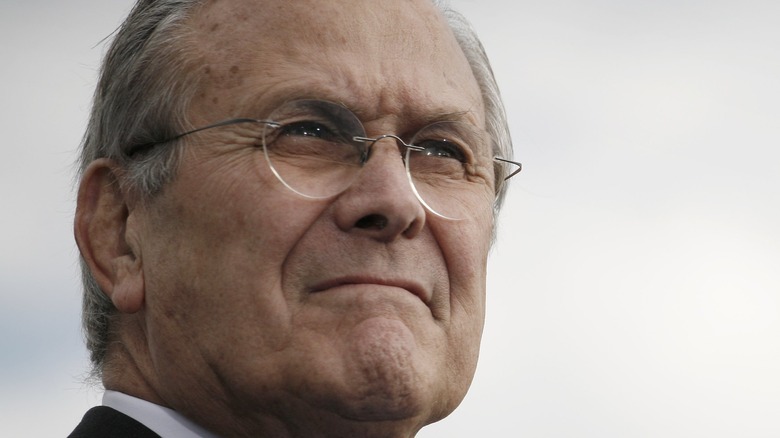 Charles Ommanney/Getty Images
Donald Rumsfeld, the former Secretary of Defense, has died just days before his 89th birthday, per CNN. Although a cause of death has yet to be provided, the Rumsfeld family released a statement on June 30. "It is with deep sadness that we share the news of the passing of Donald Rumsfeld, an American statesman and devoted husband, father, grandfather and great grandfather," the statement read. "History may remember him for his extraordinary accomplishments over six decades of public service, but for those who knew him best and whose lives were forever changed as a result, we will remember his unwavering love for his wife Joyce, his family and friends, and the integrity he brought to a life dedicated to country." The politician's family also confirmed that Rumsfeld was surrounded by family "in his beloved Taos, New Mexico" at the time of his death. 
As the "architect of the Iraq War" (per USA Today), he leaves a controversial legacy behind. 
During his time in the Pentagon, Donald Rumsfeld oversaw the war on terror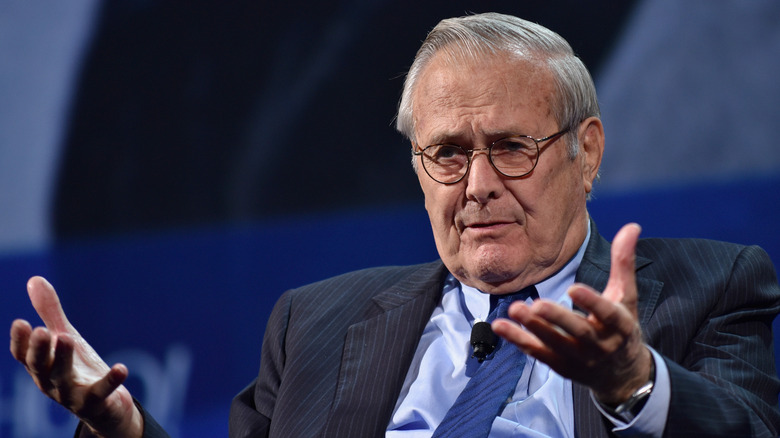 Bryan Bedder/Getty Images
When he served under President George W. Bush, Donald Rumsfeld championed the administration's "war on terror," per BBC. He was a key decision maker in launching the campaign in Afghanistan following the 9/11 terrorist attacks, and he also pushed for the US invasion of Iraq in 2003. During that time, he famously argued that Iraqi weapons of mass destruction posed a threat to the rest of the world, despite no such weapons ever being located.
In 2006, Rumsfeld resigned amid the turmoil in the Middle East and was replaced by then-CIA director Robert Gates (via CNBC). Even after stepping down, he repeatedly defended the decisions he made during his time in the White House and Pentagon. Prior to his time under the Bush administration, Rumsfeld served in Gerald Ford's administration as the chief of staff. During Ford's presidency, Rumsfeld became the youngest person ever to become the Secretary of Defense — the leader of the country's biggest federal agency.