How Desperate Housewives Influenced The New Series Physical - Exclusive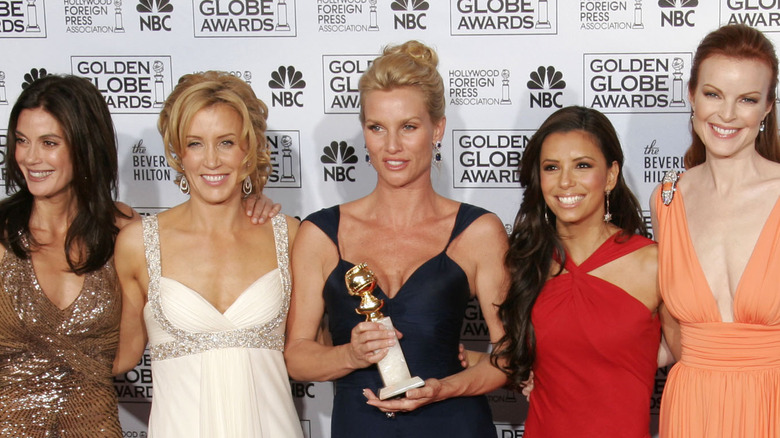 Bloomberg/Getty Images
"Desperate Housewives" was a cultural phenomenon that changed TV forever, making Felicity Huffman, Eva Longoria, Teri Hatcher, and Marcia Cross household names in the process. The hit ABC series, which ran for eight seasons from 2004-2012, followed the lives of a group of suburban women hiding secrets, lies, mysteries, and crimes behind closed doors on the fictional Wisteria Lane.
Filled with over-the-top watercooler moments, "Desperate Housewives" was not only popular with fans — over 30 million viewers tuned in for the Season 1 finale — but also critically acclaimed. Throughout its run the dramedy won numerous Emmys and Golden Globes awards.
It's also where the seeds for the new Apple TV+ series "Physical" may have first been planted, as series creator Annie Weisman cut her teeth on "Desperate Housewives" as a writer/producer from 2010-2012. (Weisman has also worked on "Dead Like Me," "Eastwick," and "Suburgatory," among other series.)
"Physical" is a dark comedy set in Southern California in the 1980s that follows Sheila, an unhappy suburban housewife who's hiding a secret — she suffers from an all-consuming eating disorder and a warped view of the world around her. The one thing that keeps her going? Aerobics.
The series, which stars Rose Byrne and is currently streaming on Apple TV+, is very personal to Weisman, as she used her own upbringing and eating disorder as fodder for the storyline. But just how did "Desperate Housewives" pave the way for "Physical"? In an exclusive interview with The List, Weisman opened up about what the two shows have in common.
If you are struggling with an eating disorder, or know someone who is, help is available. Visit the National Eating Disorders Association website or contact NEDA's Live Helpline at 1-800-931-2237. You can also receive 24/7 Crisis Support via text (send NEDA to 741-741).
Annie Weisman thinks Desperate Housewives and Physical both 'challenge social norms'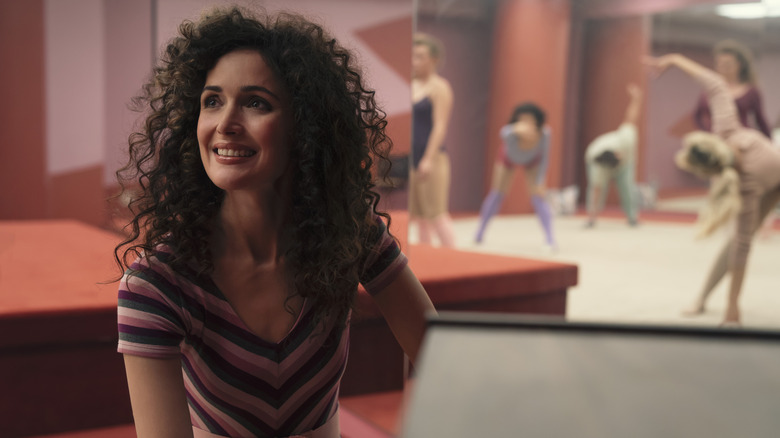 Apple TV+
"Working on 'Desperate Housewives' really did inspire me in a lot of ways," says Weisman. "You got a real sense of being part of that show. Audiences really loved and embraced those characters for the dark shades of what they did and for the honesty with which they were portrayed, and that was really groundbreaking at the time."
It gave Weisman license to make Sheila in "Physical" a complex character whose self-loathing spills over into her internal thoughts about other people, often silently insulting everyone she crosses paths with for their appearance or eating habits.
"[Having worked on 'Desperate Housewives'] does give you permission and inspire you to not pull punches when it comes to female characters," says Weisman. "It's what bonds the audiences to them, when they see not just the aspirational attributes in themselves, but the darker ones as well."
Meanwhile, as Sheila dives deeper and deeper into the world of aerobics, she finds herself forging new bonds with people and starting to work on her personal issues. The female connections she makes along the way is a direct product of Weisman having worked on "Desperate Housewives."
"I think they both feature women that out of ... I guess you could say desperate circumstances, do things to challenge social norms and expectations," she says. "Also, a lot of the joy of that show ["Desperate Housewives"] was the way it portrayed the complexities of female friendship, the ups and downs of female connection. And that's something that was a surprise to me; a really important part of the show is building towards female friendship."
"Physical" is now streaming on Apple TV +, with new episodes available every Friday.