Donald Rumsfeld's Net Worth At The Time Of His Death Might Surprise You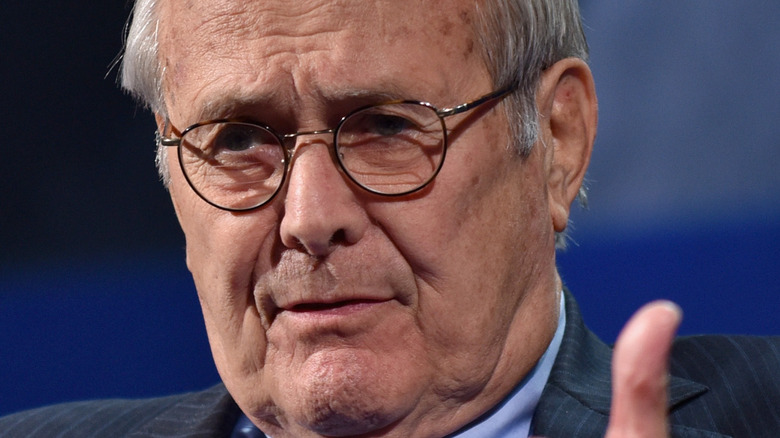 Bryan Bedder/Getty Images
On Wednesday, June 30, 2021, the family of former United States Secretary of Defense Donald Rumsfeld announced that he had died at the age of 88 in his home in Taos, New Mexico. A cause of death was not disclosed. Though Rumsfeld held many political offices during his six-decade-long career, including secretary of defense under President Gerald Ford, it was his return to the role of secretary of defense under President George W. Bush that earned him the most notoriety. Rumsfeld was widely criticized for his handling of the Iraq war and ultimately resigned from the cabinet position in 2006 (via Reuters).
After leaving the world of politics, Rumsfeld wrote an autobiography defending his handling of the wars in Afghanistan and Iraq called "Known and Unknown" and "Rumsfeld's Rules," which is a collection of guidelines he used during his career (via CNBC). Most recently, in January, Rumsfeld penned a letter alongside other former secretaries of defense in which he argued that the United States presidential election between Joe Biden and Donald Trump had been decided, and that there was no use in debating that fact any longer.
Aside from politics, Rumsfeld was also a successful businessman, having served as the chairman for several Fortune 500 companies in his lifetime, per CNBC. Ultimately, this lucrative side hustle is responsible for Rumsfeld's surprising net worth.
Rumsfeld's side ventures were quite lucrative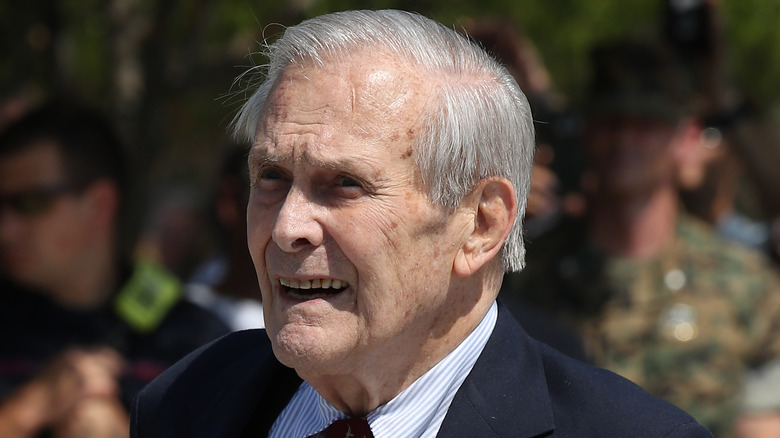 Mark Wilson/Getty Images
As it turns out, Donald Rumsfeld's work in the private sector earned him quite a substantial living. According to Celebrity Net Worth, Rumsfeld was worth an approximated $200 million at the time of his death. Between his time serving as secretary of defense for Presidents Gerald Ford and George W. Bush, Rumsfeld was the CEO and chairman of G.D. Searle & Company, General Instrument Corporation, and Gilead Sciences, Inc., which developed a treatment for bird flu, per Celebrity Net Worth. In 2001, before becoming secretary of defense for President Bush, he estimated his net worth to be between $50 and $210 million. When he left the White House in 2006, Rumsfeld estimated his net worth to be $127 million.
Rumsfeld lived in the community of El Prado, located just outside of Taos, New Mexico, before his death and owned other properties in that area, according to Santa Fe New Mexican. In 2019, Realtor.com reported that Rumsfeld sold his vacation home in St. Michaels, Maryland, nicknamed "Mount Misery," for $2.45 million.