The Best Summer Scents For 2021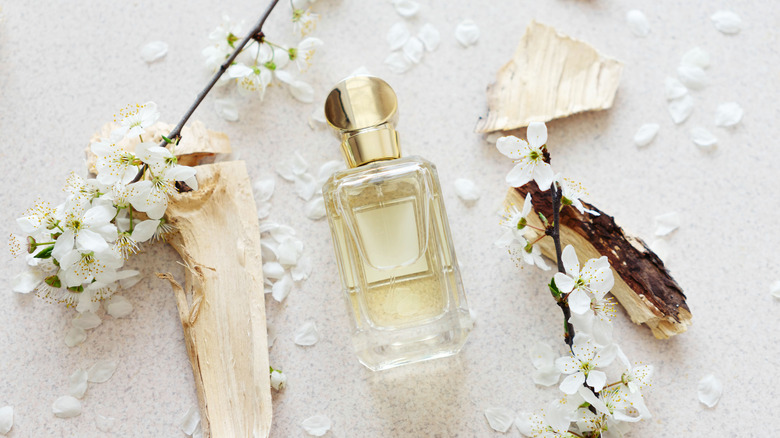 Shutterstock
Ah, summer. The season for strawberry picking, ice cream runs, thunderstorms followed by bikini-clad pool days, and lots of tanning (with some SPF, of course!). If summer is all you're thinking about right now, why not accentuate your obsession with a perfect warm-months scent? The best summer fragrances are slightly sweet but complex and spicy as well: a scent that evokes an all-night beach party, a spicy margarita, and a morning at the beach all at once. Sound like everything you've been looking for? Here are our favorite summer scents for 2021.
If you're already buying a few cute swimsuits, cut-offs, and sandals, why not pair your purchases with a summer-ready perfume? Although many of us have a go-to, classic scent we use on a daily basis no matter the season, switching up your perfume every few months is a total life hack. As LifeStyleLinked puts it, temperature changes "have an impact on your own natural scent ... this means your perfume will develop a different scent as it mixes with your natural odor." Your complex, woodsy winter perfume won't smell the same in the sweltering summer heat, so put it away in your bathroom cabinet for the next couple of months. For the hottest season, light, floral, and sweet scents will go best — plus anything that's refreshing as a glass of ice-cold lemonade.
Summer 2021 perfumes you should try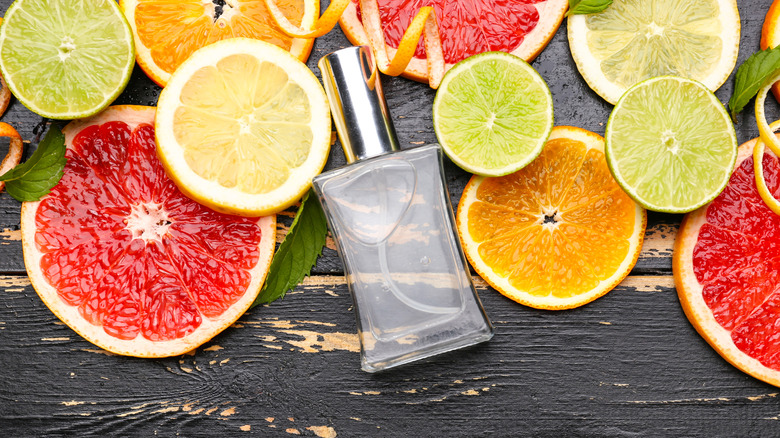 Shutterstock
So what scents go best for the summer season? As French perfume maker Carrement Belle explains, warm-months perfumes should evoke "exotic journeys with fruity scents." The designer recommends trying all things citrus, found in perfumes like Byredo's Sundazed, which features mandarin, lemon, and even cotton candy notes (via Marie Claire). Other sweet-and-sour citrus scents? Acqua di Parma's Arancia di Capri, a fusion of Italian sweet orange, caramel, and musk, or Tom Ford's Soleil Brulant, which is known for its mix of orange flower, honey, and amber. When it comes to citrus, rather than going full-mimosa, try scents that mix in some spice for a truly unique take on summer fruit.
Worlds away from citrus, Carrement Belle also recommends trying on a marine-inspired summer fragrance, which should remind you of a refreshing dip in the deep blue sea. Cool, crisp, and just a bit salty, marine scents should evoke "coastal spray" and always feel fresh. For this kind of fragrance family, try Salvatore Ferragamo's Oceani di Seta, inspired by salty ocean waves, silk, and magnolia petals, or go for Maison Francis Kurkdjian's epic Aqua Celestia Forte, an amalgam of lime and mimosa blossoms that's inspired by the blue of the sea. Other great options? Joe Malone's marine-forward Wood Sage & Sea Salt that brings to mind the ocean shore, cult-fave Dolce & Gabbana's Light Blue with Sicilian cedar and green apple, and Acqua di Parma's Mirto di Panarea, featuring a "sea breeze" base with juniper, lemon, and basil.
Go-to summer scents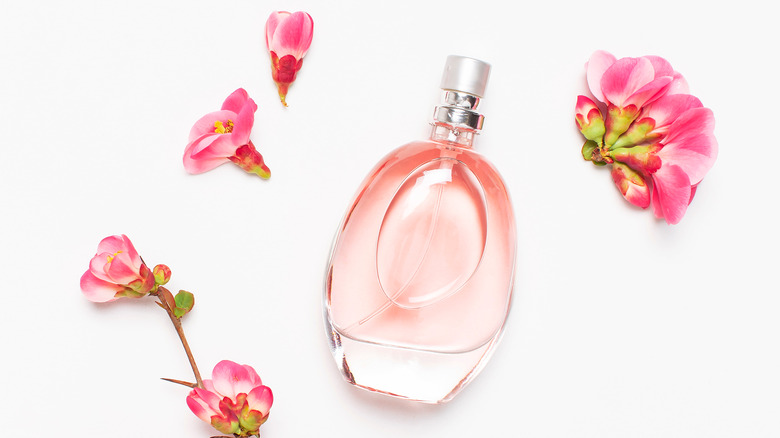 Shutterstock
Apart from fruity-fresh and ocean-wave fragrances, summer can be evoked in tons of other ways, too. Louis Vuitton combined a full summer garden when making their perfume On the Beach, which blends super-fresh neroli, thyme, rosemary, cloves, and cypress. Replica's Beach Walk creates a full August scene: described as "sun kissed salty skin," the perfume features a roundup of bergamot, pink pepper, lemon, and coconut milk. If you prefer to go boardwalk carnival-esque rather than beachy, try Acqua di Parma's Mandorlo di Sicilia, which blends vanilla and almond for a scent that reminds many of root beer (in an amazing way). Prada's caramel-forward Candy and Philosophy's Fresh Cream are similarly sweet and refreshing all at once.
Other takes on summer perfume? Elle recommends YSL's super-floral Mon Paris as "the passion, lust, and whirlwind of a summer romance in Paris" in a bottle, so yeah, we're sold. Other flowery scents that are spot on for warmer months include Gucci's Flora with feminine peony, and Miss Dior's Blooming Bouquet with Damascus rose. Whether you go for sea-driven, floral-injected, or deliciously sweet fragrances, these summer fragrances will take you from coastal days to sweltering nights.