Mary Trump Has Something To Say About The Trump Org's Criminal Charges
A day before a New York court handed down criminal indictments to the Trump Organization and its CFO Allen Weisselberg, media organization Queerty began warning that July 1 would be "the worst day of your life if your last name is 'Trump.'"
While that might have been the case for former President Donald Trump and his immediate family, there was one Trump that escaped any form of legal anguish – the former president's estranged niece, Mary L. Trump. 
It was Mary who first got everyone thinking about the Trump family's finances in 2018 when she provided The New York Times with the financial documents that formed the backbone of the paper's first report on the president's tax schemes, and the one that exposed her family's seedy underbelly with her book  "Too Much and Never Enough: How My Family Created the World's Most Dangerous Man" (via Axios). 
Mary's response to the Twitter discussion involving her last name? A short tweet that read, "Actually, I'm not worried at all" followed by a smiling face with sunglasses emoji. 
Twitter thanked Mary for the role she played in exposing her uncle's financial statements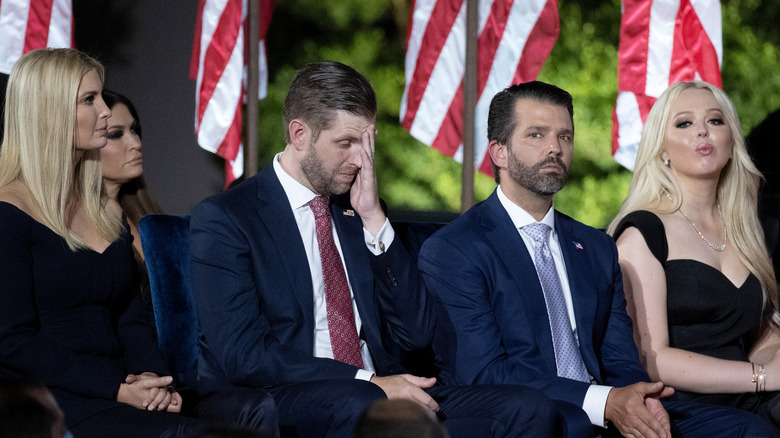 Chip Somodevilla/Getty Images
Mary Trump was right – she didn't have anything to worry about, but she couldn't have predicted the outpouring of gratitude and love sent her way on social media for her role in helping the New York Times team get the job done as far as Donald Trump was concerned. 
"Actually, thank you for all that you have done for us and even with possibly with this investigation," a grateful fan said on Twitter. "I think documents you provided a few years ago may have been useful or will be useful in the coming weeks." Another wrote that they was looking forward to Mary's new book, calling it "timely and important." Adding, "The numbers of people who have been traumatized by this monster is probably staggering. I include myself and thank you. The Reckoning." 
A social media user even took some pleasure in the discomfort Mary's cousins might be feeling at this time, writing, "Your cousins are losing their s**t. If you have read the indictment, the door is wide open to indicting the 3 spawn. And Jared. Barry Weisselberg is practically named on page 10, #13. Thank you for all your help. When do you think the loans will be called in??"
Another Twitter user tweeted Mary directly, writing, "Thank you for being the 'good' sheep of your family."