Here's How Many Grandchildren Willie Nelson Has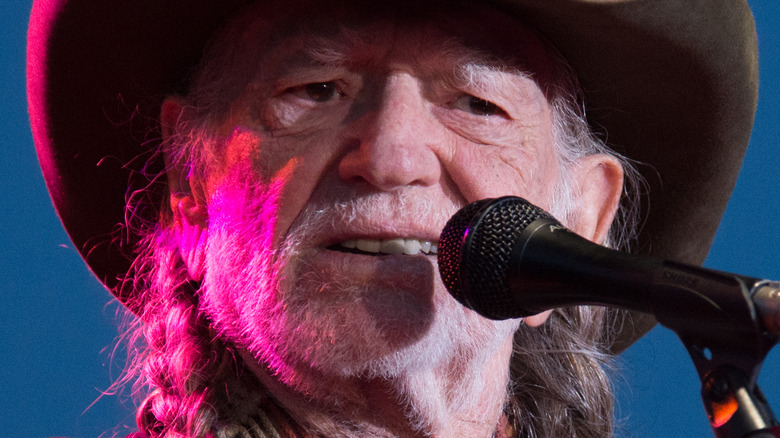 Shutterstock
Along with an extensive music career, Willie Nelson has also grown quite the family. With eight children, the musician's family tree has some serious branches. A father multiple times over, some of his kids have gone on to start families of their own; Nelson is a grandfather as well (via Taste of Country). Here's how many grandkids Willie Nelson has, along with some background on the family. 
Nelson was married four times in his life, according to People. First, to a woman named Martha Matthews, and the two were together from 1952-1962. The couple had three children together: daughters Lana and Susie and son Willie "Billy" Hugh Jr., who passed away unexpectedly on Christmas Day 1991 (per People). Willie was then married to his second wife, Shirley, from 1963 to 1971. After those two divorced, he went on to marry Connie Kopeke and the two share two daughters, Lana and Amy Lee. But it wasn't until 1986 that Nelson met his true love, Annie D'Angelo.
As he explained in his book, "Me and Sister Bobbie: True Tales of the Family Band," which he co-wrote with his sister Bobbie Nelson, he fell hard. He and D'Angelo got married in 1991 and share two sons. "You've already seen that, when it came to romance, I had a gift for complicating things. But marrying Annie wasn't complicated at all," Nelson wrote (per People). "It's about the smartest thing I ever did. I can say that because, 34 years after we first met, we're still together and going strong."
Willie Nelson and his promotion to great-grandpa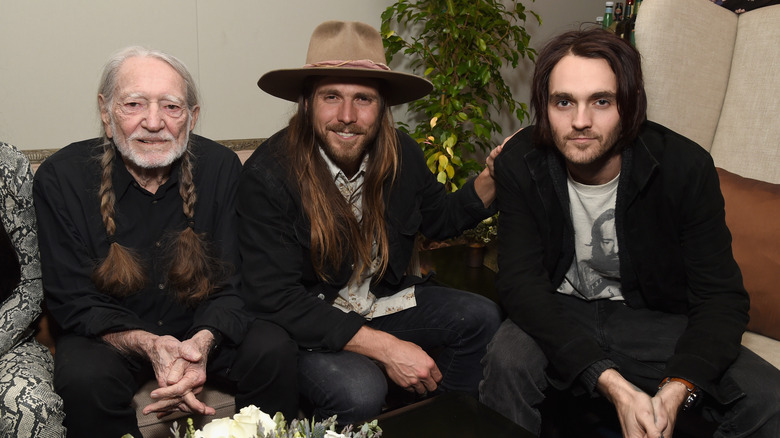 Michael Kovac/Getty Images
Willie Nelson also made a friend named Mary Haney on the set of the 1986 film "Stagecoach," in which he portrayed the late Doc Holiday. And the friendship must have been intimate, because he found out in 2012 that he and Haney share a child. He told the Daily Express that by the time he met his daughter, she already had a family of her own. "I have an old, dear friend, Mary Haney, who I'd lost touch with but recently met again after decades," Nelson said. "Turns out Mary and I had a child together called Renee. It also turns out Renee has a daughter, Noelle, who has a daughter, ­Jordan, who I am happy to now call my great-granddaughter. My newly discovered family sure took some time to surface."
Willie and Martha Nelson's son Billy had a child of his own before passing away, a daughter named Raelyn (per Eat, Play, Rock). Along with a music career of her own, Realyn also has three children, twin boys and a daughter. Willie and Martha's other child, Lana, is also a parent; she has a daughter named Rachel. Nelson's daughter Amy Lee also has children of her own: Lukas Autry Nelson and Jacob Micah Nelson. 
Not just a grandfather (to five grandchildren, as of this writing), but a great-grandfather as well, Willie Nelson seems to be close with all of his family. The Nelson family is large and varied, but they all appear to remain connected through the years; quite the feat with so many members!