Which Friends Stars Just Reunited Once Again?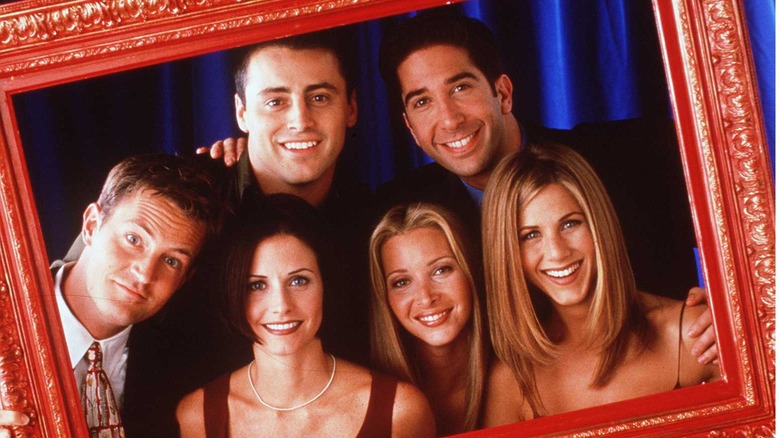 Getty Images/Getty Images
The "Friends" cast has proven that they have a very special connection. Jennifer Aniston, Lisa Kudrow, Courteney Cox, Matthew Perry, Matt LeBlanc, and David Schwimmer, were TV royalty during their days on the series. They displayed amazing chemistry together, and proved to be one of the best ensemble casts of all time. The show ran for 10 seasons and ended with a huge series finale in 2004. However, over the years, the actors have shown that they're much more than just coworkers. They really are all friends and family (via CheatSheet).
During the highly anticipated "Friends" reunion back in May, the gang all came together for the first time on screen for the first time since the series ended. Of course, fans went wild over the unscripted event, which included some hilarious moments as well as some very emotional ones. From the cast's arrival on to the rebuilt set to the table reads where they reprised their characters to relive iconic scenes, fans were taken on an emotional rollercoaster throughout the reunion, per Hidden Remote.
While the group all gushed over how much they love each other and how their bond is forever, three of the cast members have made it clear that they're in it for life. Aniston, Kudrow, and Cox have continued to be very close friends in the years since the series ended (via Deadline). They've shared a lot together, and even proved that they party together over Fourth of July weekend.
Aniston, Cox, and Kudrow partied together on the Fourth of July
According to People Magazine, former "Friends" co-stars Jennifer Aniston, Courteney Cox, and Lisa Kudrow staged their own mini-reunion over the Fourth of July weekend when they gathered to celebrate the holiday with one another. Of course, the women documented the event with an epic selfie, which Cox shared to her Instagram account on Sunday. In the snap, Cox smiles alongside Aniston, who is wearing a sleeveless black top and sunglasses on top of her head. She had a natural makeup look and boasted a casual, wavy hairstyle. Meanwhile, Kudrow looked ready for summer in a flowy black top, which she accessorized with a tan sunhat and a long necklace.
The get-together comes less than two months after the "Friends" reunion was a smash hit on HBO Max. During the reunion, Cox opened up about how the show changed her life and gave her some of her best friends in the world. "It was an incredible time. Everything came together. We became best friends through just the chemistry, the whole thing. It was life-changing and it forever will be — not just for us, but for people who watch it, and that's such a great feeling to carry forever. I'm really thankful, and I love you guys so much," she told her cast members.
Of course, fans always love seeing members of the cast come together, and it's easy to imagine that the women's characters, Rachel, Monica, and Phoebe would have also spent the Fourth of July together.