TikTok Influencers Swear By This Splurge-Worthy Shoe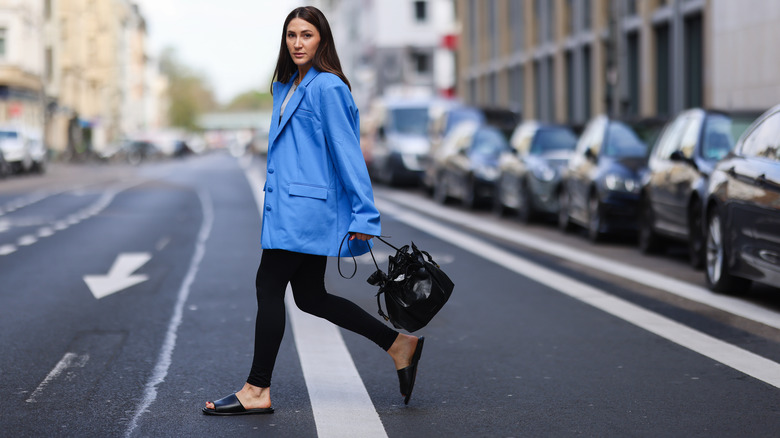 Jeremy Moeller/Getty Images
We may receive a commission on purchases made from links.
Squishy, comfy, cloud-like slides are definitely in right now. And if you haven't heard, just ask everyone on TikTok. To no surprise of ours, people are taking the leap and making the splurge on Coach's Ulla Slide which retails for $85. All we can say is that the viral slides are 100% worth it. Who doesn't want to walk on a cloud every day? 
What makes the Couch Ulla Slides so splurge-worthy is the combination of comfort and effortless style that they possess. Sure, you can wear these as your house shoes, but these will definitely work with a casual, laidback look and even beach vacation chic. 
We're already seeing casual slides like this in celebrity street style this summer. Celebs like Hailey Bieber and Kendall Jenner are obsessed with the puffy slide trend just as much as we are (via InStyle), and this one from Coach just seals the deal.
The Coach Ulla Slide is the go-to shoe this summer
According to InStyle, the idea for these cool and puffy slides came from a viral TikTok. After Jennifer Lopez made their Pillow Tabby Shoulder Bag famous with an Instagram post - which you can still snag on Amazon for less than the original retail price of $495 -  TikTok was filled with fashion influencers that we able to score it while in stores. Naturally, Coach took it upon themselves to give us exactly what we wanted after such an insane sell-out: the perfect shoes to match!
The comfy slides are 100% rubber. The footbed, the upper, the outsole – everything. They're currently available in four colors on Coach's website, including rouge (pictured), black, vintage purple, and chalk. With this selection, you can make it work with any outfit.
If you need an even bigger nudge to splurge, the Ulla Slides are currently on sale for $59.50! Time to get your pair before your next vacation.