The Drugstore Beauty Products Sarah Hyland Wears On The Red Carpet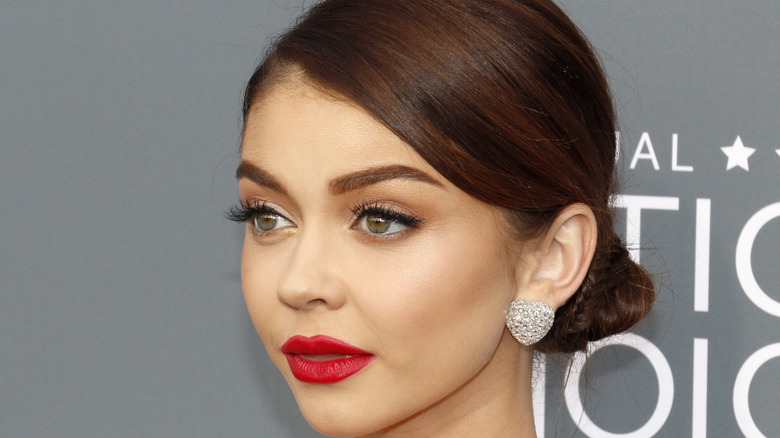 Shutterstock
Actress Sarah Hyland knows how to keep her look modern when on the red carpet. Whether it's for an award show or a screening of a movie, the "Modern Family" actress is always turning heads with her flawless finish. While we all envy her effortless beauty, there are tons of products that we're dying to use to get that stunning makeup look for ourselves, whether it be for a girl's night out or even date night. 
When it comes to celebrities and red carpet looks, we always assume that their products are next-level expensive — designer brand beauty for designer-wearing actresses, right? However, some opt for less expensive and more over-the-counter products that we can all afford without breaking the bank. As it turns out, Hyland herself uses some drugstore items that you can pick up locally and use less than sparingly, since the products won't break your bank account (via Allure). Who doesn't love a beauty bargain?! We know we do! And if you want her gorgeous hair, opt for Hyland's go-to hair products, too. 
Sarah Hyland's drugstore finds are must haves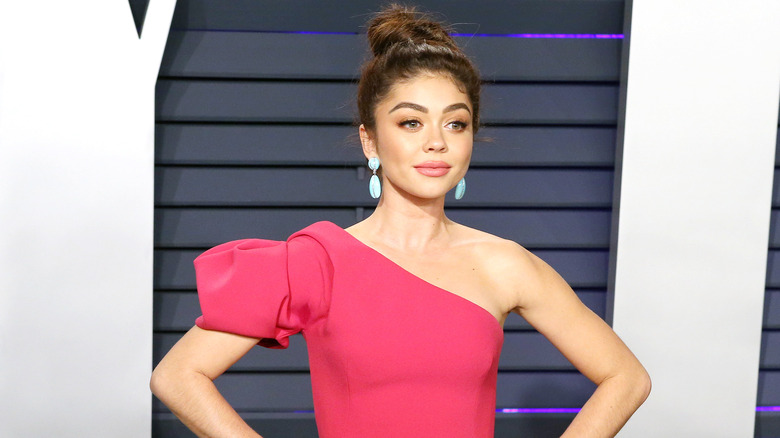 Shutterstock
For the 78th Golden Globes in February 2021, Sarah Hyland attended with a flawless beauty look. But, the makeup used wasn't as expensive as you'd believe. In fact, she went with a full face of E.L.F. products, which are available in both beauty stores and drugstores. Makeup artist Allan Avendano applied all of the makeup and even broke down what he used and why. 
To start, Hyland had on E.L.F.'s Camo CC Cream SPF 30 foundation and Hydrating Camo Concealer, which are both under $15. Avendano used matte powder and blush on top of the concealer to give Hyland a subtle yet nice glow (via Byrdie). 
For Hyland's eye makeup, Avendano used E.L.F.'s Mint Melt Eyeshadows in Chocolate Mint — which retails for only $4 (via E.L.F.) — and dished about his process to create the look. "The key to this look is to keep everything soft yet defined. On the center of the eyelids, use the creamy shimmer shade to add a twinkle that catches the light," Avendano said (via Byrdie). Hyland also rocked the Mint Melt No Budge Eyeshadow Sticks to give her brows some serious definition. 
To finish off Hyland's easy glow, Avendano used Sheer Slick Lipstick in Golden Pear on her lips, which is only $5 — a dream come true (via E.L.F.). At the end of the day, the products only total around $66. For a red carpet look, that sounds like a huge jackpot!