Inside The Roloff Family's Farm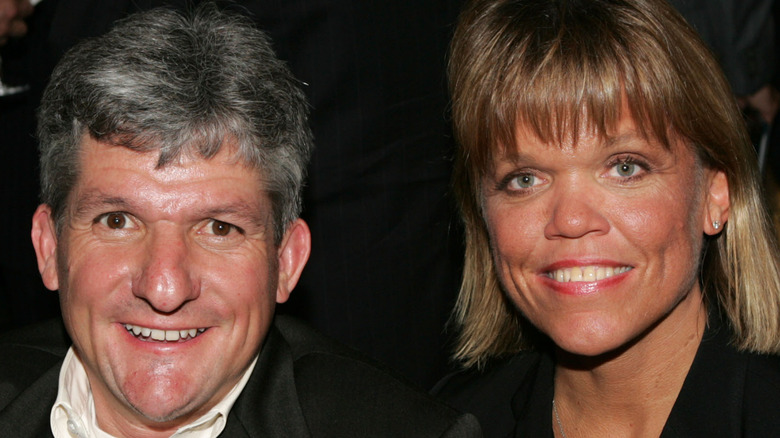 Thos Robinson/Getty Images
Little people face big challenges when it comes to navigating the world: Everything from grocery shelves to elevator buttons are unreachable, and typical adult tasks such as driving a regular-sized car or doing business at a bank teller window become major challenges. And then there's the humiliation of constant stares and double takes, along with people who can't resist patting you on the head.
But if anyone knows how to turn the bitter lemons of dwarfism into lemonade, it's "Little People, Big World" stars Matt and Amy Roloff and their children. According to the The New York Times, when Matt spied a run-down farm in Oregon while on a job-hunting trip in 1989, he immediately recognized its potential. He and Amy bought it for a song, and he set to work creating a playground for the childhood he never had (joint deformities associated with his form of dwarfism meant he spent a large part of his childhood in a body cast rather than on the playground). He originally built his creations — a tree house, castle, western town, and more — just for the enjoyment of his family. But today, the Roloffs' quirky farm has become their livelihood and is open for everyone to enjoy — either in person through guided tours, their fall pumpkin patch festivities, or virtually through their hit show.
The Roloff Farm has tripled in size since Matt Roloff purchased it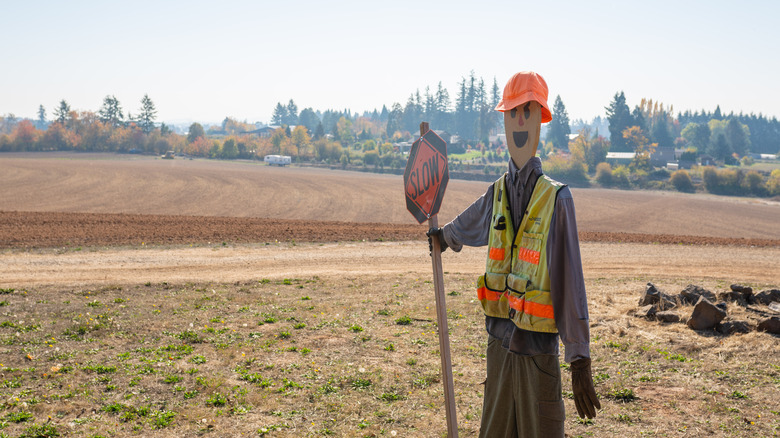 Shutterstock
Fans of "Little People, Big World" probably wouldn't recognize the Roloff Farm in its original form. When the Roloffs purchased it, according to the Roloff Farm website, it was "a small fixer upper farm on 34 acres of possibility" containing a "beat up old farmhouse, broken down barn, and overgrown peach orchard." Since then, it has grown to over 100 acres and has become a popular attraction for visitors from around the world.
While Matt Roloff envisioned the property as a great site for a fantasy playland for his children — and had numerous unrealized whimsical ideas for new additions, such as a model of the Titanic that would be half-submerged in a large pond — he had no idea how big the farm would become, nor of the wide and durable appeal of his creations. When interviewed by The New York Times in 1999 about his farm and everything he'd built — at which time he was still working as a software salesman with the farm as a hobby — he was reported to be genuinely puzzled by the reporter's question of what he and Amy Roloff would do with the farm after their children were grown and gone. "I don't know," he confessed.
The farm's whimsical structures were originally built for the Roloff children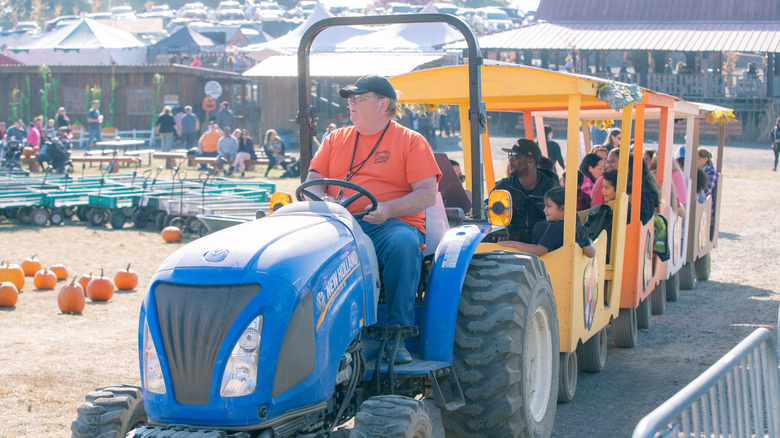 Shutterstock
Like most parents, Matt and Amy Roloff built their home life around their children. At the time they purchased their farm, they had just bought a new home in Silicon Valley, where Matt was working in software, according to the The New York Times. But space was at a premium in the pricy area and Amy was pregnant with twins, and both she and Matt decided they wanted more room for their growing family. The farm also offered Matt the opportunity to give his children the kind of childhood he missed because of his medical challenges. He designed and built all his fantasy structures for the enjoyment of his children, and initially had no intention of monetizing his creations. As The New York Times observed, "It was not a commercial venture; just an idea that got seriously out of hand."
If his intention was to give his children a memorable way to exercise their imaginations, Matt succeeded wildly. Growing up, the Roloff children rarely watched television. And as Jeremy Roloff told The New York Times, their friends were "always bugging us about wanting to come over and play." Today, as viewers of "Little People, Big World" know, the next generation of Roloffs — Matt and Amy's grandchildren — are regular visitors and experience the same delight in the castle, Western town, and other attractions that their parents once did.
All the Roloff Farm structures were built with little people in mind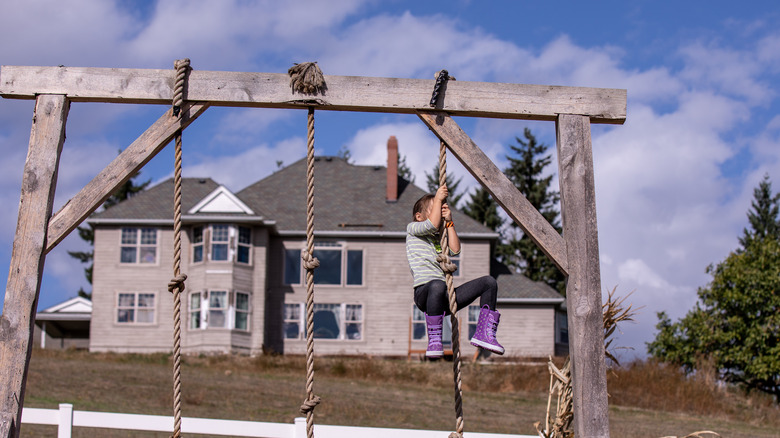 Shutterstock
If you've ever visited the Roloff Farm, explored its attractions and found some of them a bit cramped, it's not just you. The low heights and small proportions of some of the structures are a feature, not a bug — because they were built by Matt Roloff as a special space to be enjoyed by other little people. Here, unlike at most amusement parks, everything is accessible to shorter people. "If I have one gripe on this planet it is those signs at Disneyland that say you must be taller than a certain level to go on this ride," Roloff told The New York Times.
This — along with the fanciful designs and built-in features of the structures, such as secret tunnels in the castle — make the various attractions throughout the farm especially attractive to children. But Roloff is open about making the space a place of honor for other little people. "This town was made in 1861 by a whole village of little people," he tells his grandchildren in an episode of "Little People, Big World" when taking them to the Western village. "And they built this town to where they could keep all the other tall villagers out!" Roloff might have been joking, but after spending his life in a world where so many pleasures are literally out of reach, there must be a pleasure in creating special spaces right-sized for him.
Many of the structures were made from donated materials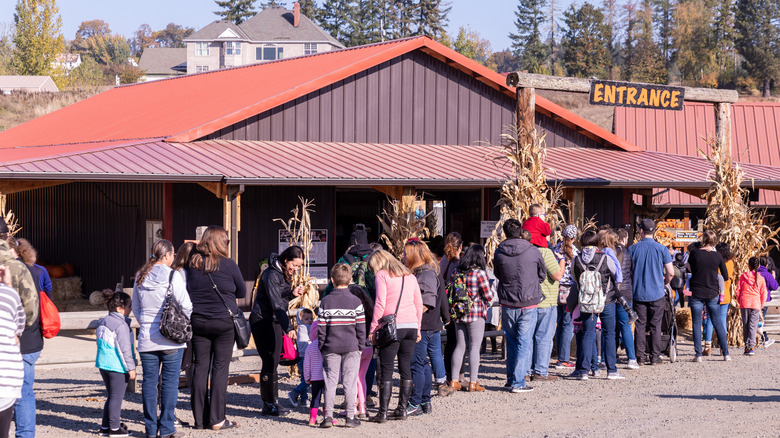 Shutterstock
As the old saying goes, "One man's trash is another man's treasure." And nowhere is this more true that at the Roloff Farm: according to the The New York Times, much of distinctive character of the farm's attractions comes from the fact they are made largely from reclaimed materials. For reasons of both frugality and aesthetics, Roloff sought out interesting and distinctive materials that otherwise would have been discarded, such as timbers from old barns, old telephone poles, and old fence posts. His creative scavenging, plus a lot of sweat equity, allowed Roloff to build his extravagant fantasy playland with a relatively small budget.
But in a sparsely populated rural community, it was impossible for a new arrival — and a dwarf no less — to roam around asking for scrap wood without piquing the neighbors' curiosity. Once they found out what Roloff was doing, they were all in. Soon, neighbors took to leaving unwanted wood and other materials — including a used fire truck — on the property. And according to The New York Times, after Roloff announced plans to construct hills on the property for a possible water slide and waterfall, contractors began donating dirt excavated for their construction sites
The Roloff Farm pumpkin patch is a favorite fall attraction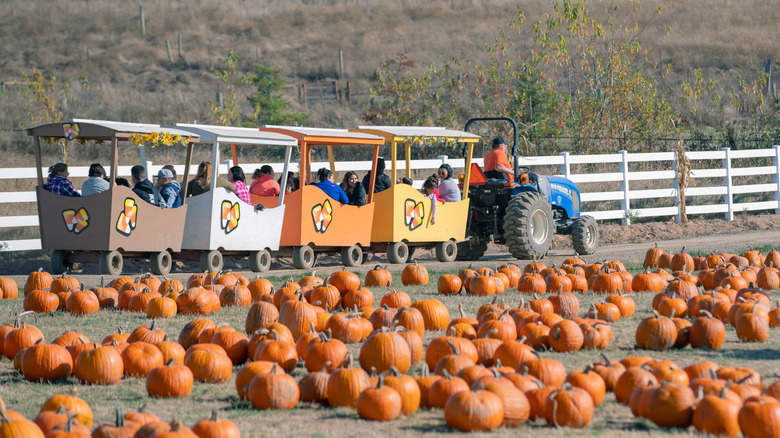 Shutterstock
While the Roloffs seem more than willing to share the details of their lives on the farm with the public, you can't just drive onto the farm and start exploring. Apart from private tours (offered by reservation only), the farm is closed to the public — except during pumpkin season in October, when the pumpkin patch is full of fruit and the farm transforms into a massive fall festival.
During October, the farm opens its doors to the public on Fridays and weekends, according to the Roloff Farm website. Once visitors arrive, there's plenty to do: you can pick pumpkins to take home, take a guided wagon tour of the farm, and visit the Adventure Zone, a playland featuring a petting zoo, maze, miniature train, and other attractions. Like any self-respecting fall festival, pumpkin season at the Roloff Farm also includes opportunities for face painting, shopping for souvenirs, and enjoying a hearty meal. Also, should you spot one of the Roloffs mingling in the crowd, don't be shy — as they note on their website, they enjoy meeting the public and are happy to sign autographs.
You can get a private tour led by the Roloffs — but it will cost you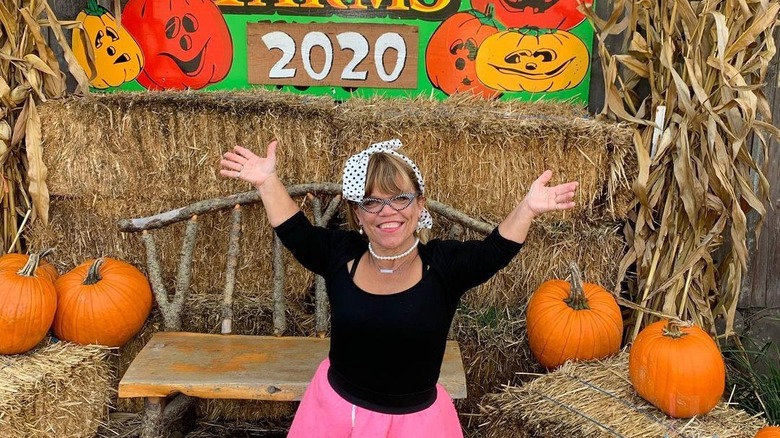 Instagram
If you can't get to the Roloff Farm during pumpkin season, don't worry — you can still book a private tour at other times of the year. According to the Roloff Farm website, the family offers tours year-round, seven days a week during daylight hours. Each 30-minute tour is led by a member of the family (Matt, Amy, Jeremy, or Zachary Roloff) and includes "fun stories and current tidbits" about goings-on at the farm. During the tour, you will ride in an open-air vehicle while viewing many of the sites featured in "Little People, Big World," such as the Western town, castle, and Tower of Terror. Not only will you have the opportunity to chat with the Roloff family about their adventures and future plans, you will also have plenty of photo opportunities with them.
Sound like fun? If you're a fan of the show, it could be a memorable experience. But like a lot of special events, it won't come cheap. A tour for up to three people will cost you $300, and if you bring a bigger group, there will be an additional $25 charge for each extra person. And unless you already live in or near Portland, Oregon, you'll have to budget in travel and hotel costs. But for the special superfan in your life, a private tour of the farm could make an unforgettable gift.
The Roloff Farm has also been a wedding venue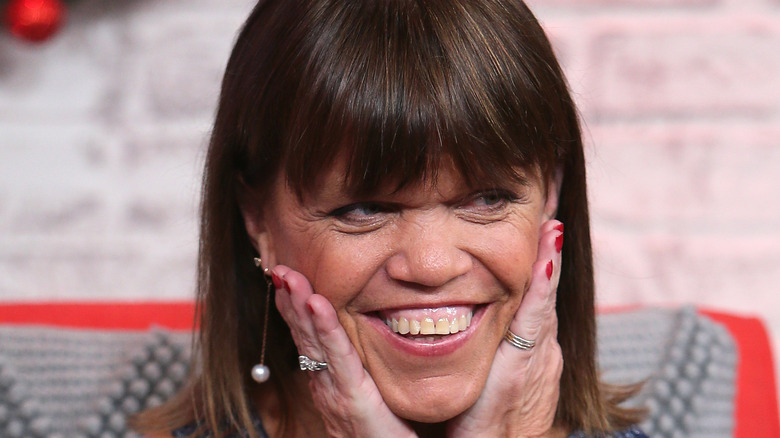 David Livingston/Getty Images
When choosing that special spot to get married, couples tend to go for either someplace memorable and different or familiar and meaningful. Several members of the Roloff family went for the latter — and chose to hold their wedding at the farm. After all, it's not only a beautiful and unique space with plenty of room for guests, but the site of many happy family memories. Add in the convenience factor, and the choice becomes a near no-brainer: Zach and Tori Roloff married at the farm in 2015, according to People, and Jeremy and Audrey Roloff held their wedding their the year before, according to The Knot. And even though Amy Roloff has sold her interest in the farm and moved away, she and her fiancé Chris Marek have announced to People their decision to marry at the farm — a plan Matt Roloff knows about and has agreed to accept.
In recent years, the Roloffs have also opened the farm to the public as a wedding venue. In 2020, according to The Sun, the Roloffs offered use of an outdoor area of the farm for weddings for a price of $850, a package that included professional photography by Zach's wife Tori. However, the event space link on the Roloff Farms website is broken — which could be either an IT glitch or an indication that events there may be on hold for the moment.
Matt Roloff built a new log cabin on the farm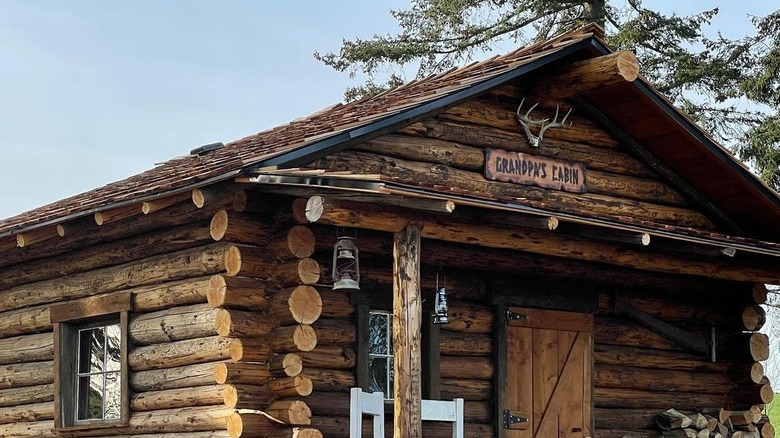 Instagram
After several decades on the farm, Matt Roloff has not lost his appetite for designing and building new structures. Following his divorce from his longtime wife Amy Roloff — and Amy's departure from the farm — Matt decided it was time for a fresh start. His newest creation, which he revealed in an Instagram post, is a rustic and cozy log cabin adorned with a sign above the front door reading "Grandpa's Cabin." In a video posted on Instagram, Matt Roloff offers a quick guided tour of the cabin, which features a cozy front porch, a wood-burning stove, a little-person-scaled table and chairs, and bunk beds. While rustic compared to the sprawling farmhouse that he and Amy called home since 1990, according to The Sun, Matt calls the cabin his "dream home." "Now ready to spend some cozy nights with the grands!" he posted on Instagram.
But while Matt envisions his Grandpa's Cabin as a spot for regular family slumber parties, it's not going to be his permanent home, according to The Sun. Around the same time he built the cabin, Matt built a larger — but still rustic — home on the farm to share with his girlfriend Caryn Chandler, who has refused to live in the home formerly occupied by Amy.
Matt Roloff made some big changes to the farm after Amy left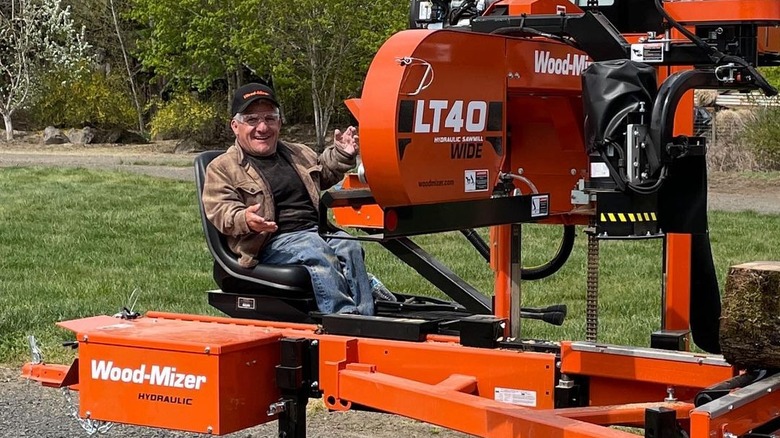 Instagram
After Amy Roloff finally gathered up her belongings and left the family farm three years after her divorce, Matt Roloff decided it was time for some major housecleaning as well. "Been on a cleaning rampage the past few days ... gonna whip this farm into shape if it kills me," he wrote in an Instagram post. "I'm feeling a major yard sell in the near future." Matt was true to his word: in a later Instagram post, he announced a major farm auction, in which everything from furniture to the family's old Ford Expedition would be up for grabs. "Oh. And wear your favorite shirt. You might be on TV one day bidding on my favorite old coffee table," he wrote in his post.
But parting with old belongings — especially those that served you well in the past — can also be difficult and painful. For Matt and his children, a particularly heartbreaking choice was the decision to tear down the family's beloved tree house. While the Roloff children spent many happy hours of their childhood there without any major injuries, Matt feared it posed a falling hazard to children visiting the farm, according to The World News Daily. But, The World News Daily adds, he plans to build a newer, safer treehouse to ensure his grandchildren get to experience the same enjoyment his children once did.