This Drugstore Lip Product Went Viral On TikTok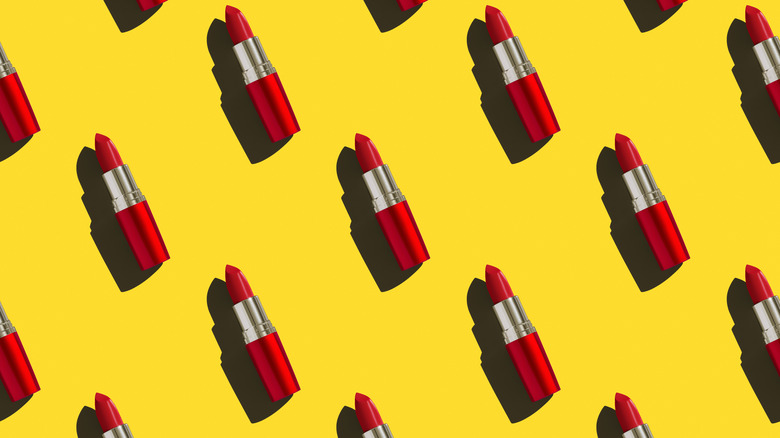 Shutterstock
A quick scroll through TikTok's beauty hashtag will showcase a wide array of up-and-coming makeup trends. If you're ever looking to experiment with your tried-and-true beauty look, one visit to the video-sharing app will leave you with countless ideas for how to revamp your makeup style — all without having to leave the comfort of your bedroom.
With so many viral beauty trends and makeup tutorials to wade through, narrowing down which products you want to try next is easier said than done. Lipstick lovers know the never-ending pain of finding one that lasts for a long time and doesn't smudge. There are a lot of lip products saturating the market that claim to be food and kiss proof, but don't end up living up to the hype. But there's one viral drugstore lip product dominating TikTok that apparently checks off all of the boxes. 
Per Elite Daily, NYX Cosmetics' Shine Loud High Shine Lip Color is the star of many TikTok influencers' videos. The beauty brand boasts this lip product's (which is part lip color and part gloss) ability to dry quickly and give off maximum shine. The biggest perk is that it supposedly won't budge. But what's the actual truth behind NYX's Shine Loud High Shine Lip Color?
Beauty influencers put this long-lasting lip color to the test
Before you run out to your nearest drugstore and pick up NYX's Shine Loud High Shine Lip Color, here's what you need to know. The official product page promises 16 full hours of stay power, a non-sticky finish, and a light formula. You apply the color first, then lock it in with the gloss. When it comes to lipstick, these bold claims are nothing new. But Teen Vogue's review of the viral lip color added validity to these statements. The review praised the vegan cosmetic brand for their wide variety of shades, and mentioned that it doesn't dry out your lips. 
Everyone's favorite TikTok makeup artist Mikayla Nogueira also decided to weigh in on the debate and test out this magic product for herself. Before applying her chosen lip color, Nogueira questioned the smudge-proof claim. "It's crazy to me because they're shiny," she shared skeptically at the start of her video. "There's a shiny top coat, yet that doesn't transfer?" 
But after trying it, the breathtakingly honest makeup artist confirmed just how amazing this drugstore lip product actually is. In her video, she patted her lips multiple times to show that there was zero transfer of gloss or color to her fingers. Another TikTok user put it to the food test and took a huge bite out of a stuffed jalapeño — and was pleasantly surprised that she didn't leave any lipstick marks. Looks like it checks out!