The Real Reason Paul McCartney Wrote Hey Jude For John Lennon's Son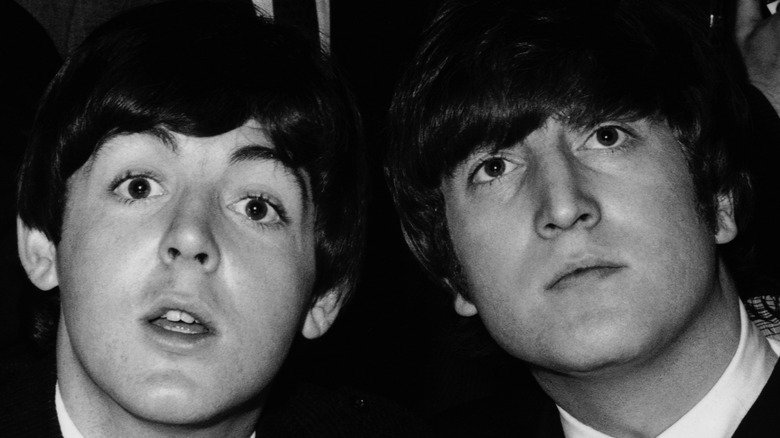 William Vanderson/Getty Images
Paul McCartney's remarkable career spans more than five decades, two performing groups, and hundreds of songs — many of them enduring classics. Even listeners who weren't even born when the Beatles were topping the charts still sing along to his most famous melodies. One of his best-known numbers is the seven-minute masterpiece "Hey Jude." With its encouraging lyrics ("Take a sad song/And make it better") and its catchy "Na na na nana na na" coda, the song was an immediate hit when it dropped in 1968, and it held the number-one spot on the charts for 19 weeks — the longest run for a Beatles song (via Newsweek). 
The "Jude" of the song is based on a real person: John Lennon's older son, Julian. At the time, Lennon was on the verge of splitting from his first wife, Cynthia, so he could pursue his relationship with Yoko Ono. McCartney, who was like a second father to Julian, worried how how the divorce would affect the five-year-old. The idea for the song came to him one day as he was driving out to see Cynthia. "I started with the idea 'Hey Jules,' which was Julian, don't make it bad, take a sad song and make it better," he said (via The Washington Post). "Hey, try and deal with this terrible thing. I knew it was not going to be easy for him. I always feel sorry for kids in divorces ... I had the idea [for the song] by the time I got there."
Julian Lennon was touched by his friend's gesture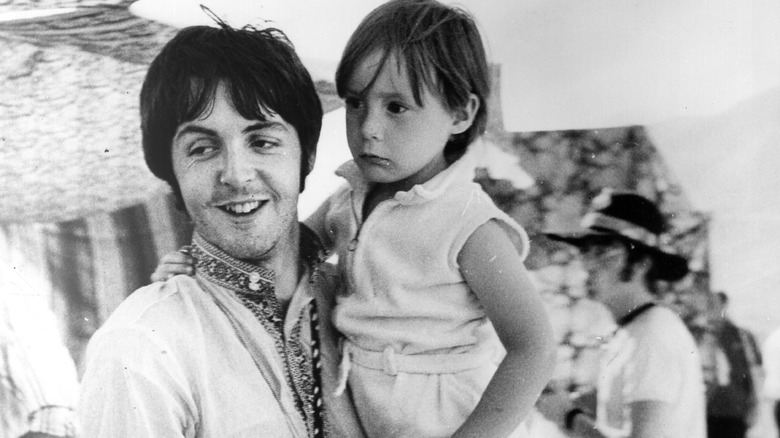 Central Press/Getty Images
The song would go on to undergo some tweaks. "Jules" was changed to "Jude," which Paul McCartney felt sounded better. He also added lyrics that didn't exactly fit the theme of a child coping with divorce, such as, "You have found her/Now go and get her." In fact, Lennon took those lyrics as a personal hint (via The Washington Post). He once said, "I always heard it as a song to me. Yoko's just come into the picture. ... He's saying, 'Hey, Jude — hey, John.' Subconsciously he was saying, 'Go ahead, leave me.'" 
Not until 19 years later did Julian Lennon learn that the famous tune was about him. Celebrity Cheat Sheet explains that the two, who were always close, happened to run into each other in New York in 1987. McCartney revealed how he had come up with "Hey Jude" in his honor. At the time, Julian said, "It surprises me whenever I hear it. It's very strange to think that someone has written a song about you. It touches me."
McCartney and the younger Lennon had a dust-up in 2011 after "the cute Beatle" neglected to invite his bandmate's son to his wedding to Nancy Shevell. (It was later revealed to be a misunderstanding.) Julian raged about the snub on social media at the time, but the dust seems to have settled (via Daily Mail). Julian has since praised McCartney not just for writing "Hey Jude," but also for reaching out to him and his mother after the divorce.