Jimmy And Rosalynn Carter Just Reached This Historic Milestone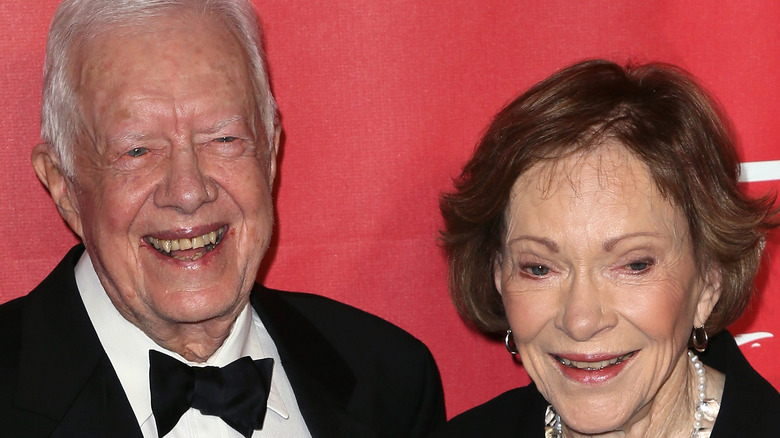 David Livingston/Getty Images
Former President Jimmy Carter and former First Lady Rosalynn Carter celebrated 75 years of marriage on Wednesday, July 7. According to CNN, the couple's long and happy marriage spans way beyond their years in the White House, and the former President previously described marrying Rosalynn as the "pinnacle" of his life, and "the best thing" he ever did. 
As CBS News reported, the Carters first began dating back in 1945. At the time, former President Carter was in the U.S. Naval Academy and on the lookout for a date — and he was eventually set up with a young woman named Eleanor Rosalynn by his younger sister. 
Writing in her memoir, Rosalynn opened up about the early years of their relationship, revealing that, at the time of their first date, she thought Jimmy "was the most handsome young man" she'd ever seen. Per CNN, the former President told his mother "she's the girl I want to marry" after his first date with Rosalynn in the summer of 1945. The following year, the pair walked down the aisle and tied the knot.
Jimmy and Rosalynn Carter still enjoy a working relationship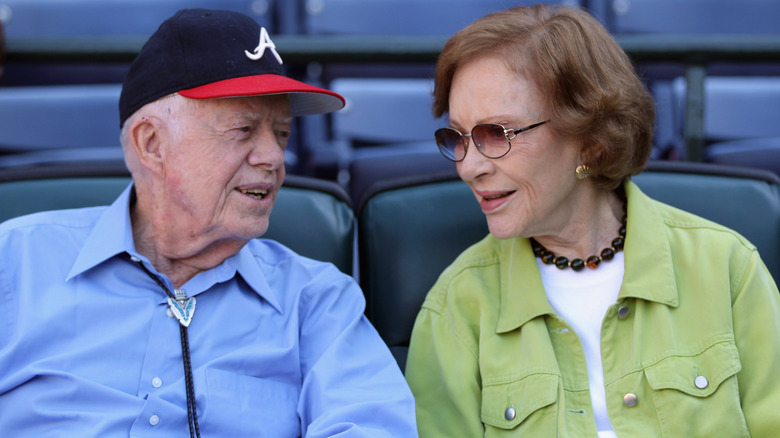 Jamie Squire/Getty Images
Shedding more light on their relationship during Carter's venture into politics, the former First Lady revealed that she often worked alongside her husband. "We developed a partnership when we were working in the farm supply business, and it continued when Jimmy got involved in politics ... I knew more on paper about the business than he did. He would take my advice about things," Rosalynn told the Associated Press ahead of the pair's 75th anniversary.
Per CBS News, Rosalynn also revealed that she enjoyed being on the road during her husband's run for the presidency, which began in 1977. "I love it... I love campaigning. I had the best time. I was in all the states in the United States. I campaigned solid every day the last time we ran," she explained. 
In the years following Jimmy Carter's time in office, the happy couple have continued to work on many important projects together. This includes the Carter Center in Atlanta, which aims to support and promote health initiatives such as the International Task Force for Disease Eradication, peace initiatives including the Conflict Resolution Program, and much more.