The Best Designer Baguette Bags Of The Season Revealed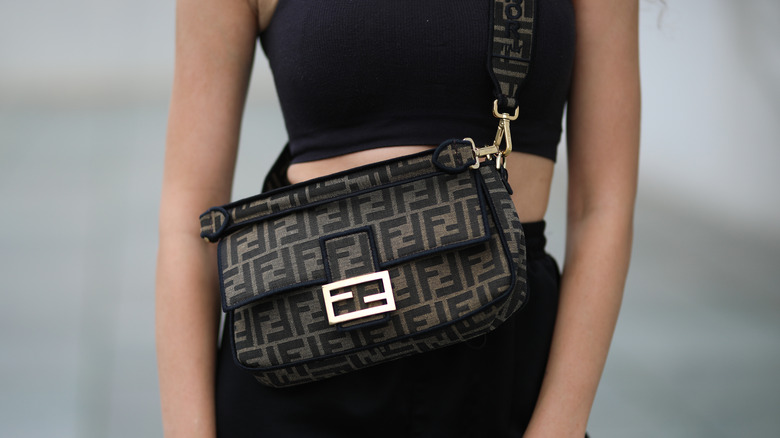 Jeremy Moeller/Getty Images
If you love Parisian baguettes but are cutting back on bread, might we suggest a '90s-inspired baguette bag instead? With all the stylish deliciousness and none of the carbs, baguettes are Carrie Bradshaw meets French chic, paired perfectly with a mini dress and boots or jeans and a T-shirt. As Editorialist explains, "the '90s baguette bag is a cultural icon" found on the arms of Paris Hilton and Bella Hadid as well as in the "window of Barneys" (RIP!) for the last three decades. A bag for the ages, baguettes are small, rectangular, and traditionally feature a short shoulder strap. These purses get their "it" factor from fun prints, unique textures, and candy-colored hues.
As Cosmopolitan notes, the baguette became legendary on "Sex and the City," particularly after Carrie infamously exclaimed, "It's a baguette!" to a robber trying to steal her purse. Handing over her sparkly purple Fendi, the accessory immediately became the "it" bag for any fashionista during the '90s and early-2000s. Fast forward thirty years, and Y2K fashion is back — with a gorgeous helping of baguettes to match. Since this trend doesn't seem to be going anywhere, style mavens have invested in time-honored designer baguettes to wear for years to come. Case in point? Fendi's revised take on its 1997 baguette, complete with brown jacquard logo fabric, gold hardware, and luxe leather details.
Interested in getting one of your own? Here are the best designer baguette bags of the season — revealed.
Today's baguette bags are more minimal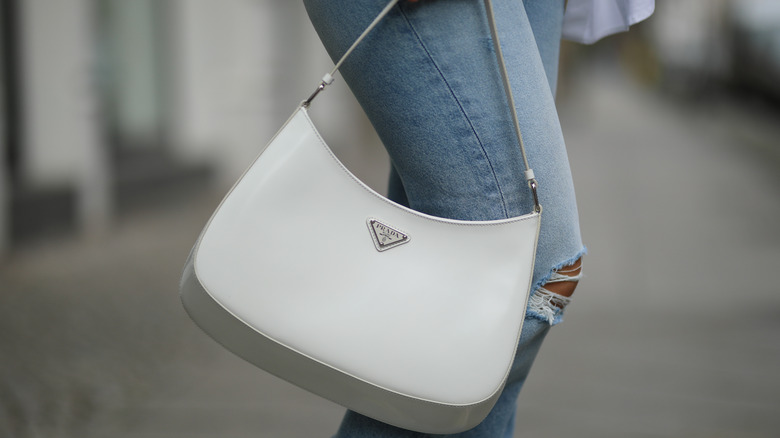 Jeremy Moeller/Getty Images
Who What Wear explains that, this time around, baguettes have "a different flavor" than the 2000s teeny-tiny "Regina George type" bags. Now, they are more minimalist in solid colors. While you can always opt for flowery varieties, like this graphic Fendi Canvas Baguette, the modern takes are more neutral. As Cosmopolitan states, "thanks to modern upgrades and subtle trend-driven tweaks like croc-embossed textures and bold shades," baguettes have never been this good. Plus, 2021's baguettes are designed to fit all your modern necessities, because Carrie Bradshaw never had to carry a phone.
Seeking a great baguette that's a bit more wallet-friendly than a Fendi? Try any of By Far's chic bags. With Editorialist making the point that "there's a By Far bag for everybody," the Bulgarian brand has been worn by celebs like Kendall Jenner and Emily Ratajkowski. Go for their glossy Miranda Bag in bubblegum pink or the hobo-style Baby Amber. Known for their attention to adorable detailing and technicolor shades, this is one brand to invest in this year.
Another perfectly '90s option? Anything Prada. Preview makes the case for Prada's Re-Edition 2000 Nylon Mini, which is "practical and timeless" but also "lightweight and durable." Even better? It holds practically anything, so you can wear this from day to night. As per Editorialist, Prada's baguette is now made of sustainable materials (win!) and is all about the "'noughties' resurgence."
Baguette bags are worth investing in
Edward Berthelot/Getty Images
Although Fendi, Prada, and By Far are the go-to's for chic baguette bags today, there are tons of other designer options to consider. Louis Vuitton is a great place to start, especially if you're ready to shell out for an investment piece that will stand the test of time. One of the best Louis Vuitton baguette bags is the classic Pochette in the signature monogram print, which comes with a thin leather shoulder strap in a contrasting shade. But don't stop there: A vintage white-and-rainbow-hued Pochette is all our '90s dreams reimagined. Yeah, we're obsessed. Wear your Louis Vuitton baguette with knee-high boots and a patent leather mini for total Y2K vibes.
Another covetable baguette is the Balenciaga Ghost Sling Bag, which Forbes deems "a sleek and modern take on the baguette." In black patent leather with croc embossing, this gold-detailed bag is slightly rounded and very chic. Similarly neutral, The Row's Halfmoon Bag is '90s minimalism to a T. In subtle ivory, this baguette's unexpected curves will turn heads and go with everything in your closet. To round out our list, we have Dior's epic Saddle Bag, as gorgeous as ever in the signature logo fabric. This longtime favorite is a fashion must-have and, just like all the baguettes on this list, is seriously dreamy.