Inside Jada Pinkett Smith's Addiction Issues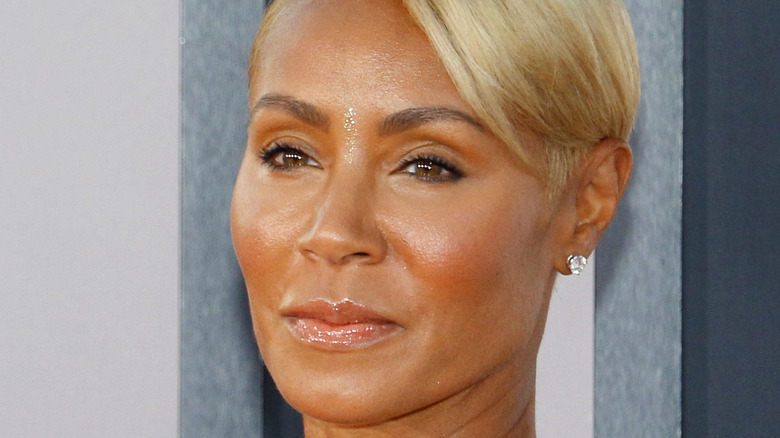 Shutterstock
In the spring of 2018, actress Jada Pinkett Smith launched the Facebook Watch series "Red Table Talk" with her mother Adrienne Banfield-Norris and her daughter Willow Smith (via The Hollywood Reporter). Since launching the talk show series, the trio has amassed almost 11 million followers and has held very important conversations with celebrities like Olivia Jade Giannulli, Jordyn Woods, and Matthew McConaughey (via TV Insider).
Smith recently took to The Red Table to discuss alcoholism and the impact the ongoing coronavirus pandemic has had on women's consumption (via Entertainment Tonight). During the "Girls Trip" star's conversation with her mother and daughter, Jada revealed that addiction issues run in their family. 
The mother of two also shared that she personally struggled with drug and alcohol abuse. Jada went so far as to call herself "a walking miracle" because of her ability to recover from her deep addictions. During the trio's conversation, she revealed intimate details about her private struggles.
Jada battled with addiction for years
On the latest episode of "Red Table Talk," Jada Pinkett Smith shared that she used to mix wine, or other forms of alcohol, with weed and ecstasy (via Page Six). 
The star began mixing these different substances after she developed a tolerance to alcohol and missed the effects the depressant had on her. She explained, "Drinking red wine for me was like drinking glasses of water. Because I'm used to that hard hit. I was drinking hard in high school, too, and when I got out here I was doing cocktails. So, ecstasy, alcohol, weed. Let me tell you, I was having myself a little ball."
The star also noted that she partied from "Thursday to Monday morning" and occasionally went to work in an altered state. While working on "The Nutty Professor" the star even had a health scare after mixing a bad batch of ecstasy and wine. Smith explained, "I passed out and I told everybody that I must have had old medication in a vitamin bottle," she confessed. "But I'll tell you what I did, though. I got my a** together and got on that set. That was the last time."