The Sad Reason Megan Fox's Oldest Son Is Being Bullied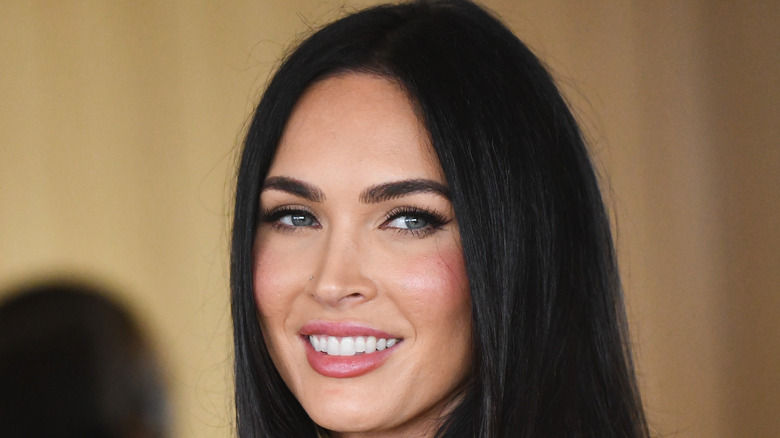 Scott Dudelson/Getty Images
Megan Fox is speaking out against bullying. But not the bullying that she's enduring — no, that she's used to. In fact, she revealed that she gets bullied on a regular basis for dating a "younger man" — who, by the way, is only four years younger than her — which she believes to be a symptom of the "patriarchy." It's not those bullies who bother her; she simply tells them, "Go f**k yourself" (via ET Canada). The bullying that Fox is most concerned with is the kind that her oldest son has been experiencing on a semi-regular basis.
In 2019 during an interview with "The Talk," Fox revealed that her oldest son, Noah Shannon — who was six years old at the time — loves fashion more than anything. "Sometimes, he'll dress himself and he likes to wear dresses sometimes," Fox said on the show. "And I send him to a really liberal, hippy school, but even there — here in California — he still has little boys going, 'Boys don't wear dresses,' or 'Boys don't wear pink.' So we're going through that now." 
Noah is, as of publication, eight and a half years old, and sadly is still experiencing the same kind of bullying.
Megan Fox's oldest son is still being bullied for his fashion choices
In a recent interview with InStyle, Megan Fox discussed her reinvention, of sorts, appearing to rise from the ashes of the tropes and sexism that the media put on her over the last decade of her career. But she's back, her debut film being a summer thriller called "Til Death" – and she's got a totally new outlook on life to boot. Fox said she has a "change in [her] psychology" that came from an "incredible breakthrough" in which she realized she had been "living in a self-imposed prison" due to letting people tell her "who [she] was or what [she] wasn't." And it would appear that this epiphany has had a large impact on her parenting style, as well.
In her interview with InStyle, journalist Alyssa Hardy wrote that Fox began crying upon being asked about her three children. Fox revealed that her oldest son, Noah Shannon, is still being bullied in school, most commonly over his choice to wear dresses. While the "Til Death" actress knows there's not much she can do about the bullying her son experiences at school, she hopes she can protect him from "mean, awful people and cruel people" online.
"I don't want him to ever have to read that s*** because he hears it from little kids at his own school who are like, 'Boys don't wear dresses,'" she asserted. Here's to brave boys like Noah — wear whatever you want.