The Neighborhood's Beth Behrs Tell Us What We Can Expect From Season 4 - Exclusive
Shutterstock
When it comes to being cast in long-running sitcoms, Beth Behrs hit the jackpot. In her breakout gig, she played Caroline Channing in the beloved "2 Broke Girls" for six seasons. And once that show unexpectedly ended in 2017, she earned the leading role of Gemma Johnson in "The Neighborhood." Now entering its fourth season, which was filmed during the COVID pandemic, the series has a supportive cast and crew that keeps it going strong.
We caught up with the lovely and talented actress over Zoom to celebrate her partnership with Woodbridge Wines and Major League Baseball, which kicked off this summer. Naturally, we couldn't help but ask for the inside scoop of what's in store for the upcoming, highly anticipated season of "The Neighborhood," premiering this fall. 
One of TV's leading ladies of comedy, Behrs is "grateful" the show is back for another season — and for good reason. "I'm so lucky we're going to Season 4 and it's such an incredible group of people and I'm so proud of the message the show puts out...." she gushed. Last March, before they even shot its Season 3 finale, they had to shut down production due to the imposed lockdown. "So we didn't get to finish our finale episode last year," she explained, "which was a bummer because we had already rehearsed and [were] ready to shoot it." But rest assured, "The Neighborhood" is back to entertain audiences and we are here for it! 
Beth Behrs' character, Gemma, has a second child on the way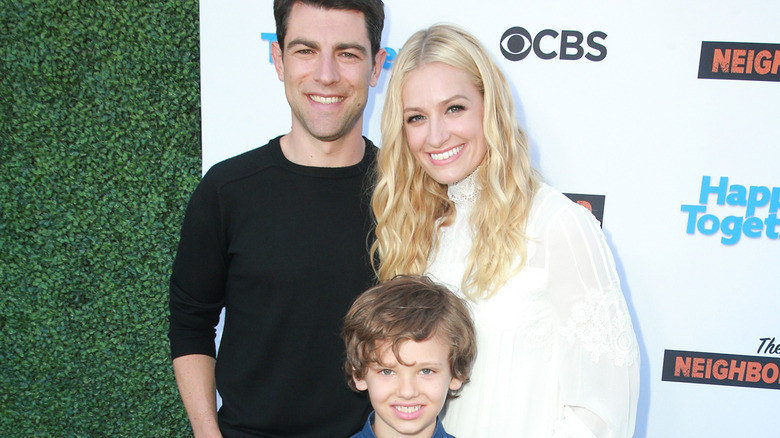 Rich Fury/Getty Images
On "The Neighborhood," Beth Behrs takes on the role of doting mother, Gemma, who has a son, Grover, played by 11-year-old Hank Greenspan, per CBS. Gemma's husband, Dave, is portrayed by "New Girl" alum Max Greenfield, per CBS, and the pair's comedic chemistry lights up the screen. (IRL, she's married to "Mad Men" alum, Michael Gladis, according to People.)
The veteran sitcom star — who has a bunch of hilarious on-set stories — promises that Season 4 will be "very exciting."  Being pregnant with their second child, Gemma and Dave are prepping to welcome their little bundle of joy, experiencing all the ups and downs that come with expecting a baby. "So it's going to be really silly and fun to watch the Butlers and the Johnsons sort of deal with Gemma being pregnant and that whole new world is going to be really fun," Behrs revealed.
The fun-loving actress praises "The Neighborhood" for conveying important messages to its viewers, while keeping them entertained. "I hope we continue to do stories that have social impact, but also bring people together through laughter," she said. "I'm proud of our show that we're able to address these very important issues, but then also do it in a way that doesn't feel preachy. That feels like it's about all of us coming together."
The actress said it was a 'special' year on set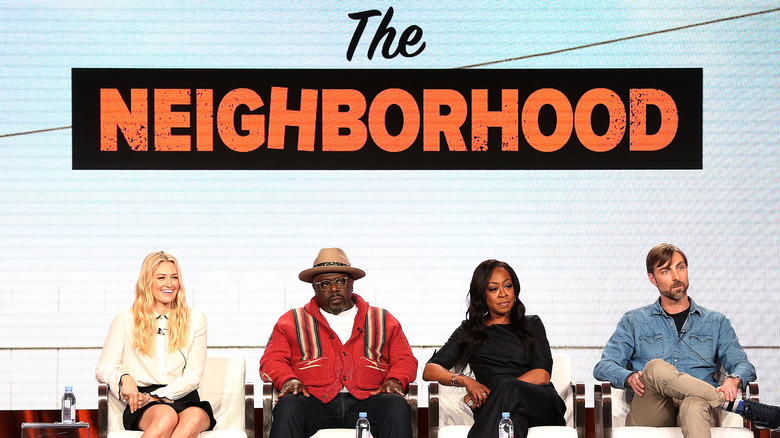 Frederick M. Brown/Getty Images
Beth Behrs credited the crew on "The Neighborhood" for making them comfortable during what could have been a difficult time returning to set during the pandemic. "They worked so hard this year and kept all of us so safe and it was actually one of my most special, I think, years of being an actress, because I'll never forget working during this together," she explained.
And through the experience, the team on "The Neighborhood" became even more close-knit — even though they couldn't always see each other's faces. "It was very interesting to do comedy with a mask on all the time until you say, 'Action.' You're like, 'Oh yeah, that's what Cedric the Entertainer's face looks like. I haven't seen you all week...'"
Beth Behrs and Woodbridge Wines — the first official wine of Major League Baseball — are inviting fans to revel in the many "Celebratory Firsts" they'll experience again this summer. Be sure to check out WoodbridgeWines.com and follow @WoodbridgeWines on Instagram and @Woodbridge_Wine on Twitter to learn more about the "Celebratory Firsts" campaign and giveaway and more.