The Ultimate Guide To Achieving A Trendy Art Girl Aesthetic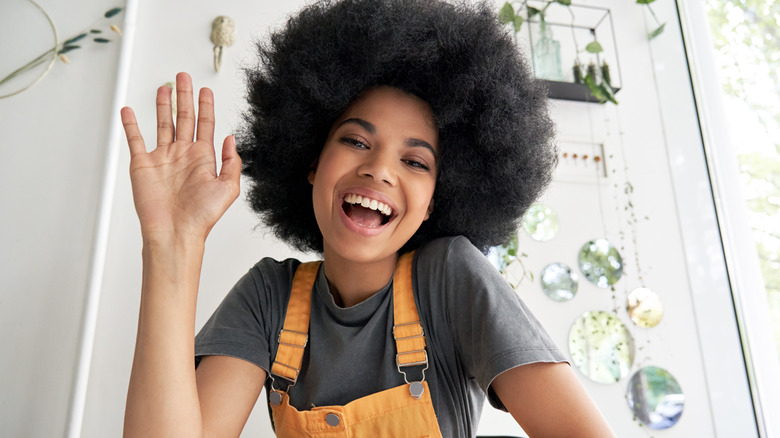 Shutterstock
The art girl aesthetic was developed on Tumblr, Pinterest, and later Instagram in the early 2010s. Diggit Magazine explains that initially, it was a subculture created by artists — specifically Black and Asian artists — to express themselves, share their work, and connect. As the aesthetic became more popular, it's developed into a whole style adopted by non-artists too. So, here's the ultimate guide to achieving a trendy art girl aesthetic. TikTok has helped popularize Y2K style and cottagecore, and both of those styles take their roots and inspiration from the art girl style movement.
The Guardian writes that the art girl style is often also known as "art hoe." This refers to young people reclaiming the word "hoe" as something positive. It's also gender-neutral, as many artists that have subscribed to the art girl movement have identified as all genders. Urban Dictionary describes the art girl/hoe aesthetic as a Tumblr girl who chooses to wear mom jeans, oversized tees and hoodies, round gold glasses, and trainers or military-style boots. They also write the aesthetic extends to interests and favorites, which include scrunchies, Polaroid cameras, anything "Harry Potter," and Billie Eilish.
While it may be a style that's a decade old, it's likely you'll still see the art girl aesthetic all over your social media. And here's how to recreate it.
Mom jeans are an art girl aesthetic staple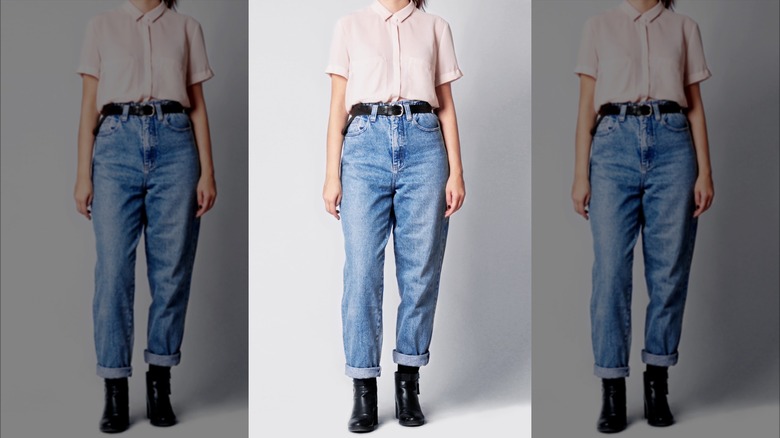 Shutterstock
To embody the art girl aesthetic, you need to get your wardrobe sorted. Aesthetically Chic Beauty outlines that there are certain staples you need in your wardrobe to fit in. First and foremost, you need to invest in a pair of mom jeans that fit you perfectly. These can be blue or black, or you could even buy a pair of both. The website notes that you'd want to pair that with a colorful stripy tee or a tee with an artsy graphic on it.
As the name would suggest, the art girl aesthetic doesn't shy away from colors or patterns. However, they integrate them into their look in a subtle way. Teen Vogue explains that the art girl aesthetic often mirrors the creative projects and art produced by the wearer of the clothes.
If you search art girl aesthetic on Etsy, bubblegum, pastel prints come up. You'll also find DIY custom Converse and Doc Martens. You can invest in baggy t-shirts with your favorite piece of art on it and custom jewelry. From tote bags from indie shops to flowery nail extensions, it all adds to the art girl aesthetic.
Art girl hairstyles and makeup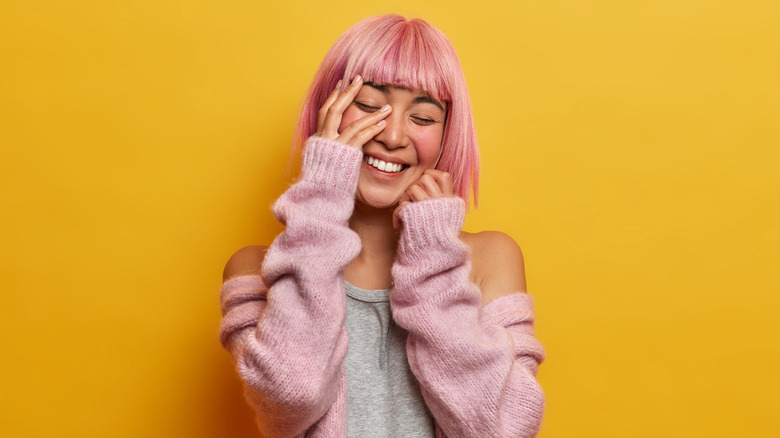 Shutterstock
While wardrobe is of paramount importance to nailing the art girl aesthetic, it extends to the hairstyles you choose and the makeup looks you opt for. The Art Hoe Style tumblr notes that typical styles include bobs, messy buns, and bangs, as well as hair featuring various colors. Big, natural hair also fits the aesthetic. Mostly, you're going for an effortless look. It's just that often those are the looks that take the most effort to create.
We Heart It explains that when it comes to makeup, the art hoe aesthetic often leans toward peachy and earthy tones. A dewy base and blush running across your cheeks and nose would fall under the aesthetic. Similarly, winged liner and a nude or very dark lip are common. As the art girl aesthetic is rooted in creativity, you may also want to experiment with graphic liner designs, face stickers, and different shades of mascara.
While there are some staples to the art girl aesthetic, it's rooted in individual creativity. So, feel free to make it your own.