Catherine Zeta-Jones' Recent Selfie Had Fans Doing A Double Take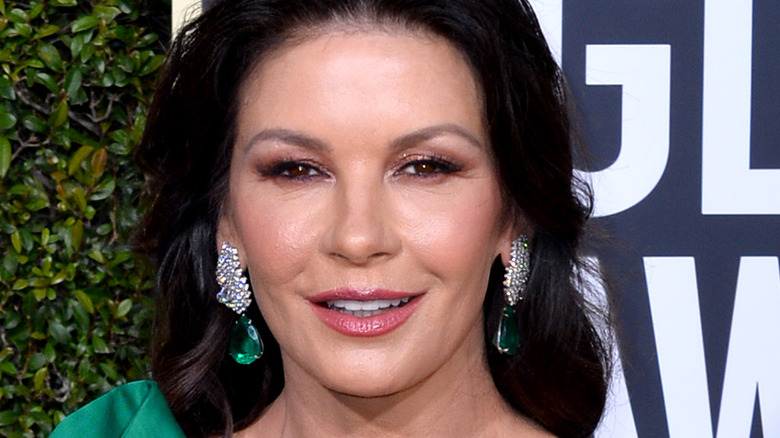 Shutterstock
Depending when you became a Catherine Zeta-Jones fan, you may remember her best as the dark-haired heroine from "The Mask of Zorro" or for her Academy Award-winning performance in powerhouse musical "Chicago" (via IMDB). She has turned heads in Hollywood for decades now, for her brunette beauty, her powerful performances, and even for her marriage to the much-older Michael Douglas. But today she is turning heads for an altogether different reason. 
The star and her equally-famous husband have been staying in their luxurious Majorca home for the past several weeks, and Zeta-Jones decided to let fans have a sneak peek not only into the couple's home, but into a fairly private moment of her life (via The Daily Mail). She posted a selfie to her own social media on Wednesday, and it's the locale of the photo and what the actress was wearing (and not wearing) that left jaws agape.
The bathroom selfie of all bathroom selfies
While Catherine Zeta-Jones has always been beautiful, fans are used to seeing her fully made-up and dressed head-to-toe in a designer gown on a red carpet. But in Wednesday's selfie, Zeta-Jones allowed followers to see her looking radiantly laid-back, wearing very no detectable makeup and a simple pink and blue dressing gown, with her damp-looking hair brushed back over her shoulders and out of her face (via The Daily Mail). 
In the photo, Zeta-Jones is sitting comfortably in her lavish bathroom, snapping the photo of herself in the mirror, like we regular folks tend to do (via Hollywood Life). Aside from the dressing gown, the star is wearing only a pair of pearl earrings, smiling softly at herself. Gorgeous as ever but in a much more natural state than her fans are accustomed to, Zeta-Jones exudes all the confidence and class she is known for. And at 51, it appears she is not only embracing her life in its entirety, but is happy to share it with her fans.