The Surprising Friendship Between Leonardo DiCaprio And Tobey Maguire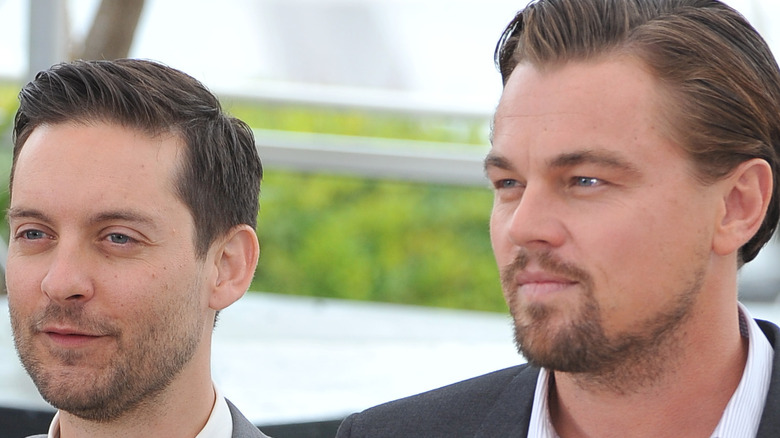 Shutterstock
Before there was "Entourage" on HBO, there was the real-life "P***y Posse," led by a young Leonardo DiCaprio and comprised of his closest friends, like Lukas Haas, Kevin Connolly, Harmony Korine, Ethan Suplee, David Blaine, and of course, his BFF, actor Tobey Maguire.
In 1998, the journalist Nancy Jo Sales published an article in New York Magazine recounting the drunken travails of the "P***y Posse" writing about how DiCaprio and his pals treated the world like their playground.
"New York is like Leo's playground, his Disneyland," a director is quoted as saying in the article. "They used to set off stink bombs at Sky Bar. But Leo's not going to act up out here now. Anyone in the, of course, movie industry could be sitting at the next table. No one in the industry cares what he does in New York."
But beneath their hard-partying ways is a friendship between DiCaprio and Maguire that's lasted for decades. The two first met – quite literally – on the street of all places, when DiCaprio recognized Maguire from the window of his mom's car.
"I literally jumped out of the car," DiCaprio recalled to Esquire in 2014, via Rare. "I was like, 'Tobey! Tobey! Hey! Hey!' And he was like, 'Oh, yeah — I know you. You're... that guy.' But I just made him my pal. When I want someone to be my friend, I just make them my friend." 
Leo and Tobey are the ultimate supportive besties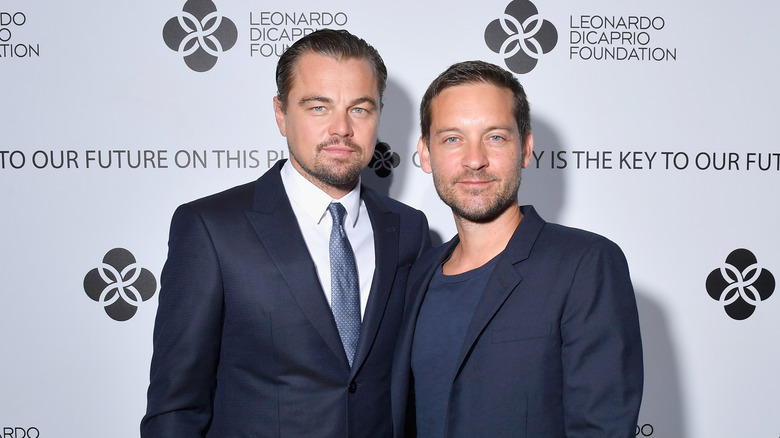 Victor Boyko/Getty Images
While it might seem like Leonardo DiCaprio and Tobey Maguire should have been competitors – as they were auditioning for the same roles – the two have been supportive of each other throughout the years, with Maguire hoping to take more of a Tom Hanks route and DiCaprio envisioning himself as the next Jack Nicholson (via Rare).
The two have even appeared onscreen together, first in 1993's "This Boy's Life" and 20 years later with a new interpretation of "The Great Gatsby," in which DiCaprio played the titular Jay Gatsby and Maguire his friend, Nick Carraway. There was also the little-seen "Don's Plum," which, in 1998, Maguire and DiCaprio sued to ensure wouldn't have a release in the U.S. or Canada, due to the explicit nature of the film and some unseemly ad libbed dialogue.
One thing they haven't abandoned? Their hard-partying ways. In 2016, following Maguire's split from wife Jennifer Meyer, DiCaprio and Maguire were often spotted out and about at LA's hottest club, according to Complex. "It looks like Leo's rubbed off on him," a source said at the time. 
Despite his hard-partying, womanizer ways, DiCaprio isn't afraid to show his softer side, wearing matching outfits with Maguire and acting as "Uncle Leo" to Maguire's two kids, Ruby and Otis (via People). However, it might be a while before Ruby and Otis get to hear about what their dad and Uncle Leo liked to get up to into the '90s – or today, for that matter.