The Best Shoes To Wear On An Airplane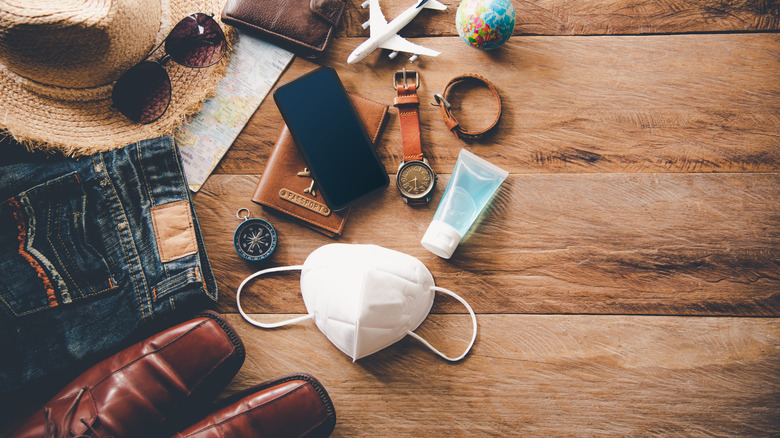 Shutterstock
It's been a while since many of us have embarked on an airplane for a relaxing vacation or even a business trip. As a result, it's likely that we've forgotten exactly what to bring and how to behave while traveling via plane. But thanks to the COVID-19 pandemic, it's possible that air travel might never look the same again. According to an article per Forbes, it's very plausible that airports and airplanes might adopt strict protocols in order to keep people safe, from disinfection tunnels to thermal scanners, and even mandatory sanitation of bags, amongst many other hypothesized changes. But while the future of flying might look totally different in some ways, there are many other aspects of the travel experience that don't seem like they'll be changing anytime soon.
For whatever reason, many frequent flyers struggle with the notion of what to wear when on an airplane — particularly, what to wear on their feet. But while it may seem like a small thing, what shoes you decide to wear might ultimately hold other people up in security, or even make your overall trip pretty uncomfortable.
This is what a flight attendant suggests wearing for shoes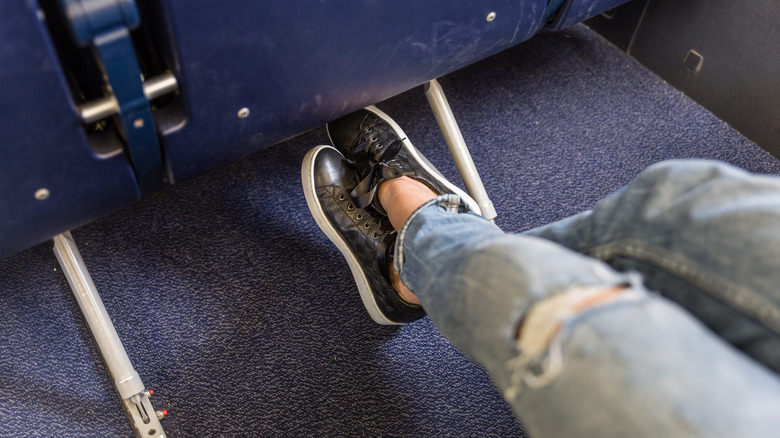 Shutterstock
Comfort and ease are absolutely key when it comes to boarding a plane. That's why you want to opt for a shoe that is easy to get on and off, and comfortable to wear throughout the duration of your plane ride. USA Today recommends comfortable flats, as they don't have a high heel to navigate and they're easy to slip off, such as moccasins, tennis shoes, and ballet flats. You should also consider the weight of your shoes, as heavy boots or clogs won't be especially comfortable for a long flight and might even make the difference between making or missing your flight if you have to run to your gate. If you're flying for business and need to look more professional, it's recommended to pack a comfortable option to wear on the flight that you can easily take off and replace with your (less comfortable) business shoes. 
According to flight attendant Danny Lam via Who What Wear, comfort is key when it comes to flying. Lam shared what he opts to wear when he's off-duty, explaining, "For shorter, domestic flights, I'll usually wear my Nike trainers. The Roshe Two, in particular, are super comfortable," he said. He went on to say that when he's figuring out what to wear on a long haul flight, he typically opts for a pair of slides for "wiggle room." Finally, Lam added that the altitude changes can lead to a lot of swelling in your ankles and feet, so he suggested "something on the looser side."