Four Seasons Total Landscaping Just Booked Another Surprising Gig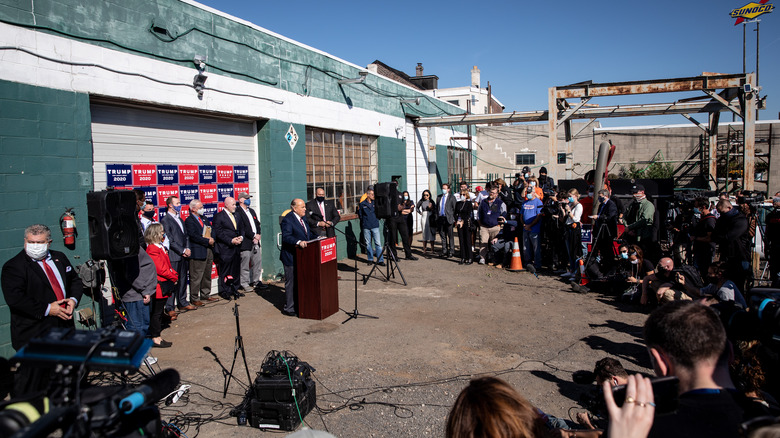 Chris Mcgrath/Getty Images
It's been a while since any of us have heard from Four Seasons Total Landscaping, site of the most head-turning press conference that came out of the November 2020 election cycle. It was here that former Donald Trump lawyer Rudy Giuliani held a presser claiming voter fraud while Joe Biden was being declared president-elect. And while the commercial venture returned to its original mission of making America's lawns great again after that memorable weekend, it could only have been a matter of time before someone else booked the venue to capitalize on its notoriety ... and it appears that day has come.
Punk rocker Laura Jane Grace and fellow musician Brendan Kelly have booked the venue for a concert which will be held on August 21, 2021. Like the presser that came before it, the duo will appear for just one show only, although we can only imagine that this one will rock its listeners a lot more than the November presser did (via Spin).
Tickets for the Four Seasons Total Landscaping event sold out in minutes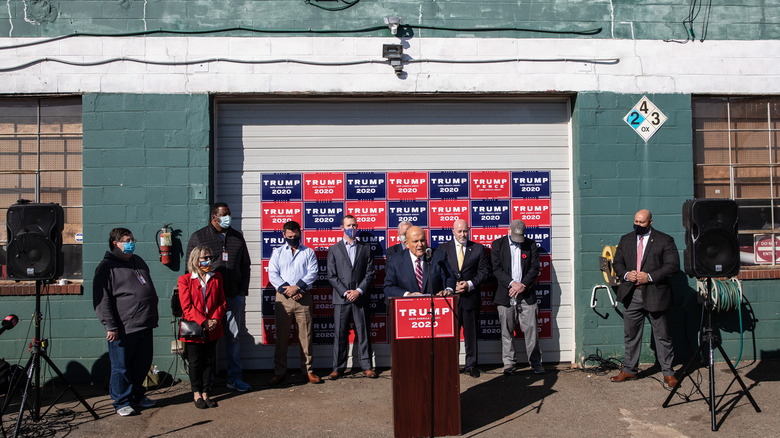 Chris Mcgrath/Getty Images
The Philadelphia Inquirer reported that it took just 17 minutes for all 200 of the show's tickets to sell out. But the prospect of playing before a packed audience didn't tempt Laura Jane Grace from changing her mind about performing at the now iconic venue, which is (still) located near an adult store and a crematorium. In a statement, Grace said, "This will be the first and last time Brendan and I will play in front of a landscaping company and we promise it will be better than that MAGA s**t show," via Spin. 
The intimate performance will take place in front of the now infamous green and white garage door, which was repainted after its first brush with fame. Since then, the landscaping company's director of sales, Sean Middleton, has been asked about the future of the business and its superstar potential. He told The Philadelphia Inquirer that despite the fame, the company has no plans to shift its practices. 
"We have to keep the core business in mind," he said, before saying that the rock concert will be a welcomed change given the controversy of the event that put Four Seasons Total Landscaping on the map.