The Truth About Miley Cyrus And Nicki Minaj's Iconic Feud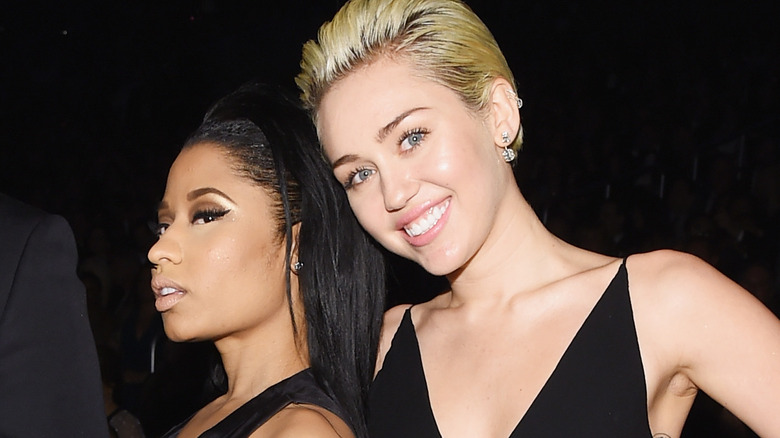 Larry Busacca/Getty Images
Everybody remembers where they were when, at the 2015 MTV VMAs, Nicki Minaj took to the stage and spectacularly called out host Miley Cyrus. As E! News reported at the time, the rapper memorably quipped, "Back to this b***h who had a lot to say about me the other day in the press. Miley, what's good?" Minaj was referring to an interview Cyrus did with The New York Times, during which she opined that the hip-hop star was making the issue of awards recognition for Black artists all about her. 
"If you want to make it about race, there's a way you could do that. ... Say: 'This is the reason why I think it's important to be nominated. There's girls everywhere with this body type,'" the "Wrecking Ball" singer explained. She continued by stating, "What I read sounded very Nicki Minaj, which, if you know Nicki Minaj is not too kind." Cyrus cooly responded to Minaj onstage by suggesting her words were twisted, but, backstage, she was reportedly fuming. Minaj has had several memorable feuds over the years, but this one shows no signs of abating. Here's the truth about Miley Cyrus and Nicki Minaj's iconic feud.
The formerly friendly duo publicly clashed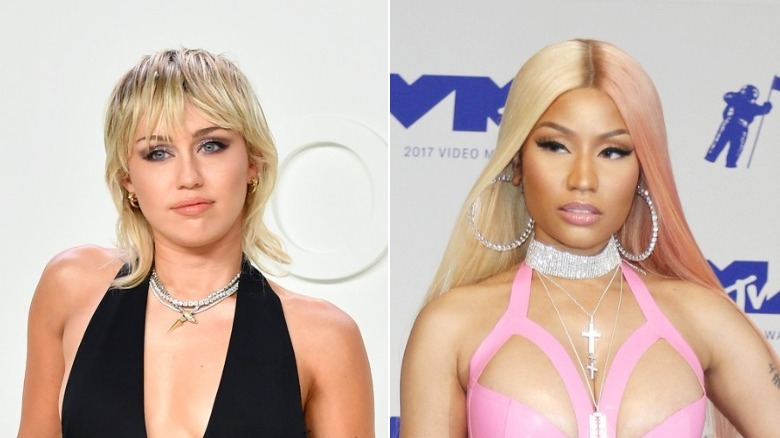 Amy Sussman/Getty Images, Shutterstock
Following the explosive VMAs debacle, Nicki Minaj clarified her position in an interview with The New York Times Magazine. "The fact that you feel upset about me speaking on something that affects black women makes me feel like you have some big balls," she argued, pointing out that Miley Cyrus frequently appropriates Black culture. "If you want to enjoy our culture and our lifestyle, bond with us, dance with us, have fun with us, twerk with us, rap with us, then you should also want to know what affects us, what is bothering us, what we feel is unfair to us," Minaj said. "You shouldn't not want to know that." 
As Billboard notes, the duo was previously quite friendly and even toyed with the idea of collaborating on a song, although it never materialized. Minaj seemed to have an issue with Cyrus spoofing her iconic "Anaconda" cover art, too, even though Cyrus took it well when the single knocked "Wrecking Ball" off the top spot. 
Is the feud between Miley Cyrus and Nicki Minaj over?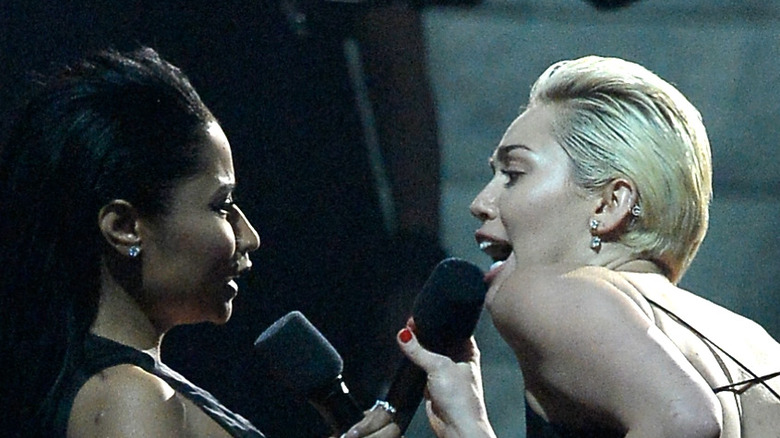 Kevork Djansezian/Getty Images
According to Billboard, Miley Cyrus and Nicki Minaj seemed to be okay around 2018, after the former uploaded and then deleted a video of her dancing to Minaj's song "Chun-Li," with a casual nod to their VMAs argument. However, on "Cattitude," Cyrus took a shot at Minaj with the pointed lyric, "I love you Nicki, but I listen to Cardi," referencing another feud the "Anaconda" hitmaker was involved with elsewhere. However, Cyrus denied that the lyric was a diss, telling Capital FM, "I think that you're allowed to enjoy two artists that fill a similar lane." She also referenced another lyric, quipping, "there's no beef, I'm a vegan."
Minaj fired back during an episode of her "Queen Radio" show, noting simply, "A Perdue chicken can never talk s*** about queens." She added (per Billboard): "In the first place, she disrespected me in a magazine article for no reason. I had just seen her after she sucked Mike WiLL's d*** in the studio." 
Cyrus hasn't responded as of yet, so who's to say whether their issues have been put to bed or not?