Miley Cyrus' Latest Look Is Turning Heads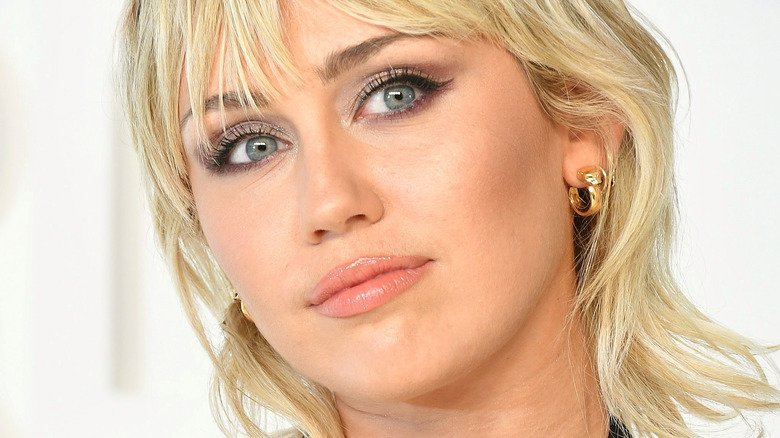 Amy Sussman/Getty Images
Leave it to Miley Cyrus to rock the stage while wearing yet another iconic outfit! The pop star may have first risen to fame for her singing chops and for her acting roles, including on Disney Channel's "Hannah Montana" — but besides her many talents, it's safe to say that Cyrus is also known for her bold, daring fashion style. Case in point: She made headlines for a new Princess Diana-inspired update to her iconic mullet haircut last month, and now it seems like she's taken her look to a whole new level at her latest show. 
As reported by Billboard, Cyrus took to the stage on Sunday for a Fourth of July grand opening celebration of Resorts World in Las Vegas, where she performed hits like "Party In the U.S.A." (during which she reportedly also showed support for the #FreeBritney movement). But what turned heads in particular was Cyrus' new look, which was undoubtedly very rock 'n' roll inspired — and definitely fitting for the Fourth of July holiday.
Miley rocked an edgy, American flag-inspired outfit for her Fourth of July performance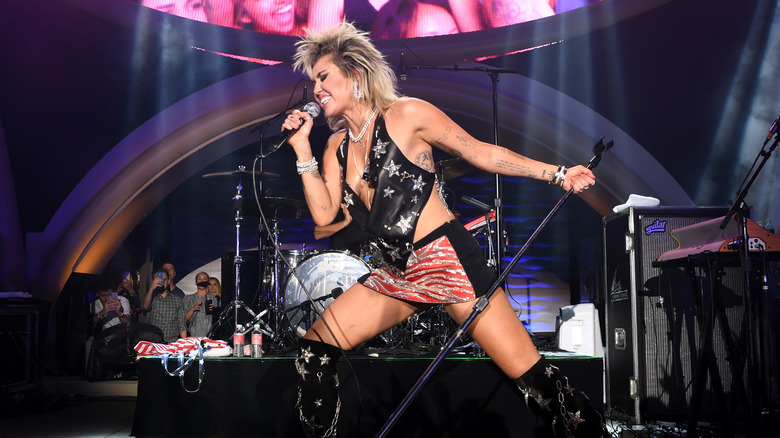 Denise Truscello/Getty Images
According to Cosmopolitan UK, Miley Cyrus lit up the Las Vegas stage with a custom Roberto Cavalli outfit inspired by the American flag: a plunging black leather halter-neck top adorned with silver stars (which definitely showed off her many tattoos) along with a sequin mini skirt embellished with red and silver stripes. She completed the look with lots of layered silver jewelry, including a chain necklace and matching stacked bracelets, along with a pair of thigh-high black leather boots also featuring silver stars and chains. 
And as if that wasn't an incredible look on its own, Cyrus also rocked a spiky blond mullet — an even more edgy twist to her already-edgy hairstyle — and accentuated her features with a smoky eye and heavy black eyeliner. The end result, as Cosmopolitan UK made sure to point out, was a very "fierce" and rock 'n' roll look that was also the perfect get-up to rock out at a Fourth of July celebration concert. 
Needless to say, we're definitely adding this fierce look to our running list of Miley Cyrus' best and most iconic outfits — and maybe even trying it out ourselves next July 4th!