The Real Reason Lindsay Lohan And Wilmer Valderrama Broke Up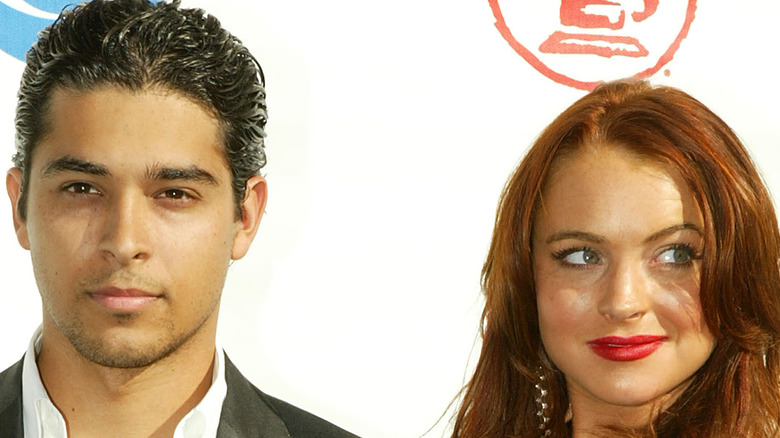 Frazer Harrison/Getty Images
The early 2000s were a dark, confusing time for us all. Filled with bizarre and hopelessly unflattering denim cuts, belly chains, and crimped hair (via Buzzfeed), those old enough to remember the days when, thankfully, social media was in its infancy would probably rather forget. Aside from terrible fashion and embarrassing songs we still can't resist to this day (via Vulture), the early 2000s were also a smorgasbord of increasingly complicated and incestuous celebrity hook-ups. 
A chief example was Lindsay Lohan and Wilmer Valderrama, two of the hottest young stars at the time — him thanks to "That '70s Show," her riding the "Mean Girls" wave — who initially seemed like a perfect match. Sadly, after just four months, People confirmed the couple had called it quits, with a rep for Valderrama advising "they're still friends," while Lohan's simply described her as "totally fine." After such a whirlwind romance, where did it all go wrong for these two?
The duo kept things private at first, but things went downhill quickly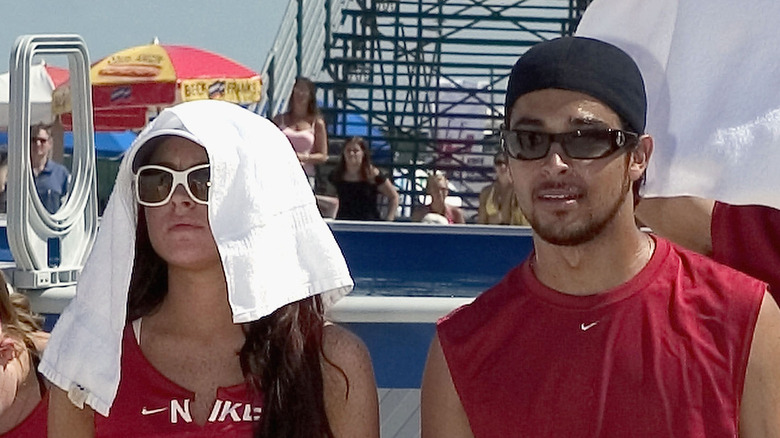 Alexander Tamargo/Getty Images
As People noted at the time, Lindsay Lohan and Wilmer Valderrama kept their romance under wraps because, according to the "That '70s Show" star, it was "more meaningful that way." They were initially linked in May 2004, but didn't go public with their relationship until July. Valderrama even played the dutiful boyfriend during Lohan's hospital stint for exhaustion. As Bustle noted, it was indicative of Lohan's fraying mental state, and the first suggestion she needed help. Indeed, the relationship deteriorated soon after, with a song on the actress's debut album "Speak" seemingly confirming the breakup wasn't mutual. 
In fact, Lohan confirmed during a 2014 appearance on "The Ellen DeGeneres Show" that "Over" was in fact about Valderrama. She actually wrote it the day after they split, while the couple was still sharing a house. The "Parent Trap" breakout even sang it while he was there, with pointed lyrics such as, "I won't be the one to chase you / But at the same time you're the heart that I call home."
Going public complicated matters for the couple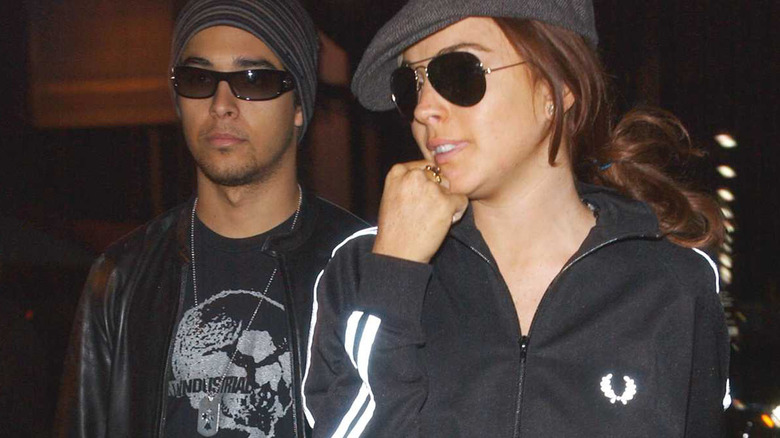 Arnaldo Magnani/Getty Images
Complicating matters following their breakup, Wilmer Valderrama bragged on "The Howard Stern Show" in 2006 about all the hot famous ladies he'd supposedly slept with, name-dropping Mandy Moore and Jennifer Love Hewitt, while also revealing embarrassing personal details about Lindsay Lohan (via Bustle). The "That '70s Show" actor later acknowledged he regretted speaking so frankly about the relationship. There were rumors at the time that Valderrama dumped Lohan so he could get with Ashlee Simpson, but the actor denied that was the case. 
It seems the couple simply wasn't suited to each other, possibly because of their age gap, competing careers, or perhaps Lohan's well publicized mental health issues took a toll on them over time. Either way, both parties have since healed and moved on. There are no hard feelings, with Us Weekly noting the "Mean Girls" star gushed to Howard Stern, in 2018, that Valderrama was a "good guy."