Khloé Kardashian Sparks Another Photoshop Controversy With Her Recent Post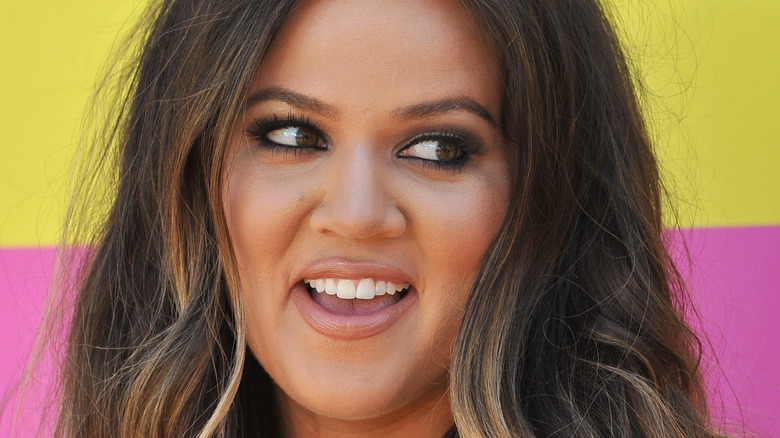 Shutterstock
Khloé Kardashian's looks have changed quite a bit over the years, and the "Keeping Up With The Kardashians" star has been accused of using filters, photoshopping her pictures, and even getting plastic surgery. While Kardashian usually lets the comments roll off of her back, there have been times when she's addressed the criticism (via Us Weekly). Back in 2016, she fully admitted to editing her social media photos, revealing that she liked to use the FaceTune app.
"Facetune is the best thing to bring to the table. It's life-changing. It's the only way to live," the Good American founder previously told Chelsea Handler. "It's not real, you are presenting to the world what you want them to believe you are. It's amazing. I think our society nowadays is so caught up on getting validation from the social world that no one really knows, so they post these things." 
Earlier this year, Kardashian spoke out about her ever-changing looks again when she told Bravo host Andy Cohen that she has had some cosmetic work done in the past, per People Magazine. "Everyone says, 'Oh my gosh, she's had her third face transplant.' But I've had one nose job," Kardashian admitted, adding that Cohen is the only person to ever ask her if she's had a nose job during an interview. Despite the confession, the online jabs haven't seemed to stop for the youngest Kardashian sister.
Khloé's latest Instagram photo has fans talking
The Daily Mail reports that Khloé Kardashian drew criticism yet again for a brand new Instagram photo that she shared to her account this week. In the snap, Kardashian is seen snuggling up to her niece, Penelope Disick. The proud aunt posted the pic in honor of Penelope's birthday. "Just like that... She's nine," the caption read. 
Kardashian looked happy as she boasted a full smile while staring into the lens. However, fans immediately began to comment on how different her face looked. Social media users made comments asking who the person in the photo was and even saying that Kardashian looked "crazy" in the pic. Another person used an alien emoji to describe the photo, while another asked Kardashian if she was "okay."
The photoshop controversy comes just a few months after the reality star fought to have an unfiltered photo of her wearing a bikini by the pool scrubbed from the internet after it was published online by mistake. After making headlines for trying to remove the pic, Kardashian posted a heartfelt statement about the pressure to be perfect, revealing that she's subjected to "constant ridicule and judgment," which can sometimes be "too much to bear." While many fans spoke out to support Kardashian following her powerful words, it seems that the online haters aren't going away anytime soon. Thankfully, Kardashian appears to have thick skin when it comes to dealing with harsh critics.